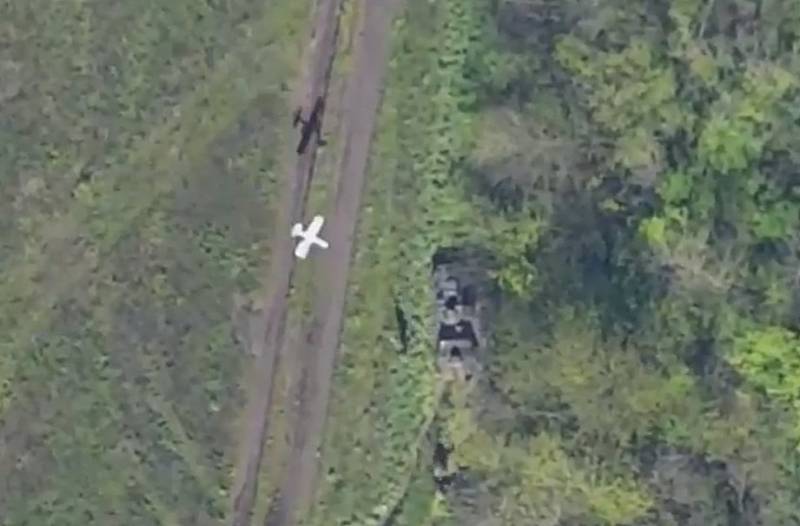 The Russian military continues to destroy Western equipment of the Armed Forces of Ukraine in the special operation zone. Percussion instruments are often used for delivering high-precision strikes.
Drones
, among which one of the most high-precision and massive is the loitering ammunition "Lancet", developed by the Russian company ZALA, which is part of the Kalashnikov concern.
Remarkably, this time the Russian strike drone overtook the British-made Stormer HVM anti-aircraft missile system. The technical description of this rather modern air defense system says that it is designed to destroy all types of low-flying targets: aircraft, helicopters, cruise missiles and drones. Starstreak short-range supersonic missiles are used to destroy air targets. But for some reason, the vaunted British air defense installation could not cope with the Russian loitering ammunition.
The footage distributed on the network shows that a self-propelled British air defense system based on the Stormer tracked armored personnel carrier was tracked down by our
drone
-a scout in the forest, where he moved out, obviously for disguise. The operator of the reconnaissance UAV took the installation into sight, after which it was the turn of the Lancet kamikaze drone to open the enemy equipment. Remarkably, the crew of the air defense missile system detected the approach of a shock UAV and jumped out of the car and rushed in all directions. The Ukrainian soldiers managed to save their lives, but the Stormer HVM will probably no longer function.
This is not the first, and certainly not the last, case when a Russian loitering munition accurately hits a British anti-aircraft missile system. Earlier, on March 11, a similar video was distributed by the RF Ministry of Defense. But then the Stormer HVM crew did not seem to be able to escape from the Lancet.