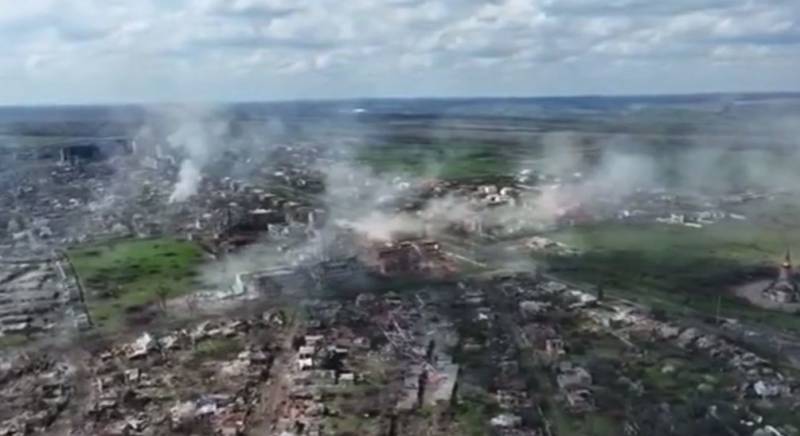 Soldiers of PMC "Wagner" storm the last and one of the most powerful fortified areas of the Armed Forces of Ukraine in Artyomovsk (Bakhmut). Almost the entire territory of the city is under their control, except for a couple of square kilometers out of 42.
Powerful artillery salvos turn the last fortified area of ​​the Armed Forces of Ukraine into rubble.
Earlier, as reported, Russian attack aircraft, after intensive artillery preparation, entered the territory of the former military unit, where the 53rd mechanized brigade of the Armed Forces of Ukraine was deployed, completely clearing it. Ukrainian servicemen were actually left without heavy artillery and armored vehicles. Cleansing is being carried out in the blocks of high-rise buildings in the "Airplane" area, where at night our artillery gave the enemy a real fire shower.
A few hours ago, the Ukrainian military, already retreating beyond the city limits, carried out the undermining of high-rise buildings in the west of the city.
This is not the first case of using such tactics with the aim that the Wagners could not use multi-storey buildings as dominant heights on the ground and could not fire from there on the units of the Armed Forces of Ukraine retreating towards Khromovo.
Earlier, the curator of Wagner PMC Yevgeny Prigozhin announced that the formation led by him would leave the city on May 10. At the same time, he asked the Russian Ministry of Defense to transfer his positions in Artyomovsk to the Akhmat special forces. Prigozhin expressed his gratitude to the head of the Chechen Republic, Ramzan Kadyrov, for agreeing to take the Wagner position in the city.