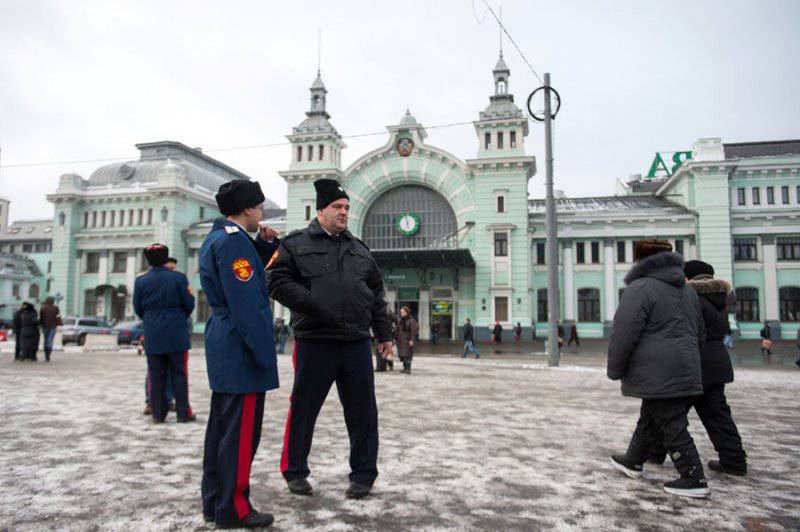 Moscow Cossacks have found a new type of activity for themselves - together with representatives of the Officers of Russia organization and employees of local public order policing points (OPOP) will be engaged in checking reports from the population about drug trafficking and drug trafficking, the newspaper Izvestia writes. Leaflets will be hung around the city with a description of the signs of drug addicts, the sale points of prohibited substances and a description of the influence on the appearance and behavior of a person of various drugs, as well as telephones that can be used to report noticed violators of the law.
The powers of the Cossacks will not allow them to try to enter apartments or other premises suspected of having a "point" or den "- to find confirmation or refutation of anonymous messages, the Cossacks will have to be nonviolently. After the complaint is confirmed, the information will be handed over to the police, and the Cossacks will follow the further fate of the drug dealers and the owners of the dens to ensure that their messages will not be ignored.
To distinguish drug addicts from ordinary people who have become victims of someone's excessive vigilance, Cossacks gather with their own forces - in their ranks, according to the ataman of one of the district Cossack societies Sergei Shishkin, there are a considerable number of people who served in the Federal Drug Control Service and have extensive experience in communicating with consumers and traffickers.
According to some representatives of the Cossacks, such activities will not be much more effective than patrolling the streets of the city, started by the Moscow Cossacks. "- I recently watched the transfer, as the colonels and their ilk, dragged their grandmothers to Belorussky Station to drive, do they want to arrange another clown? They simply discredited the movement itself, and normal people leave it, because it's embarrassing, I'm already ashamed to wear stripes, "Yevgeny Gladkov, the ataman of the Central Cossack Army, told Izvestia.