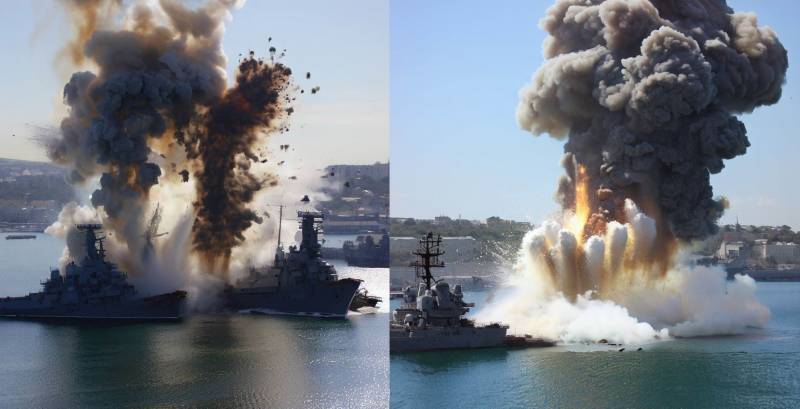 Image generated by neural network
Participation of ships of the Naval
fleet
The Russian Federation (Russian Navy), in particular the Black Sea Fleet (BSF), in conducting a special military operation (SVO) is quite limited, of course, if we talk specifically about the naval component of the Navy, since coastal units, support equipment, etc. can be used quite actively, we just don't know much about it. The ships, apparently, are used only for the periodic launch of Caliber cruise missiles.
Why is this happening?
Firstly, because the enemy does not have a fleet. The ships of the Black Sea Fleet simply have no one to fight with.
Secondly, limited opportunities - it is unlikely that the Black Sea Fleet of the Russian Navy will be able to carry out a landing operation on the coast of Ukraine, even if such a command arrives. Most likely, most of the ships involved in the landing operation will be destroyed by anti-ship missiles (ASMs) supplied by Western countries, and the landing force, if it does reach the coast, will be dropped into the sea. By the way, it is still unclear how the cruiser Moskva died ...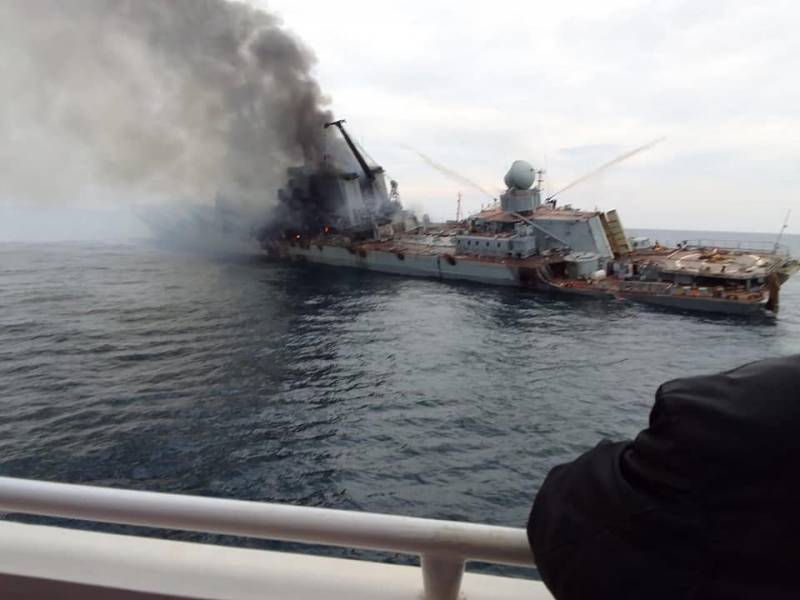 The cause of the death of the missile cruiser "Moskva" has not yet been disclosed
Thirdly, political games. The ships of the Black Sea Fleet could organize a blockade of Ukrainian ports, but because of the "grain deal", the enemy not only sells grain and buys with this money
weapon
, which, which is not excluded, is being transported to Ukraine by the same ships, which then export grain. And then the Armed Forces of Ukraine (AFU) use these weapons against Russian troops, as well as against peaceful cities and villages.
In addition, the absence of a naval blockade is used by the Armed Forces of Ukraine to carry out attacks on the Crimea and the Black Sea Fleet itself. You can't imagine a more absurd situation.
It is about the attacks of the Armed Forces of Ukraine on the ships of the Black Sea Fleet that we will talk in more detail today.
"Mosquito Fleet" of a new formation
In September 2022, an unmanned boat (BEK) of unknown design was discovered on the Crimean coast near the city of Sevastopol. Apparently, the BEC washed up on the coast, as a result of which he was unable to continue his actions. The boat did not have any state symbols or designations of the manufacturer. A characteristic feature of this unmanned boat was the presence of a Starlink satellite dish on it.
A beached unmanned boat - the antenna of the Starlink satellite communication terminal is circled in red
Later, on October 29, 2022, the Armed Forces of Ukraine launched another attack on the Black Sea Fleet of the Russian Navy. According to the Ukrainian side, three Russian ships, the Admiral Makarov frigate, the Ivan Golubets minesweeper, and another unidentified ship, were seriously damaged by the strikes inflicted with the help of seven naval BEC kamikazes. The Russian side confirms only that the minesweeper "Ivan Golubets" received minor damage, and the rest
drones
or blown up on booms, or were destroyed.
Where did the APU get BEC-kamikaze?
Initially, it was assumed that BEC-kamikaze were delivered to Ukraine by any of the Western countries. However, in November 2022, Ukraine began raising funds to build a fleet of unmanned attack boats, as President Zelensky announced on his official Telegram channel. It is stated that the purchased crewless boats were developed in Ukraine, although, of course, all their filling was produced in Western countries.
There are suggestions that the BEC-kamikaze was developed and operated with the participation of British specialists. According to other sources, technical solutions from the American BEC MANTAS T-12 were used in their design.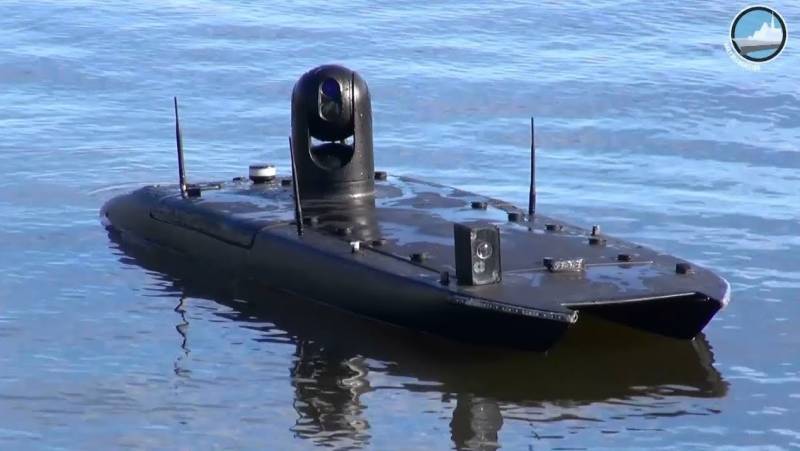 The created Ukrainian BEC-kamikazes have a hull length of 5,5 meters, a cruising range of up to 800 kilometers, autonomy of up to 60 hours, a maximum speed of up to 80 kilometers per hour and a warhead weighing about 200 kilograms. At the initial stage, the Armed Forces of Ukraine plan to produce 100 BEC-kamikaze units.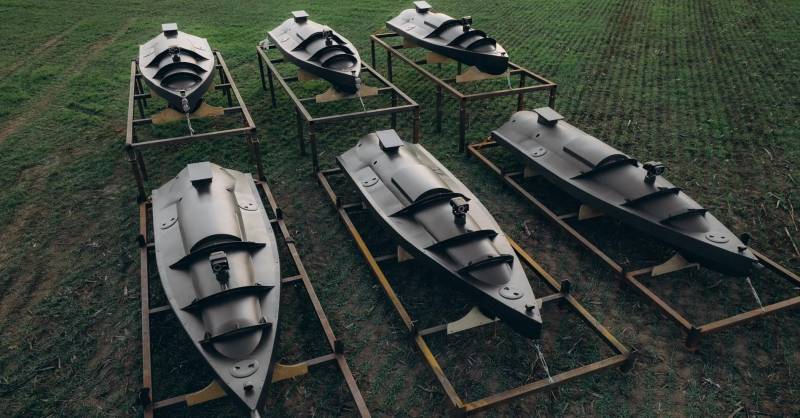 Ukraine plans to produce BEC-kamikaze in a fairly large batch
The Armed Forces of Ukraine made several more attacks on the ships of the Black Sea Fleet and other Russian facilities. For example, on February 24, 2023, the Armed Forces of Ukraine made an attempt to attack the base of the Black Sea Fleet with three unmanned boats. So far, all these attacks have been successfully repelled, but what will happen in the future?
Here it is necessary to make a remark.
On the issue of UAF attacks using naval drones on ships of the Black Sea Fleet or other Russian facilities, Ukraine and I are in an extremely unequal and disadvantageous position for us. For example, we repulsed another attack, and what, did someone in Ukraine or in the West feel much worse from this?
And what will happen if the attack of Ukrainian unmanned kamikaze boats is successful, if the ship of the Black Sea Fleet is "beautifully" blown up? When will the explosion be so strong that it will not be possible to hide it? What human, resource and reputational losses will our country in general and the fleet in particular suffer?
The destruction of a modern warship of the Russian Navy will inflict huge reputational losses on our country, not to mention the loss of the combat unit itself and the death of people
Thus, what victory is for us is if we can beat back all attacks by Ukrainian BEC-kamikaze, and for Ukraine, victory is just one successful attack. In Ukraine, this is clearly understood, so they will attack again and again until they lose the physical ability to do so.
Considering how many BEC kamikazes are planned to be produced by Ukraine, they can either make a large number of attempts with a small force involved, or a smaller number of attempts, but with a large number of BEC kamikazes simultaneously used, and sooner or later their attempts may well succeed.
In addition, the Armed Forces of Ukraine rely not only on quantity - more modern models of marine drones are also being developed in Ukraine. For example, the Center for Analysis of Strategies and Technologies (CAST) reports that within the framework of the Ukrainian state defense cluster BRAVE1, a private company is developing Toloka underwater remote-controlled kamikaze drones. These devices are something like a torpedo with a mast, in the upper part of which communication and surveillance equipment should be placed.
The created line of Ukrainian Toloka sea drones should include three models:
- TLK 150 2,5 meters long with a warhead mass of about 20-50 kilograms and a range of up to 100 kilometers;
- TLK 400 4-6 meters long with a warhead weight of up to 500 kg and a cruising range of up to 1 kilometers;
- TLK 1000 4-12 meters long with a warhead weight of up to 5 tons and a cruising range of up to 2 kilometers.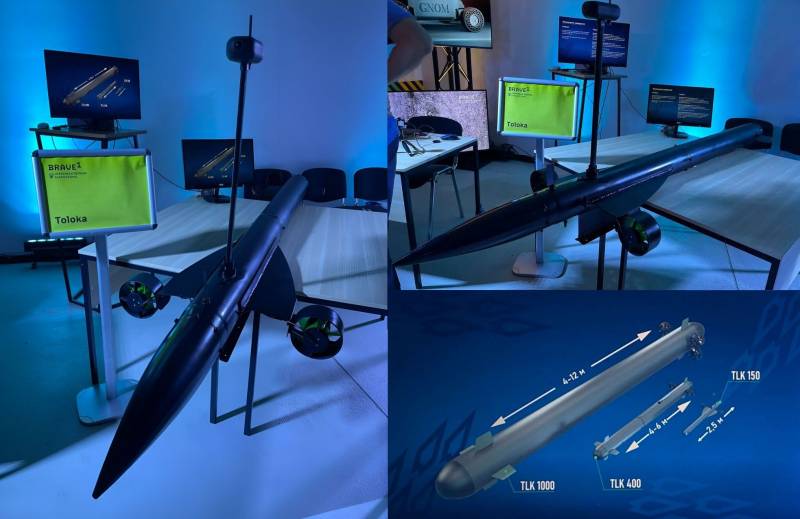 Models and images of Toloka underwater remote-controlled kamikaze drones
Of course, preliminary information is far from a fact that these devices will be able to be implemented at all. And even if it succeeds, it is unlikely that the Toloka drones will surpass the BEC-kamikaze used by the Armed Forces in terms of cost-effectiveness now - sometimes a dozen cheaper and simpler drones are better than one expensive and "fancy", so to speak, "syndrome Geranium.
On the other hand, underwater or, rather, partially submerged Toloka drones will be an order of magnitude more difficult to detect and destroy, and
older models can actually become a strategic weapon of reconnaissance and attack
.
In addition to the ships of the Black Sea Fleet of the Russian Navy, other military and civilian objects may also be attacked by BEC-kamikaze, for example, the Crimean Bridge may become one of such objects.
Impossible? Americans won't let them? Is the bridge too strong? Will we crush all their drones with electronic warfare (EW)? Are the ships of the Russian Navy and the Border Service of the FSB of the Russian Federation on duty there?
There are many reasons why this cannot happen, the only question is what to do if the negative scenario is nevertheless realized. Ukraine has enough incentives, and the success of the alleged Ukrainian "counteroffensive" with cutting off the land route to Crimea can serve as a trigger. In this case, the undermining of the Crimean bridge will also give the leadership of Ukraine very important trump cards for bargaining with Western countries - so they will do anything.

The threat of destruction of the Crimean bridge is quite real (the image on the right is generated by a neural network)
We know firsthand about the possibility of attacking bridge piers, since Russia has its own experience of using BEC-kamikaze against the Ukrainian bridge.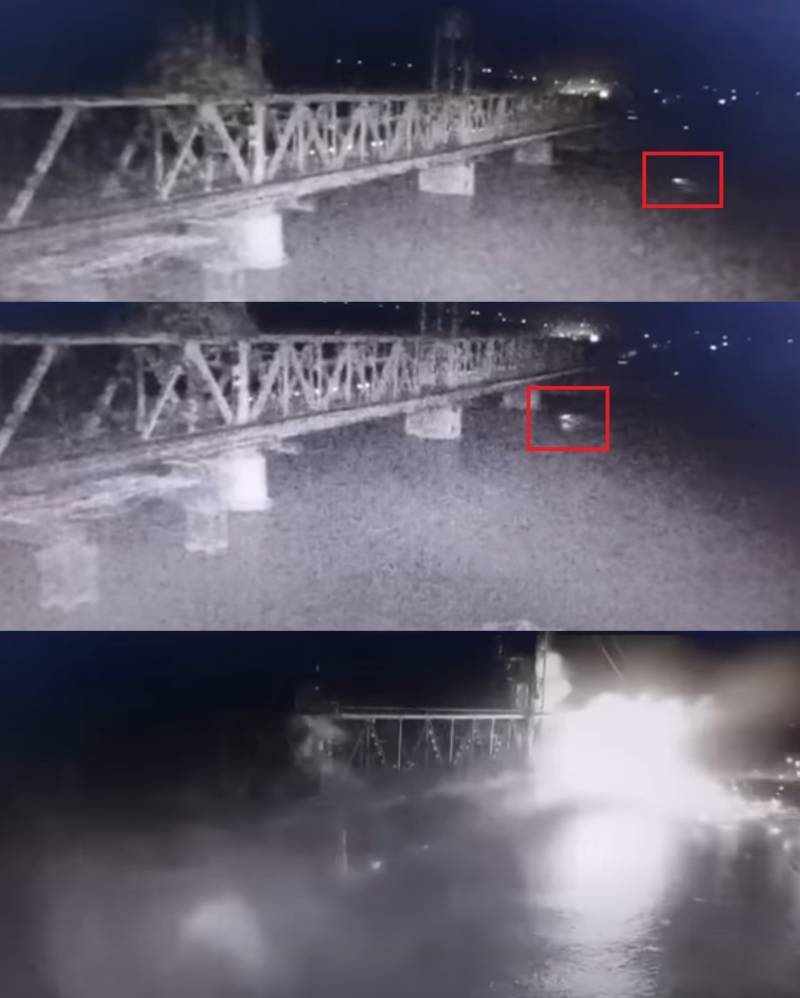 Undermining the bridge support in Zatoka by a crewless boat
Countermeasures
With them, everything is quite difficult. No, on the one hand, it seems to be clear - booms, patrols on special boats, ships can additionally be equipped with heavy machine guns.
The problem is that with regular, and most importantly, massive attacks, all this may not be enough. Patrol boats themselves can become the first target for attack, booms risk being blown up by the first wave of attacking BEC kamikazes, and gunners at machine guns may simply not see the rapidly approaching BEC kamikaze - after all, it is enough to miss just one, and our ship can at best wait the fate of the American destroyer Cole.

The consequences of the attack of the American destroyer "Cole" of the type "Arleigh Burke" by suicide bombers on a motor boat filled with explosives
What other measures can be taken? Establishing some kind of fixed fencing in the port? It takes a very long time and is very expensive, it is far from a fact that it is generally possible, and it is quite possible to break through it with an explosion, just like booms.
What could potentially be an effective solution is automatic protection systems against torpedoes and back-boats. We have previously considered this issue in the material
Surface ships: anti-torpedo defense systems
. The combination of guidance systems, including high-frequency sonars and lidars, automatic rapid-fire cannons and / or heavy machine guns with cavitating ammunition, as well as guided and unguided anti-torpedo munitions, will potentially minimize the likelihood of surface ships being hit by torpedoes and BEC-kamikaze.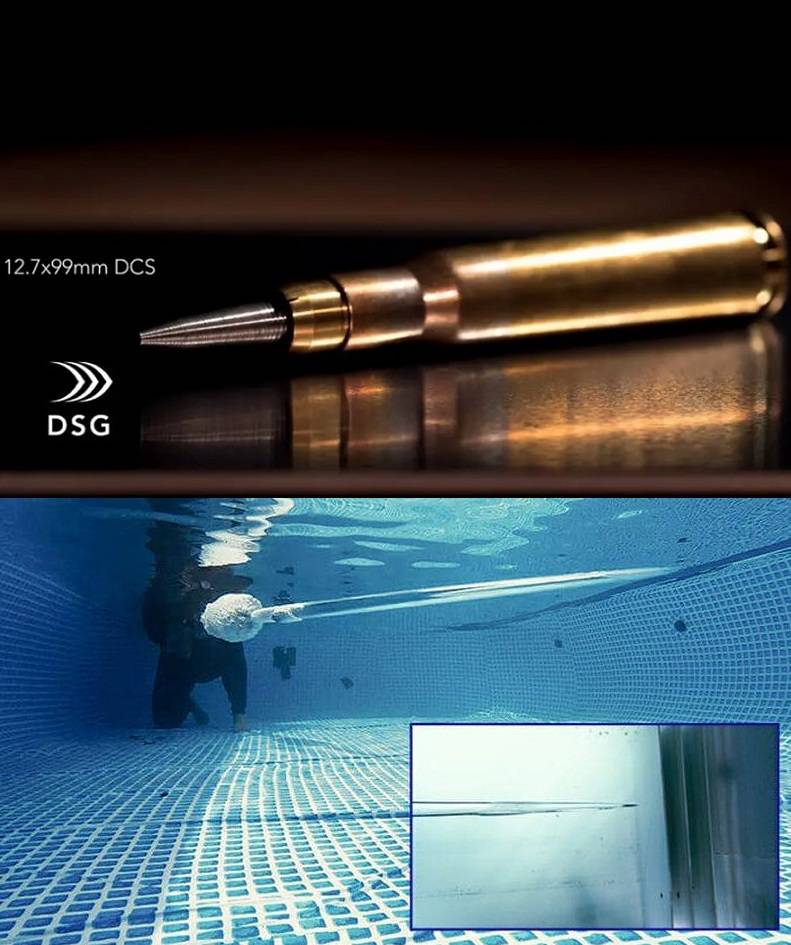 Cavitating ammunition caliber 12,7x99 mm Norwegian company DSG
Yes, it is potentially possible, but as long as there are no such systems, their development and testing will take a long time, and a solution is needed now. In addition, the options discussed above will in no way allow protecting other objects, for example, the Crimean bridge - you can't put an anti-torpedo defense system on each support? Yes, and the entire bridge cannot be entangled with booms, although some types of support fencing can potentially and should be developed.
There is only one thing left - active, aggressive defense!
For example, the preventive destruction of enterprises engaged in the manufacture of unmanned boats and their components, the destruction of warehouses with ready-made BEC-kamikaze and the locations of units that ensure their use.
precision weapons
и
unmanned aerial vehicles (UAVs) - long-range kamikaze
,
transport and / or passenger aircraft converted into unmanned aircraft-projectiles of increased power that have exhausted their resource
or
obsolete intercontinental ballistic missiles (ICBMs) and submarine-launched ballistic missiles (SLBMs) ​​converted into high-yield conventional high-precision weapons
.
An equally effective solution could be to disable
critical systems that ensure the operation of long-range weapons, including BEC-kamikaze
. True, there is a problem - the critical intelligence, control and communications systems that provide the Armed Forces with the ability to use long-range weapons belong to the United States and its allies - it is doubtful that the leadership of our country will decide to destroy them.
However, there is an exception - direct control of the BEC-kamikaze is provided by Starlink satellites owned by the private company SpaceX - it is quite possible to work on them without starting
third world war
. Can be used against at least a few Starlink satellites
anti-satellite weapons
, and if what they say about the Tobol electronic warfare (EW) system is true, then you can burn several dozen Starlink communication satellites - they will be more accommodating. If it is impossible to do this electronic warfare "Tobol", then maybe
combat laser complex (BLK) "Peresvet"
capable of anything?
And finally, it's time to stop the political games around the grain deal - the blockade of Ukraine from the sea must be complete, everything that gets close to the coast or moves away from it must be ruthlessly destroyed.
If decisive measures to counter the purchase and manufacture, deployment and use of Ukrainian unmanned kamikaze boats are not taken in the very near future, then the risks of destroying ships of the Black Sea Fleet of the Russian Navy, as well as other Russian military and civilian facilities will increase every day.
PS
On the day when this material was sent for publication, UAV strikes were carried out on the Moscow Kremlin - this is to the question of what the Ukrainian authorities are ready to decide in principle and whether they will risk, for example, strike at the Crimean bridge...