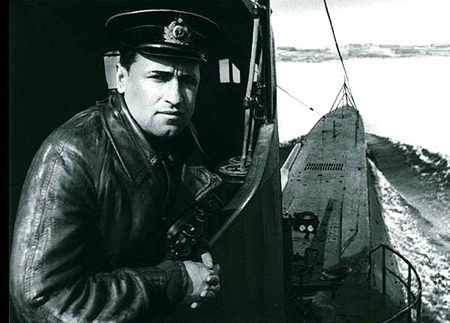 RIA News
. Centenary of the birth of the Hero of the Soviet Union Admiral Grigory Shchedrin - the legendary submariner, commander of the famous submarine "S-56", which became in Vladivostok a memorial to the "Battle Glory of the Pacific
fleet
"(Pacific Fleet)," the sailors and residents of the city solemnly noted on Saturday, RIA reported.
News
official representative of the Pacific Fleet, the first rank captain Roman Martov.
Grigory Shchedrin was born on December 1 1912 in the city of Tuapse. The C-56 crew, under his command of 17 in May, 1943 of the year achieved the greatest success in the Soviet submarine fleet in a single attack. Four-torpedo salvo "C-56" hit two vehicles at once. During the war, Shchedrin made eight combat trips with a stay in the sea 125 days.
"To the eternal flame of the memorial" Combat Glory of the Pacific Fleet "command of the Pacific Fleet, sailors, submarine veterans, residents of Vladivostok laid wreaths and flowers," said the agency interlocutor.
According to him, also wreaths were laid at the monument to the Pioneers of the submarine fleet. The veterans shared in the youth memories of their mentor - Admiral Shchedrin.
"The fate of the submarine is no less legendary than that of its commander. In October 1942, the C-56" as part of the submarine detachment of the Pacific Fleet made the transition from Vladivostok to the Northern Fleet through the Panama Canal, breaking the Pacific and Atlantic oceans. The crew of the submarine performed eight combat campaigns and 13 torpedo attacks, sinking four vehicles, two tankers, a squadron destroyer, two enemy patrol ships. March 31 1944 C-56 was awarded the Order of the Red Banner, and 23 February 1945 was awarded the title of Guards, "said XNUMX of the Guards rank in February," of this
He noted that in the 1953 year, the submarine had returned to the Pacific Fleet by the Northern Sea, completing its round-the-world combat cruise. On the eve of the 30 anniversary of the Victory, the C-56 submarine became the ship-museum of the Battle Glory of the Pacific Fleet memorial.
Now in the four compartments of the submarine - the exhibition dedicated to the development of submarine forces in the Pacific. Three sections: torpedo, residential and central - restored in the form in which they were during the Great Patriotic War.