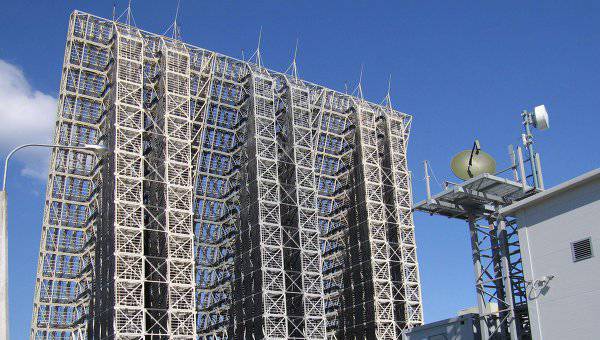 RIA News
. Construction of several new generation radar stations will begin in Russia in 2013, representative of the Russian Ministry of Defense for the Air and Space Defense Forces, Colonel Alexei Zolotukhin, told reporters on Saturday.
VVKO is a new branch of the Armed Forces (AF) of the Russian Federation, which was formed in 2011 by decision of the President of Russia. Exactly a year ago, 1 December 2011 of the year, the first duty shift of the command post of VVKO was on duty.
"Next year, in several regions of Russia, it is planned to begin construction of several more radar stations of high factory readiness," said Zolotukhin.
Earlier, the Ministry of Defense reported that a new generation of radar stations is being considered in Pechora (Komi Republic), Barnaul (Altai Krai), Yeniseisk (Krasnoyarsk Krai) and Olenegorsk (Murmansk region).
At the moment, the Voronezh radar station is on duty in Lekhtusi (Leningrad region), on test combat duty in the city of Pionersky of the Kaliningrad region and in the village of Usolye-Sibirskoe in the Irkutsk region.
Zolotukhin said that in 2013, the development of a missile attack warning system will also continue.
"In the first quarter of 2013, another new-generation Voronezh radar, based on high factory readiness technology (VZG) in the Krasnodar Territory, will take over combat duty. In the Irkutsk Region, the construction of the second phase of the Voronezh-M radar will be completed, after which "This station will be in full combat duty. It will continue to carry out operational combat duty of the VZG radar in the Kaliningrad region," added Zolotukhin.
The creation of a network of radar facilities of the SPRN will allow the provision of full radar monitoring of all strategic missile-prone areas from the territory of the Russian Federation with the required temporary indicators of a nuclear missile warning.
In October, a representative of the RTI holding (building including radar stations for the East Kazakhstani Armed Forces) reported that enterprises are soon planning to begin production of new radars that will "cover" Russia from nuclear missile danger in the southern and northern strategic areas.