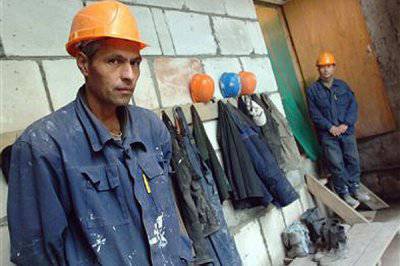 In November, the World Bank published data on the share of remittances from labor migrants in the gross domestic product of developing countries. It turns out that Tajikistan ranks first in the world in terms of this indicator, 47% of which is provided by migrant migrants. In absolute terms, Tajik labor migrants transferred more than 2011 billion dollars to their homeland in 3. Over time, this figure increases both in absolute and relative terms. Thus, in 2008, the volume of remittances from Russia to Tajikistan was 2,5 billion, and its share in GDP was 45%. It turns out that one of the poorest republics of the former USSR can exist only in a kind of symbiosis with the Russian Federation. A full or partial cessation of remittances from the Russian Federation in an overpopulated country unable to feed its population would lead to economic collapse and social upheaval.
Kyrgyzstan remittances of labor migrants provide more than a quarter of GDP (29%) ... From the countries of Central Asia, Uzbekistan ranks last on this list, it is among the top ten in terms of the ratio of remittances to GDP. Compared with Kyrgyzstan and Tajikistan, Uzbekistan has a much larger territory, population, natural resources, including oil and gas, as well as a relatively developed economy. In the pre-crisis period, the share of remittances from labor migrants accounted for about 1 / 5 of its GDP. At the same time, Uzbekistan is confidently in first place in Central Asia in the absolute number of migrant workers working in Russia.
To work in Russia, the indigenous people of Central Asia are not traveling from a good life. And the point is not only that the salary in the countries of this region is much lower than in the Russian Federation. Under the conditions of agrarian overpopulation and the shortage of land and water resources, the Central Asian countries simply cannot feed their population. In recent years, the shortage of land, water, and food resources has been aggravated by a progressive increase in prices. According to the Ferghana.ru website, in July-September of this year, the average retail price increase for flour in rural areas of Kyrgyzstan was 47%, and in cities - 36%. The republic could only provide itself with grain this year by 40%. But if last year Kyrgyzstan bought it in Kazakhstan at 150 dollars per ton, then this year - at 340 dollars. At the same time, flour is the main food product of low-income families, which make up the majority of the population of Kyrgyzstan. In remote regions, such as Naryn oblast, people often live in poverty, not having a normal job, and due to climatic conditions, and opportunities to provide family with products at the expense of personal subsidiary farming.
Labor market conditions in Russia are much more attractive for labor migrants than at home. The average salary in Kyrgyzstan is about 140 dollars, while in the Russian Federation unskilled Kyrgyz workers can earn 300-400 dollars, and skilled workers up to 1 thousand dollars per month. The outflow of labor migrants to Russia, the majority of which (70-80%) is youth, has led to a shortage of qualified personnel in Kyrgyzstan itself. The republic lacks specialists in the printing, construction, apparel and information technology industries. The internal socio-economic problems of Kyrgyzstan, which create high tensions in the labor market, are largely solved by exporting labor to the Russian Federation, and the conditions for changing this situation are not yet visible. In addition to Russia, Kyrgyzstan only has an agreement on legal labor migration with South Korea. The flow of labor migrants to other countries is small and illegal.
The situation is similar in Tajikistan. The annual increase in labor in the republic is about 100 thousand people. About a million citizens of the republic are working abroad, and 97% of them work in the Russian Federation. According to the International Labor Organization, 3 / 4 Tajik migrants work in construction, more than 100 thousand work in industry and agriculture, about 70 thousand work in trade and almost as much in housing and utilities. About half of all migrants have no specialty, moreover, 11% have a higher education. Attempts to diversify this migration flow have so far not been successful.
In 2009, the Tajik authorities negotiated labor migration with Saudi Arabia, but this kingdom agreed to accept only 20 thousand people. At the same time, there are stricter requirements for labor migrants than in Russia: they must be proficient in Arabic and have a working specialty in demand in the market. According to experts, differences in the ethnic composition of the population, cultural and religious stereotypes can also have a negative impact on labor migration to Saudi Arabia. Unlike Russia, there are no Tajik communities in the Saudi kingdom, the population was not brought up within the framework of a single labor culture, as it was in the USSR, and Islam, which is the state religion, belongs to the Hanbalite and not the Hanafi trend that is widespread in Central Asia. In addition, the Tajik authorities were eyeing the labor market in Eastern Europe. However, there also exists a language barrier and qualification requirements that do not allow counting on the massive involvement of migrant workers.