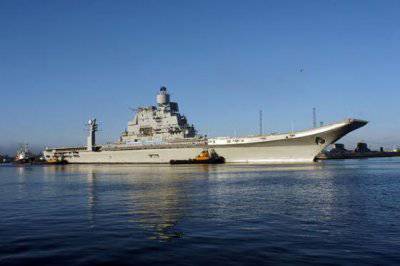 Work on the completion of the aircraft carrier Vikramaditya (the former heavy aircraft carrier cruiser Admiral Gorshkov) should be completed at the end of 2013, the official representative of Rosoboronexport, Vyacheslav Davidenko, said.
"The Russian and Indian sides finally agreed and approved the list and timetable for the completion of the aircraft carrying cruiser Vicramaditya transferred to the Indian Navy," said Davidenko, quoted by ITAR-TASS.
"At present, these works are continuing and should be completed at the end of 2013, after which the ship will be handed over to the Indian side," the representative of Rosoboronexport assured.
According to an informed source in the Russian military-industrial complex, which oversees the Russian-Indian aircraft carrier deal, in summer 2013 of the year, after the repair of the boiler house of the group, Vikramaditya will again go to sea for testing.
"Currently, Sevmash is carrying out repairs to the boiler group. The Baltiysky Zavod plant has begun supplying repaired equipment to the plant. Sevmash specialists are working on a schedule so that by the planned date all identified deficiencies in the boiler group work have been eliminated. By the 2013 summer, all repair work on the aircraft carrier will be completed, and he again will go to sea for testing, "said a source in the defense industry.
On the eve of the Indian Defense Minister Arakkaparambila Anthony said that the country's military set the end of 2013 year as the deadline for the transfer of the aircraft carrier Vikramaditya to Russia by the Indian Navy. "The delivery of this aircraft carrier has already been delayed for five years. The deadline for its transfer is the end of next year," said the head of the Indian Defense Ministry.
In late October, Andrei Dyachkov, President of United Shipbuilding Corporation, has already announced that Russia will transfer the aircraft carrier Vikramaditya to India before the end of October 2013.
Before that, Russia refused to India to pay compensation for the delay of the aircraft carrier. The size of the penalty, according to media reports, could be 115 million dollars.
India should have received Vikramadityu back in the 2008 year, but then the delivery of the aircraft carrier was postponed until this year. In October, it became known that the customer would be able to receive a warship no earlier than 2013, due to problems with boilers and engines.
It is supposed to eliminate the flaws at Sevmash, in Severodvinsk by the summer of 2013, in summer to go to sea for tests, complete them and hand over the ship of the Indian Navy in the fourth quarter of 2013.
Repair and refurbishment contract for project 11430 of the heavy nuclear-powered cruiser Admiral
Fleet
The Soviet Union Gorshkov "was concluded with India in 2004. After completion, the light aircraft carrier Vikramaditya should become the flagship of the Indian Navy. The ship was built on the basis of the heavy aircraft carrier cruiser Admiral Gorshkov through deep modernization.