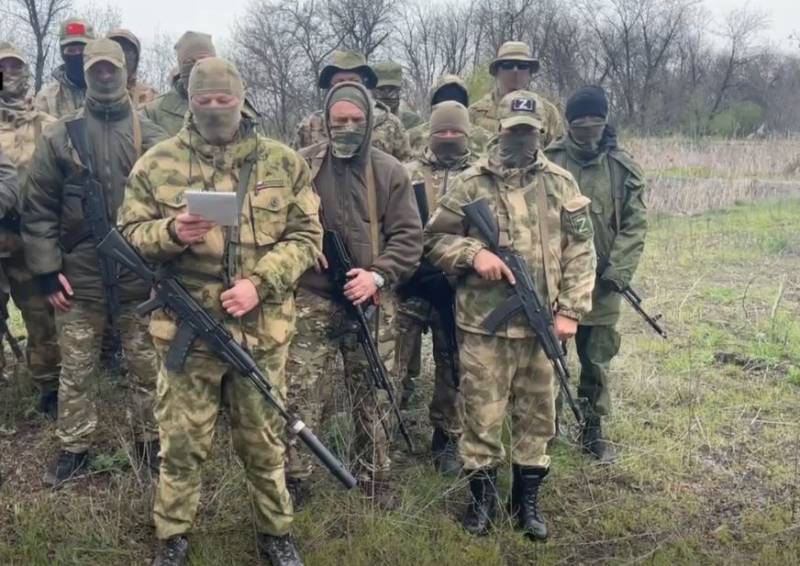 An unpleasant situation has developed on one of the flanks of the assault units of the Wagner PMC, which continue their offensive against the positions of the Armed Forces of Ukraine both in Bakhmut itself and in its vicinity. According to the fighters of the "Orchestra", the volunteer battalion "Potok" from the new PMC "Gazprom", which covered the flank of the "musicians", left its positions, thereby allowing the enemy to recapture the hard-won positions.
According to one of the Wagnerites, this happened to the west of Bakhmut, where PMC stormtroopers drove the enemy out of forest plantations. Since the "Orchestra" continued its offensive, units of the "Potok" volunteer battalion from the so-called new PMC, formed as part of "Gazprom", entered the positions recaptured from the Armed Forces of Ukraine. However, the enemy launched a new attack, after which the Potok retreated, abandoning positions and
weapon
. At least that's what they say in PMC "Wagner".
The enemy is pulling up more and more reserves, 20-30 people per hour, work is being done around the clock. The neighbors who were on our flanks, the so-called DRO Potok, a Gazprom PMC, abandoned their positions in full force at night, threw down their weapons (...) and so the "blue stream" leaked
- said the "Wagnerian".
Thus, the "Potok" lost two positions, exposing the flank of the PMC "Wagner" and exposing the assault groups of the "Orchestra" under attack. As military commander Yevgeny Linin stated in his TG channel, Potok explained the retreat from positions by the fact that they are a voluntary unit that fights when it wants.
At the same time, a video message from the Potok battalion fighters appeared on the Web, who blamed the leadership of the departmental security of PJSC Gazprom, a certain Redut LLC and the leadership of the battalion for their troubles, which did not provide the personnel with the necessary weapons and artillery support. The fighters of the PMC "Wagner" also got it, who allegedly forbade the departure of the "Potok" from positions and the rotation of personnel. The appearance of a new PMC from Gazprom in the NVO zone was reported back in March of this year. It was assumed that the new company would stand on a par with the Wagner PMC and help the Orchestra in the Bakhmut direction.