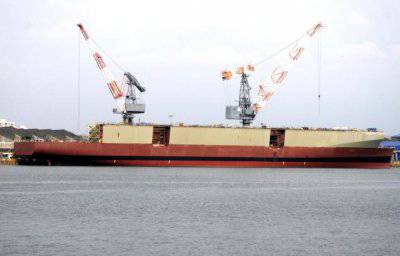 Indian television station NDTV reported that the Indian Ministry of Defense decided to send a request to the government to allocate additional 2000 crores (20 billion rupees, or about $ 363 million) to pay for the overrun during the first stage of the construction of the national aircraft carrier IAC (Indigenous Aircraft Carrier). This decision was made as a result of a discussion of the construction of IAC at 20 in November 2012 at a meeting chaired by the Minister of Defense of India AK. Anthony.
The ship with a standard displacement of 40 thousand tons, which is expected to be called Vikrant, is being built from 2008 year at the state shipbuilding enterprise Cochin Shipyard Limited (CSL) in Cochin.
Previously A.K. Anthony stated in parliament that the IAC construction program is progressing at a time lag of at least five years and that the ship will be ready no earlier than 2018 of the year instead of the originally planned date (2014 of the year). At the November 20 meeting, the Minister of Defense of India demanded that the CSL shipyard finally set the date for the delivery of the aircraft carrier.
Sources told NDTV that the cost of the first stage of aircraft carrier construction, which was planned for 2003 crores (3200 billion rupees, or about $ 32 million at the then rate), for the 700 budget, increased due to delays. At the first stage of construction, the shipyard was supposed to bring the weight of the ship's hull to 18 thousand tons, but so far the hull mass is only 14 thousand tons. The total cost of building an IAC aircraft carrier is now estimated from 14 to 18 thousand crore (from 140 to 180 billion rupees, or from 2,54 to 3,27 billion dollars).