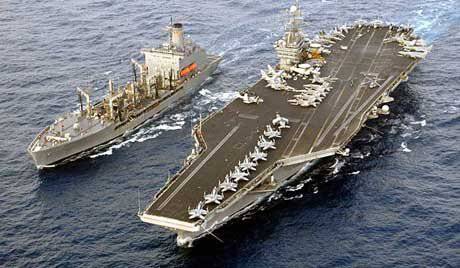 The United States for the first time will test a prototype of a heavy combat X-47B unmanned aerial vehicle with launch from an aircraft carrier, according to a press release from the country's Navy information service.
For testing, the drone was delivered on board the aircraft carrier "Harry Truman", which is based on the "Norfolk" off the coast of Virginia.
The X-47B combat aircraft has a wingspan of more than 19 meters, which exceeds the size of the Super Hornet F / A-18 fighter jets, which are in service with the US Navy.
The press release says that during each test flight a man will be driven by a special portable remote control with a display.
"This is a very important point for the X-47B. The moment the aircraft touched the side of the Harry Truman became its official affiliation with
the fleet
"- said the head of the program for the development of combat drone Jaime Engdahl.
"The delivery of the X-47B on board the aircraft carrier is an important milestone in our program. We have been testing the drone over the past few years, and we are so excited that we finally brought it to the ship," said test manager Kevin Watkins.
According to him, if the X-47B tests are successful, it will prove that "unmanned aerial vehicles have a great future." As expected, the test drone aboard the "Harry Truman" will last three weeks, - reports "Interfax".