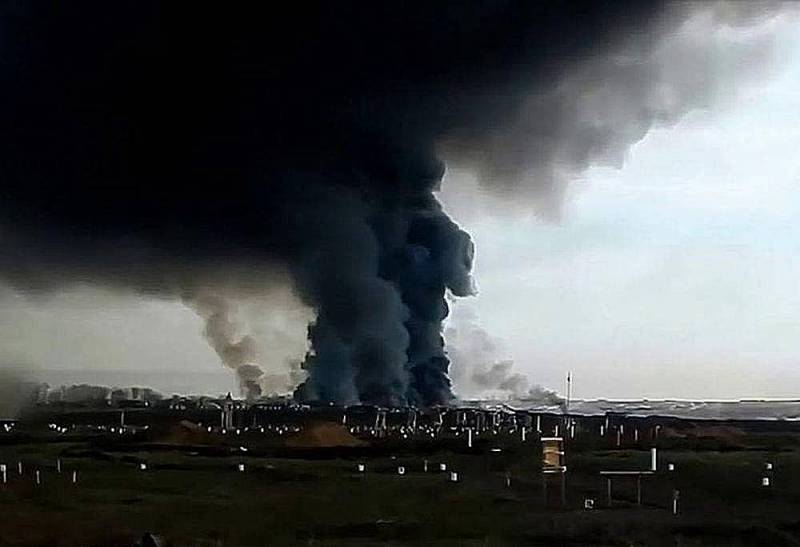 The Russian army launched a missile strike and destroyed a fuel storage facility intended to support the operations of units that are part of the Ukrainian grouping of troops in the Donbass. This is reported by the Ministry of Defense.
In the report of the Russian Defense Ministry, it is reported that in the area of ​​​​the city of Zaporozhye occupied by militants of the Kyiv regime, a high-precision missile hit completely destroyed a storage facility with 70 tons of fuel.
It also reports heavy losses of Ukrainian militants in the Donetsk direction, where about 250 Ukrainian servicemen were liquidated. In other sections of the line of contact, the losses of the Armed Forces of Ukraine are about 170 servicemen. In addition, the Russian army destroyed two Ukrainian sabotage and reconnaissance groups of the enemy in the DPR.
The air defense forces intercepted 11 munitions fired from the Smerch complexes and American HIMARS MLRS systems, in addition, one Grom-2 tactical missile and 14 enemy unmanned aerial vehicles were shot down.
In the areas of the cities of Orekhov in the Zaporozhye region and Vuhledar in the DPR, the Russian army liquidated depots of rocket and artillery weapons and ammunition intended to supply the militants of the Armed Forces of Ukraine.
In the vicinity of Veliky Burluk, in the Kharkiv region, the Russian army, using precision strikes, destroyed the command post of the Kharkiv task force of the Ukrainian armed forces.