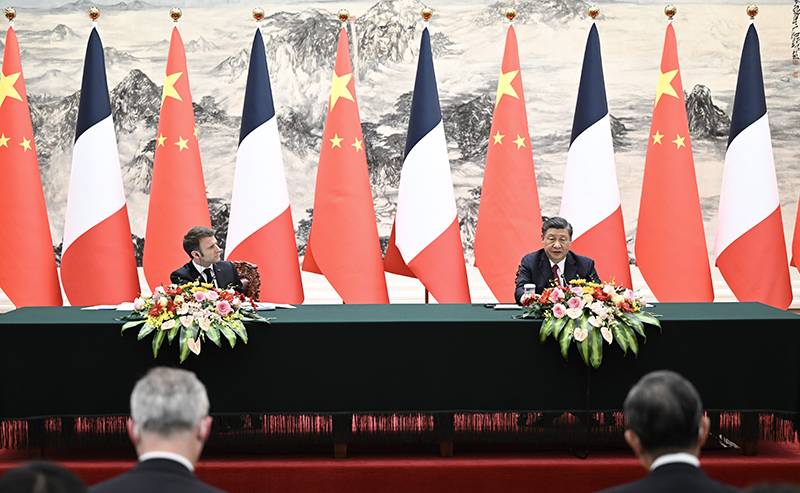 Chinese sources provide information about the meeting of the President of China with the President of France and the head of the European Commission. At a meeting with Emmanuel Macron and Ursula von der Leyen, Xi Jinping said that in a changing, complex and unstable world, countries should show respect for each other, that mutual trust and cooperation should be strengthened between China and the European Union, aimed, among other things, at maintaining peace and stability in the world.
Xi Jinping with a transparent hint in classic Asian style:
I want to emphasize that relations between China and the EU are not directed against any third country, and at the same time, their course should not be dictated by any country.
According to the Chinese President, Beijing hopes that the EU will develop a more independent and objective perception of China, take a more positive and pragmatic stance.
Xi Jinping:
Both sides should respect each other's interests, conduct consultations, dialogue to overcome differences. It is important to respect the development paths chosen by countries.
Further, the PRC President moved on to more direct formulations, let us recall that the modern West lives on the narrative of "democracy against authoritarianism" and is inciting a new cold war.
Si:
This only leads to an aggravation of the situation, to confrontation in the world, and it is important to develop a trusting atmosphere of cooperation.
According to Xi Jinping, it is important not to build barriers to trade, to develop cooperation without the threat of sanctions.
Commenting on the statements of the President of the People's Republic of China, Ursula von der Leyen began with a clearly sore point, understanding Xi Jinping's subtle hint. According to her, the EU respects
history
and traditions of China and "leads an independent policy towards the PRC." One can imagine what Xi Jinping thought about this at that moment…