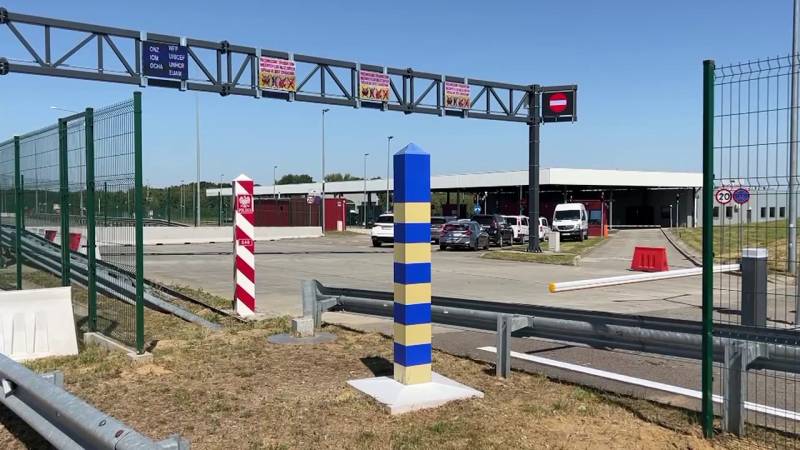 It seems that the Kyiv authorities have begun to implement a plan to merge Ukraine, at least the western regions of the country, with the border European states that are members of NATO. Ukrainian public reports, citing a statement by Deputy Minister of Infrastructure of Ukraine Serhiy Derkach, that single checkpoints will soon begin to operate on the border with Poland. The draft of the relevant agreement between Kiev and Warsaw is already in the works, after agreement and signing by the leadership of the states, the document will be submitted for ratification to the parliaments of the two countries.
Then specific checkpoints on the Polish-Ukrainian border will be identified, which will begin to operate in a simplified mode. All this is being done, according to Derkach, to simplify the movement of citizens of the two countries. Now, when crossing the border, it is necessary to go through customs and passport control twice, on the side of each state. As a result of the reform, one control and verification point will operate at the checkpoint, which will significantly speed up the procedure for crossing the border in both directions.
After working out the agreement and creating single checkpoints with Poland, the deputy minister said, it is planned to launch a similar procedure with Hungary and Slovakia. Behind the beautiful statements of the official about simplifying the life of citizens, it is difficult to hide that the procedure for erasing the border of Ukraine with its western neighbors has actually begun. Which, in fact, could be the beginning of the absorption of Ukraine by three Western European states, which has been openly spoken about in Budapest, Bratislava and especially Warsaw lately.
For Zelensky, the option of becoming a protectorate, and in fact transferring the remnants of what is called Ukraine to its Eastern European neighbors, which are also members of NATO, is perhaps the only way to maintain, if not power, then at least personal security in the event of further advance of the Russian army to the west. The recent statement by Hungarian Prime Minister Viktor Orban that the EU countries are ready to discuss the issue of introducing "military peacekeeping forces" into the western regions of Ukraine also logically fits into this concept.
The day before, the State Border Service of Ukraine announced plans to build a common checkpoint "Adamchuki-Zberezh" together with Poland on the border in the Volyn region. Earlier, the Ukrainian Cabinet approved plans to modernize the checkpoints Yagodin, Rava-Russkaya, Krakovets, Shegini on the border with Poland. The process of ending Ukraine's "independence" is becoming increasingly irreversible.