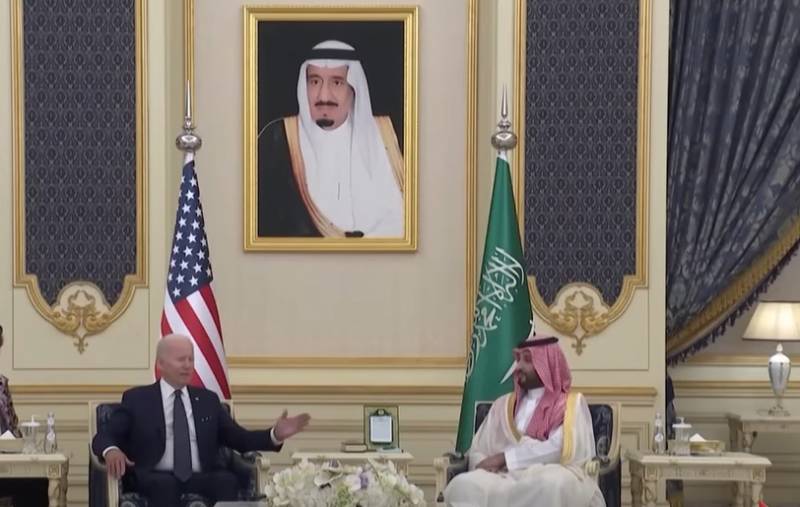 Having decided to join the SCO, Riyadh, in fact, leaves Washington "overboard". This is reported by the American newspaper Newsweek. As the authors of the publication noted, in this way Saudi Arabia seeks to pursue a more balanced foreign policy, strengthening its relations with other countries, since so far the main focus has been on the United States, whose influence in the region has begun to noticeably be lost.
However, all SCO members will benefit from their new Middle East partner, whose economy is the largest among all Arab countries. It is also developing at the fastest pace among the GXNUMX countries.
At the same time, according to the publication, this decision of the Saudis was a kind of turning point for the countries of the Arab world, which ultimately will bring them closer to both China and Russia.
Today, the members of the SCO are Russia, China, India, Pakistan, Iran, Kazakhstan, Kyrgyzstan, Tajikistan and Uzbekistan. In addition to Saudi Arabia, Armenia, Azerbaijan, Cambodia, Egypt, Nepal, Qatar, Sri Lanka and Turkey act as partners, and Afghanistan, Belarus and Mongolia are among the observers.
China, in turn, is also heavily dependent on the energy resources of the Persian Gulf, and therefore is extremely interested in maintaining stability in the region.
Relations between the US and Saudi Arabia have cooled since Joe Biden came to power. He often lashed out at official Riyadh for its human rights violations, while demanding more oil production to help Washington contain Moscow. However, the Saudis, on the contrary, decided to reduce it, guided primarily by their national interests.
Iran, a longtime rival of Saudi Arabia, after announcing its official accession to the SCO, expressed its readiness to become part of the BRICS as well, while the latter has long been interested in further activities within both organizations.
In this context, it is worth noting a grandiose event in its scale - the restoration of diplomatic relations between Tehran and Riyadh with the active mediation of Beijing, where a summit meeting was held between representatives of the two states. Moreover, Saudi Arabia plans to start a negotiation process to restore its lost ties with Syria, which was expelled from the Arab League after the outbreak of civil war there in 2011.
It is noteworthy that, despite the assertions of experts that there is no talk of breaking off relations between the States and Arabia, nevertheless, they have significantly degraded during the Biden presidency.