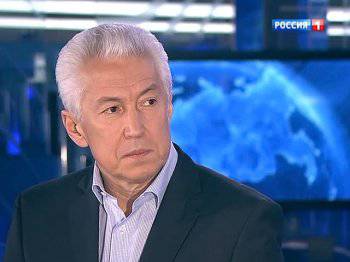 Vladimir Vasilyev, Deputy Chairman of the State Duma of the Russian Federation and head of the United Russia faction in the State Duma, spoke about the anti-corruption efforts of the government in an interview with "Vesti on Saturday".
- The new law on control not only for revenues, but also for the expenses of officials reminds of effective anti-corruption campaigns that have been in other countries. How will it work in Russia?
- This is a timely law that is introduced by the president. It will allow us to control the expenses of officials, comparing them with those declarations that have already been compiled for more than one year. Moreover, the gap between the declared income and expenses, if found, is the basis for the official to justify. If he does not substantiate, then the prosecutor goes to court. Rather simplified procedure, it is not necessary to carry out investigations.
- Who is included? Only an official or a wife, children?
- So far we have such an order: official, spouses and minor children. Plus the following types of transactions: land, real estate, securities. While it is limited. We will continue to move, practice is gained. But theft after that becomes punishable, which is very important. And now it often happens that those who are unintelligible in their means violate the law, live clearly above the means they earn.
- Do not hesitate to show it.
- They demonstrate this, do not hesitate to it, moreover, they discredit decent people who feel offended. And we will change this situation. Every citizen can report on who lives beyond their means. Special commissions will be created to review these issues.
- Does the deputies themselves apply it or not?
- Already distributed. And we even go a little further. Lawmakers must go ahead and make high demands on themselves. The point is that mercenary people prone to corruption should not go into parliamentary activity or high-level bureaucracy. Then there will be less theft.
- In the Duma many times the idea was expressed that a symmetrical or asymmetrical response would be prepared to the American initiative on the Magnitsky list. What are your goals?
- There is the idea of ​​a list, when the Americans violated all conceivable and inconceivable rights of citizens, and not on their own territory. There is a whole list of people who did it. There are obvious facts that the whole world has seen, facts of open violence, mockery of prisoners - complete lawlessness. But there is another component. The trouble is that by canceling the Jackson-Vanik amendment, which hindered the development of our relations, the opponents of Russia and the United States reaching a new level of cooperation, which they have been going for so long, trying to link these two amendments, again mark this anti-Russian list an attitude. And Russia cannot but respond to this, because it is interference in our affairs.
- Americans took an amazing paradoxical legal position. We have 60 people that we will not allow in the US, but we will not call them to you - this is the highest secret. Will the Russian list include any names?
- I think this issue is being considered. Works conciliation commission. But the question is that today the United States does not allow our citizens at their discretion. They have this opportunity, and they do not even explain for what reason - they simply do not give a visa. I think many of our citizens have come across this. So this is obviously a politicized action. She does not give anything to anyone except the tension of the relationship. I am convinced that the American business is deeply unhappy from this, as is ours, who would like in the interests of our peoples in times of crisis to rush forward, but they are holding hands.
- The discussion, which was at the Human Rights Council around possible amendments to the law on NGOs, still needs to gain momentum, but it has been reported that United Russia State Duma deputy Yevgeny Fyodorov is still making his own version of the law on mass media and foreign agents . Is this the common position of the United Russia faction?
- We value different opinions, but this is not a position of the faction. And my colleague and I have already talked about this topic. It is clear that this is his personal initiative. We respect the position of our specific deputies, but, I hope, will continue to work with a certain degree of responsibility for this initiative, because it takes time, it is not always productive. Discussion will show what is what actually.
- You just took the post of head of the faction. There is one question at the junction of your past and present interests. The Duma is waiting for a discussion of the law on fans. If you recall the European experience, for example, when the British faced this terrible problem of football hooliganism, one of their measures includes a ban on leaving the country. What rules in the law on fans can appear after all the horrors that we experienced on the eve of the World Cup, which will be in Russia in 2018?
- These horrors did not begin yesterday. The fact that there is a bill today is a good cure for these horrors. You have a correct analogy with the British. They had worse, and they put things in order. And we, by the way, are learning from this, so I am convinced that this bill will be very useful. Why? Because he is actively contributing to the prime minister. Plus, the most modern international experience is used, which yielded results. Brought our fans, which is very interesting. In foreign experience there are so tough measures that our developers are not even ready to present to us yet. This is one moment. The second: our fans - for the most stringent measures, which pleases. Now there is a discussion - and very well - that this has become a tradition.
It is wonderful that such significant laws, concerning a huge number of people, are widely discussed. And thank you for raising this topic. On the Internet there is an opportunity to discuss this. All this will certainly be weighed, and we will adopt a law that will not shock, which will bind hooligans and create conditions for the children, parents, families to go to the stands, so that it really is a holiday of sport.
- Then one particular. You, as a former police colonel-general ... I read interviews of several top officials of the Ministry of Internal Affairs, who say that it is not entirely correct that the police are responsible for security at the stadiums. In European countries, as a rule, there are twenty policemen standing during a match, but usually this is the prerogative of the security service of the stadium. Discussions are relevant after bringing blasting, checkers on the last, now notoriously famous match in Khimki with the participation of "Zenith". Who should be responsible for security during games - the police or security service?
- In the bill, as far as I know, there is the concept of "controller", which was not there before and who will have the right to inspect. We, for example, have become accustomed to this, and most of them gratefully understand that the controller's work, for example, at the airport, which cuts off all kinds of dangerous objects and inadequate people, is very important.