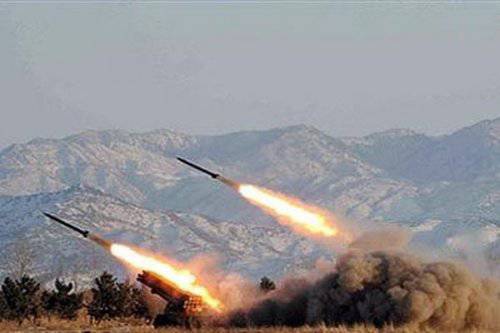 Air defense and the military space defense of the country (WKO) today can not fully ensure the security of the country. Such a statement was made by 13 in May, the former commander-in-chief of the Russian Air Force, Anatoly Kornukov, and the former chief of armaments of the Russian Armed Forces, Anatoly Sitnov.
This is also because the existing military equipment is becoming obsolete, and the military-industrial complex that produces it, in their words, is in a deplorable state. In addition, they believe that in the development of aerospace defense assets, Russia lags behind potential adversaries by 25-30 years. As Anatoly Kornukov said: "At the present time, the military space attack (VKN) is everything. The experience of recent local wars is a clear confirmation of this." Moreover, according to him, the United States is successfully developing the WCS forces: "Evidence is the launch of a spacecraft, a fifth generation aircraft, work on space platforms conducted as part of a global strike," the expert noted.
In turn, according to Anatoly Sitnov, Russia in just a few years has lost more than 300 unique technologies in the field of combat
aviation
and missile defense. We are talking about a unique reusable space transport system, super-heavy aircraft such as Mriya, a military orbital ship, and developments in the field of rocketry. According to him, "who owns space, owns the world. When we put combat lasers into space for a test purpose, we were told that there should not be a militarization of outer space, and we stopped, and the United States, in turn, began and continues to experience such weapons, "says Sitnov.
But is it so bad? I turned for comments to military experts Vladislav Shurygin, Alexander Khramchikhin and Ivan Erokhin.
"The words of Kornukov and Sitnova reflect the harsh reality," said Vladislav Shurygin, an expert in air defense and EKR. "For the last 20 years we have not created anything new in the field of military space
weapons
. And what we have now is the development made in the days of the USSR. This also applies to our "fifth generation" fighter.
In the past year alone, we have written off about a thousand combat aircraft standing on the ground due to the lack of various warheads, without receiving anything in return. And most of those that are now will be written off in a maximum of six years. As for military space weapons, in recent years, the NATO countries, including the United States, have been developing it vigorously. And therefore they have tremendous superiority over us in the field of information, information and analytical systems, communications, navigation, data processing, etc. All this is a consequence of the policy pursued with 1990 in relation to not only air defense and air defense, but also to all armed forces as a whole. To eliminate this, you need to properly build them. This will require a large-scale purchase of the latest military equipment. Those piece purchases that we see now are not able to solve the problem. And the establishment of mass deliveries to the troops of the latest military equipment is impossible without the appropriate technological modernization, because in its present form our military-industrial complex is not able to meet the needs of our armed forces. A large investment is required, including in the design bureaus (KB). And here is another problem - both for the military industrial complex and for the design bureau there is a need for young people who would literally replace endangered workers and designers, many of whom are already far behind 60 years.
The situation is aggravated by the current "reform" of the armed forces, carried out under the banner of "optimization" and a reduction in their costs. And this is what it is: this year, only the 15 pilots for airplanes and another 15 for helicopters will be recruited for the only flight department that produces military pilots. And it is on the scale of such a huge country as ours.
Including for this reason, the struggle against military schools continues. For example, from 50 schools remains 10. Accordingly, the number of officers is reduced five times. And on the remaining five times the load falls and for this reason they are not physically able to cope with it. This struggle has spread to the academy. Most of them have already been reduced. And, by the way, "Damocles sword" cuts hung over the only in the country Academy of Air Defense and Air Force of them. Zhukov, located in Tver. In other words, we are now seeing the pursuit of our rapidly degrading armed forces, "the expert believes.
But the opinion of the Deputy Director of the Institute of Political and Military Analysis, Alexander Khramchikhin. "Kornukov is right," he stressed. "The Americans already have land-based, sea-based missile systems," air lasers, "they successfully shoot down satellites from a ship. We do not have such weapons.
And at the present time, our air defense and air defense systems are not capable of carrying out tasks to repel the blow of a potential enemy. They can now simply crush the "mass". And this is evidence of the general collapse of our armed forces. This is largely due to the fact that the Soviet potential has already been developed, and nothing new appears.
Someone will say: "we have the newest C-400 complex!" Firstly, there are only two battalions, while dozens are needed, and secondly, due to the fact that there are no missiles for him, with which he can shoot down targets at greater distances than C-300, in fact, in their current form, they are no different from the "300". Now our armed forces, in fact, have become only a permanent exhibition for buyers of our weapons.
You can not get past one more moment. In the media, information about the upcoming liquidation of the unique Academy of Air Defense and Air Defense in Tver, as it happened with many other academies, has long been leaked. And it will deal a heavy blow to our defenses. There are excuses like the fact that its functions can be performed by other institutions like the Yaroslavl anti-aircraft missile school, which, however, does not cover fighter aircraft and aerospace defense. The trouble of the military academies is that they occupy expensive buildings in the center of cities, which many want to occupy.
Some time ago, among some of our politicians, it was fashionable to declare that we don't need an army at all, since "now there's no other time and no one will attack anyone." But
история
suggests that military weakness and gives rise to aggression in the first place. If we continue to treat our armed forces this way, then very soon we will be proved the opposite, "the expert emphasized.
"As such, we now essentially have neither air defense nor air defense," said the air defense colonel, doctor of military sciences Ivan Yerokhin. "After all, at the beginning of 1990's, air defense was liquidated as a type of armed forces and was reassigned to the air force. performing completely different tasks. There is no need to speak about any development of air defense and air defense of Kazakhstan in such conditions.
For Russia, the greatest danger in the twenty-first century is a threat from aerospace. Let me remind you that NATO countries have always relied on the shock forces of the Air Force. And as shown
examples of Yugoslavia and Serbia, in recent decades, the means of VKN began to play a decisive role in achieving military success.
As is known, the strategic nuclear forces (SNF) play a major role in deterring aggression. But the SNF itself needs to be protected from the preemptive disarming strike of the VKN forces of the aggressor, and in information support of their actions. Protect them can only a single information and fire system EKR, created on a national scale.
Of special importance is the aerospace defense of Ukraine in connection with the active development of hypersonic aircraft in the USA at speeds of up to six thousand km / h. As a result, the likely opponent will be able to strike in minutes. And accordingly, certain decisions about repelling aggression will have to be made not in minutes, but in seconds. Consequently, we need appropriate specialists, which soon may not remain at all. It is not only about officers in the army, but also scientists who develop strategy, operational art and tactics of the use of aerospace defense and, accordingly, those who train the first and grow the second. Today, they can prepare the Military Academy of Aerospace Defense (VA EKR) them. G.K. Zhukov in Tver. No wonder with 1997, the United States constantly invites its experts to work together on missile defense. But she was threatened with closure. One of the reasons is the desire to obtain economic benefits due to its closure, despite the fact that it is possible to develop the East Kazakhstan region in other military universities. But VKO is the most complicated independent system and "not incidentally" to attach it anywhere.
And in the world recognize its leadership in the field of training of specialists of air defense and EKR. Not without reason representatives of more than 20 countries study within its walls. They pay for this currency, the flow of which will run out in case of liquidation of the academy. There is no doubt that those who send their officers to our studies want them to study at this academy, whose graduates for the decades of its existence have successfully participated in repelling air strikes in many local conflicts, beginning with Korea and ending with Vietnam. And the elimination of systematic military training will also lead to a sharp decrease in the volume of military-technical cooperation, including the purchase of our military equipment. Foreign experts are skeptical about the prospect of training not in the academy, but in an incomprehensible "training center" or "on the courses" "somewhere in Russia"?
In the presidential "Concept of the East Kazakhstan region" it is said that the most important part of the country's security is its aerospace safety. This task has become nationwide. The system of training a specialist in East Kazakhstan includes a whole complex of training. It affects missile warning systems, missile defense and anti-space defense, control of outer space, anti-aircraft missile fire, fighter air cover, reconnaissance and electronic warfare. These are all interconnected things and therefore the training of a specialist in the aerospace defense can be organized only under a unified leadership.
Only VA VKO them. G.K. Zhukova provides training for military personnel and for air defense and air defense. The whole theory of aerospace defense is developed within its walls. With the liquidation of a VA EKO or the exclusion from its structure of one of the components (air defense or missile defense), there will be no place and no one to continue research in the field of integrated EKO and implement military issues of the presidential EKO RF Concept. Any dismemberment will destroy the whole. The recovery will take 10 – 15 years. Since only in 11-th year, you can get the first doctors of military sciences.
However, whether from whom to recover? Now there is a struggle for cheap Russian intelligence.
No wonder today many countries, realizing that this is the main weapon of modern war, made the development of air defense and air defense systems a priority. And they are ready to buy not only our first-class weapons, but also our experience and brains, knowing that the organization of air defense and air defense in all countries is not mastered as deeply as in Russia, from which many countries have defended the aggressors from many countries, " expert.
Yes, and one more small detail, which once again testifies to the correctness of the experts: the officers who work at the Academy of Air Defense and Air Defense of Tver, recently reported the most interesting
news
which indirectly indicates preparation for its disbandment: for a long time the anti-virus databases have not been updated there. Allegedly, they did not allocate money, which was not observed before ...