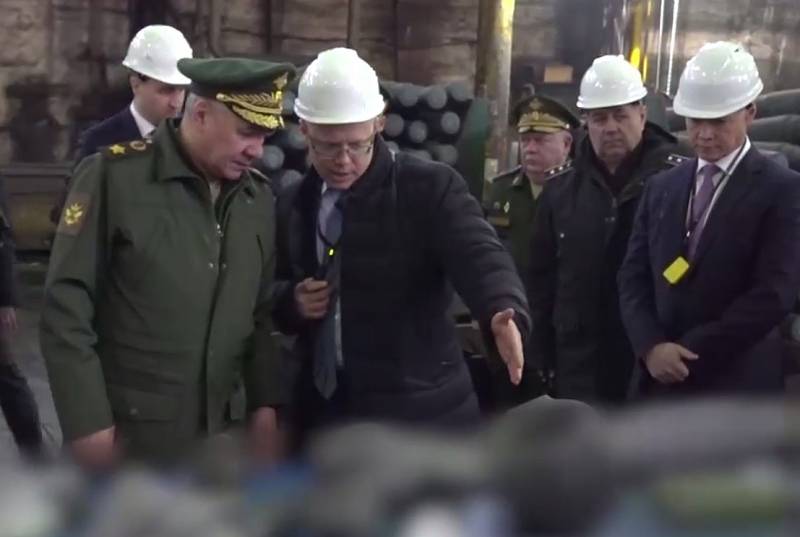 One of the most important tasks of the domestic defense industry is the timely and complete provision of the military participating in the NMD with all the necessary weapons. In particular, ammunition for artillery,
tanks
etc.
During today's working trip to the Chelyabinsk and Kirov regions, the head of the Russian Defense Ministry, Sergei Shoigu, inspected the defense industry enterprises that fulfill the state defense order, as the department writes in its
TG channel
.
The report says that the management of the enterprises reported to the Russian Minister of Defense on the progress of the implementation of the state defense order. The head of the military department also received a report on the measures taken to modernize equipment, expand production capacities and increase labor productivity.
According to the RF Ministry of Defense, the above steps have already made it possible to significantly increase the production of ammunition. At the same time, it is expected that by the end of this year, the output of individual samples of the products of the above-mentioned enterprises will increase by 7-8 times.
It is reported that during his visit to the defense industry plants in the Kirov and Chelyabinsk regions, Sergei Shoigu personally inspected the work of production lines for the production of mortar, tank and artillery shells of various calibers, as well as unguided rockets. At the end of the working visit, the head of the Russian Defense Ministry held a meeting at which tasks were set to further increase the volume of ammunition production.