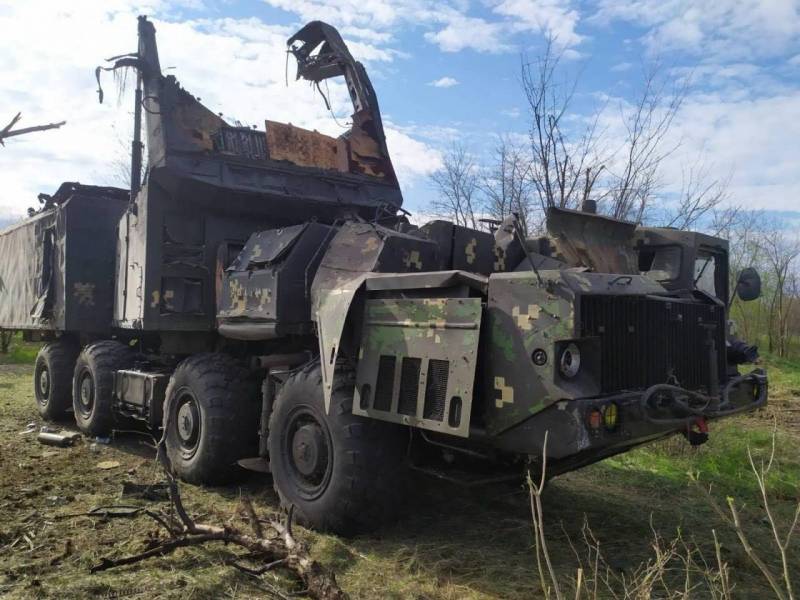 Ukrainian troops lost another radar of the S-300 anti-aircraft system, air defense systems at the Svatovsky line intercepted several missiles of the American MLRS HIMARS, without changes in the main directions. This is stated in the new report of the Ministry of Defense.
The guidance radar of the Ukrainian S-300 air defense system was destroyed near the village of Davydov Brod in the Kherson region. There are no details in the official summary, but local resources previously reported that the complex was hit by an anti-radar missile launched by our
aviation
.
Today, our aviation from the left bank of the Kherson region worked for 5 plus! The S-300 was hit on the right bank in the area of ​​the settlement. Davydov Brod, in the morning. anti-radar missile
- the message said.
Air defense systems intercepted eighteen HIMARS MLRS rockets and one GLSDB guided rocket. Here, too, without details, but earlier the press center of the Zapad group in its statement said that the Armed Forces of Ukraine had attempted to deliver a group missile attack by the HIMARS MLRS in the Svatovo region, all the shells were intercepted by the S-300V4 air defense system. There are no data for GLSDB.
On the main directions without major changes, nothing extraordinary happened during the day. In the Kupyansk direction, with air strikes and artillery strikes, the troops of the "Western" group defeated the Armed Forces of Ukraine in the areas of Molchanovo, Sinkovka and Berestovoye of the Kharkov region. The enemy lost about 65 personnel, two armored cars and three cars.
On Krasno-Limansky, the troops of the "Center" group struck in the areas of Nevskoye and Chervonaya Dibrova of the LPR, destroying up to 125 Vushniks, four armored cars, three pickup trucks and self-propelled guns Gvozdika.
In the Donetsk direction, the troops of the "Southern" group continue to conduct active hostilities, having destroyed up to 240 military personnel of the Armed Forces of Ukraine and mercenaries, three infantry fighting vehicles, three armored personnel carriers, two armored cars, four vehicles and a D-30 howitzer in a day. In the South-Donetsk and Zaporizhia directions, the Vostok group of troops fought in the Novomikhailovka and Vugledar regions. The battles in the Ugledar region turned into positional ones, neither side has the opportunity to go on the offensive. It is reported that the enemy lost up to 20 people killed and wounded, as well as three cars per day. In the Kherson direction, 18 Ukrainian servicemen and five cars were destroyed per day.