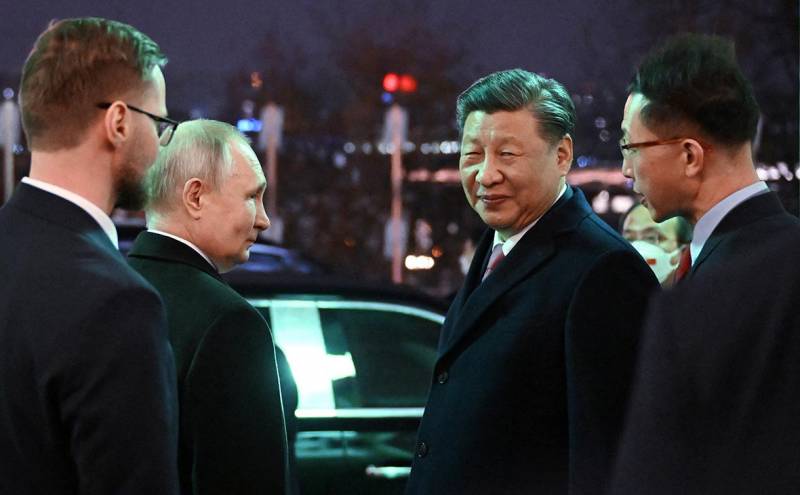 According to international diplomatic protocol, a state visit is an official visit by a head of state to a foreign country at the invitation of the head of state of that foreign country, with the latter also acting as the official host for the duration of the state visit. State visits are considered the highest expression of friendly bilateral relations between two sovereign states and are typically characterized by an emphasis on official public ceremonies.
That is, a state visit not only implies maximum officialdom, a program oversaturated with protocol events, but also a large number of signed joint documents. Moreover, not just contracts and projects, moreover, we are not even talking about protocols of intentions, no. We are talking about strategic agreements signed for more than one year.
Xi Jinping: "We have signed a joint statement on deepening the comprehensive partnership and strategic cooperation entering a new era. And a joint statement on the development plan for key areas of Chinese-Russian economic cooperation for the period up to 2030. We outlined a plan for the further development of bilateral relations and cooperation in all areas in the near future."
And from him: "President Putin and I agreed to intensify comprehensive planning at the highest level, increase trade in energy, resources and electrical products, increase the stress resistance of production and supply chains of the two parties, expand cooperation in the field of information technology, digital economy, agriculture, continue to ensure the continuity of cross-border logistics and transportation"
Actually, there is no need to draw any conclusions here, the Chinese leader outlined everything quite well. For all the good stuff and more. They sell us electronics, we sell them resources and agricultural products. There is not a word about contracts, but a statement ... You can say a lot of things, but the trouble is that the specifics are zero.
But nothing more than what was said was not to be expected. By the way, in China itself, the visit was treated quite casually like this. That is, there was no such brutal hype as we have in the media. At all. Here is the page of my beloved People's Daily: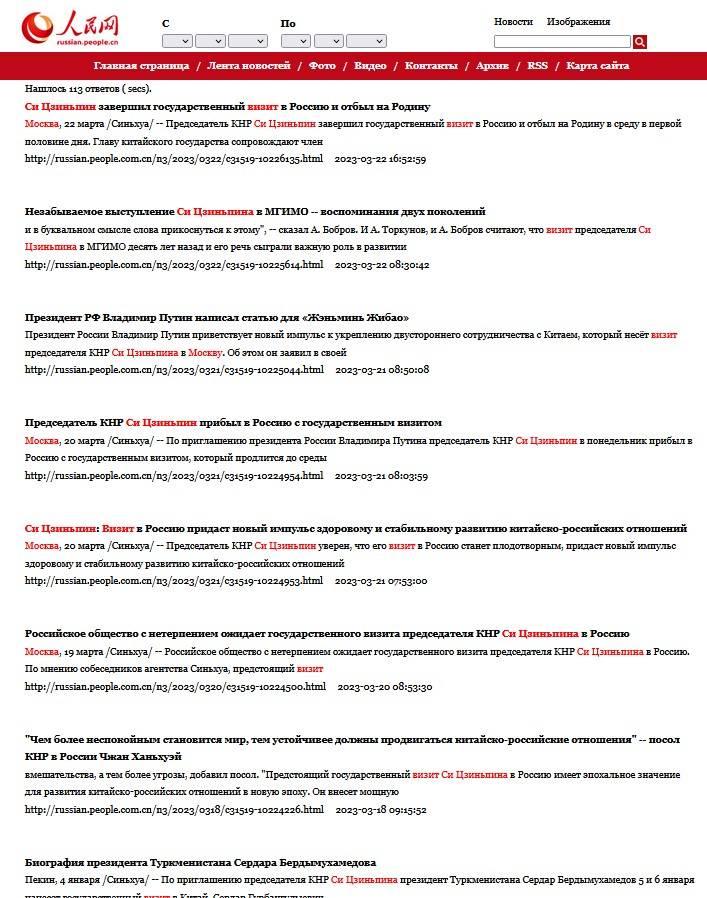 As you can see, Xi Jinping came to Russia and went back. All. A visit to Laos or Myanmar could have looked about the same, nothing more. Yes, Putin's article in Renmin aroused interest, but nothing more. Everything else looked very ordinary.
But the visit itself was very important for Russia, yes. That is why we met Comrade Xi, as they say, from the heart. The very fact that Xi Jinping arrived almost immediately after being elected for a new term as the President of the PRC is a very big gesture on his part. The important point here is that everything happened, by political standards, just instantly: ten days after the election.
It is worth noting that it turned out to be accepted. The whole question is solely in who and what benefits it will bring.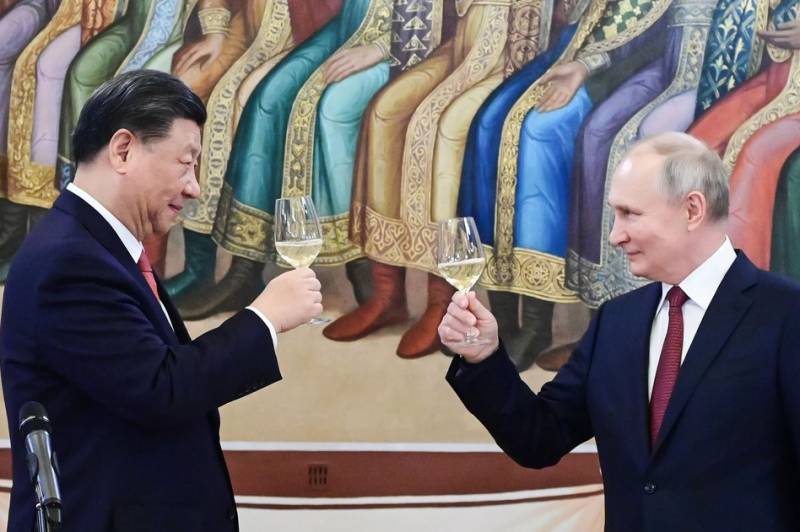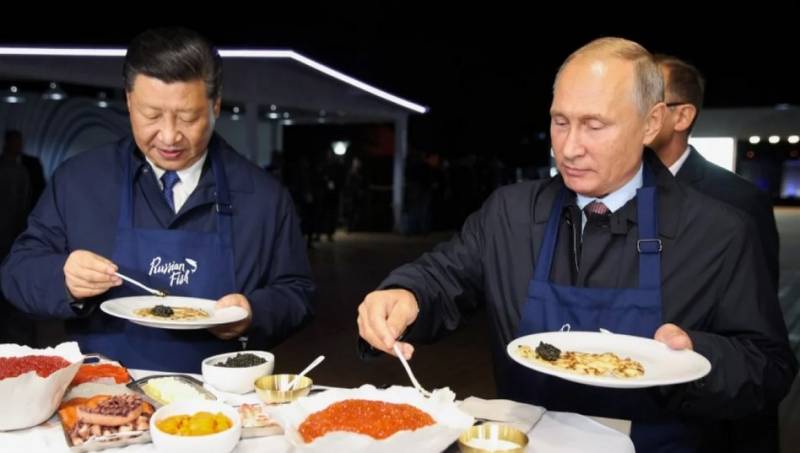 After reviewing the signed documents, it is difficult to draw any conclusions. There are all political and diplomatic curtsies regarding improvement, deepening, for everything good against everything bad. The specifics are minuscule.
The main question is: can China be considered an ally of Russia?
Answer: no, you can't.
First of all, in China itself the concept of "ally" is not used at all, China has no allies. For China, the word "ally" is very difficult, the union implies the presence of some obligations that must be fulfilled, and China is not the country that takes on obligations that can, at least slightly, but strain the country.
Yes, in principle, the PRC has one ally, in relation to which the PRC performs allied functions, but this is more of a younger brother than a full-fledged ally. North Korea. The status is approximately the same as that of Belarus in relations with Russia, only the leadership of North Korea has much more twists and turns, and the Juche idea embodied in missiles can easily be exported somewhere. For example, to Japan.
That's it, China has no one else. And they are unlikely to appear.
Historically, the Chinese did not look for allies for themselves. In ancient times, the Middle Kingdom, the Middle Empire, as the Chinese themselves called it, always considered itself self-sufficient and strong. And I didn't look for any alliances with anyone. For which she was repeatedly punished by her neighbors from the Japanese islands, but in the end they even got out into the Second World War, albeit with the help of the USSR.
Well, now look for alliances with someone ... With the neighbors, in principle, they quarreled with everyone. Apart from Russia, at least there are no more territorial claims here. But let's face it, a country with a population of one and a half billion, successfully training a huge land army and building such a good navy with giant strides, is an unpleasant object for resolving any disputes, even in a non-nuclear way.
Yes, China has not been seen participating in military blocs and alliances and, it is worth emphasizing, it is trying to solve all the problems itself. Hundreds of articles have already been written about the problems that China has, especially territorial disputes. We will limit ourselves to saying that there are territorial problems, but their solution has not yet led to wars of a regional scale, although conflicts with Vietnam have put the region on the brink more than once in the last century. However, it worked out.
Therefore, a country with a huge production resource, an army,
fleet
and a nuclear arsenal is strong in itself. It can be said that it is good that China does not seek to impose its hegemony on the world, as the United States does. It cannot be called a peaceful country, but in general, the policy of the PRC is very peaceful, if you close your eyes to particulars.
So China does not need allies. We need sales markets once and a reliable rear behind us in terms of the supply of raw materials, two. And that's all. All the words of Comrade Xi that "Russian-Chinese bilateral relations have gone beyond bilateral and are now the most important factor in world politics", on the one hand, are a serious statement, on the other ... on the other, it's worth quoting one more quote, Xi's final phrase Jinping that "the world is undergoing the biggest changes in 100 years and we will work on them together."
It reminds of the old parable about how the fly said: "We plowed", sitting on the horns of an ox. And, perhaps, this is the maximum that could be squeezed out of the Chinese leader in our situation.
He, in fact, gave it away.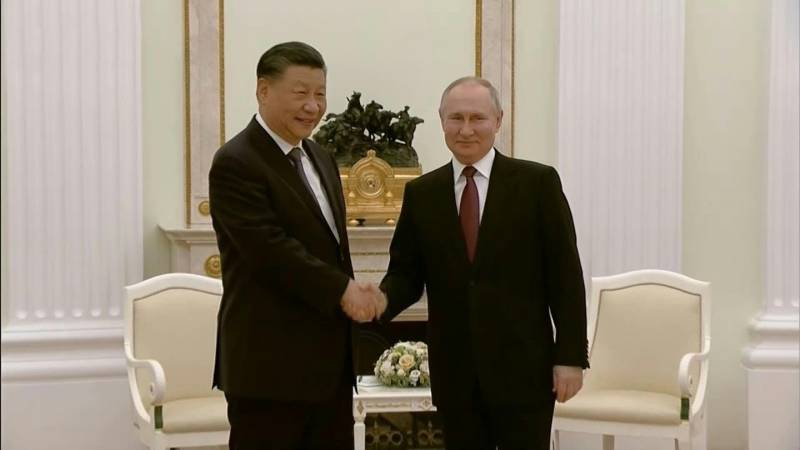 It is clear that China today feels like a stronger country than Russia. And therefore, some even characterize the visit of the Chinese leader as evaluative, that is, in China they understand that confrontation with the United States cannot be avoided, spheres of interest are not only colliding, they are already cracking. And here it would be useful to play it safe and consolidate, fix relations with Russia, as with a supplier of everything necessary.
That is, resources
In general, the situation turned out to be not very beautiful: the Russian Federation sold to Europe about 150 billion cubic meters of gas annually. At decent prices. And she received beads and mirrors for this, well, everything that the white gentlemen gave the natives historically. Now the European market has been lost by Gazprom, and the Chinese market, alas, cannot compensate for such losses. Power of Siberia last year pumped about 15 billion cubic meters of gas, in 2023 it is planned to increase it up to 22 billion cubic meters of gas. With the planned capacity of pumping "Sila" about 38 billion cubic meters.
In general, China takes little and cheap. Prices are classified, but it is precisely the fact that they are deeply hidden that gives grounds to believe that China takes gas slightly above the cost and, of course, below the level that the Europeans have drawn as the limit.
Who will compensate for the difference, of course. "New Oil" and "New Gas" of Russia. We.
In general, the situation is simple: European gentlemen gave their euros and dollars for gas, supplied their goods to the Russian market. Now the Europeans are gone, and instead of European beads and mirrors, we will get Chinese ones. They are almost the same as we are told, if not better because they are cheaper. "Khaval" instead of "Audi", "Moskvich-Jack" instead of "Renault".
In general, no one is preparing Russia for a different fate, except as a gas station country. Well, it's your own fault. It was in the 90s that Gaidar's team developed such a way of life for the country: why do we need to produce something if we can buy it by selling resources? Here we are selling. And China is buying.
Yuanization
Putin proudly says that settlements between our countries are carried out in national currencies, and the yuan is becoming a kind of lifesaver for Russia in settlements with other countries. Russian banks have problems with dollars, and the yuan is normally taken in Africa and South America.
On the one hand, it seems to be nothing, on the other hand, the last nail in the coffin of the actually dead EAEU, which was originally conceived as a ruble zone. But Russia will enter the yuan zone, and nothing pleasant awaits it there, because, alas, the yuan cannot yet be called a strong and stable currency.
However, the yuanization of the ruble will play into the hands of the Chinese currency. China's interest in this issue is understandable: the more countries start using the yuan, the easier it is to create your own market. Yes, it will be interesting for many countries to enter the Chinese market, but the trouble is that China does not need them there in the first place. But the markets of these countries will have to be opened wide for Chinese goods.
And the following picture emerges: oil, oil products, gas and coal from Russia to China in 2022 reached 75% of all exports to China, or $85 billion out of $114 billion. This is according to the Main Customs Administration of China. Another 9,8% of exports are ore, metals and metal products, and 3,2% are wood and products from it, 1,4% are precious metals, and 0,9% are fertilizers.
That is, 90% of Russian exports to China are resources. Machinery, equipment, electronics and transport - 0,5% of Russian exports. In Chinese imports to the Russian Federation, the share of equipment is more than 51%.
Actually, everything: Russia is just a raw material appendage of China
Resources to China, from there goods and means of production. Moreover, quite so-so in comparison with European ones. Technology, sorry, is not Chinese. Copying and releasing a cheaper version is what they could and will be able to do, but this whole thing is secondary in comparison with European and American ones. Alas for us, but it is so.
Good copiers, but very unimportant developers - this is the current status of China. We are no better, the "import substitution" program is about the same as the Eurasian Economic Union, so there is no time for fat. Good developers "unparalleled" but no manufacturers - the status of Russia.
The fact that there are problems with production in Russia is understandable. All these "unparalleled in the world" crafts in single copies are the best illustration of the impotence of Russian industry, or rather, its remnants.
Perhaps the best option would be to transfer all these Armats, Boomerangs, Coalitions, Kurgans and other Petrels to China. In a year, it would really stand on the conveyor in stunning quantities compared to Russia.
In general, God himself ordered the Russian Federation and China to stay together. For together you can somehow compensate for the shortcomings of a neighbor. So Russia appeared in the army after all
drones
and radio stations, and China may have aircraft with a decent motor resource, for example.
But in fact, what is the dollar zone, what is the yuan zone - what difference does it make if the role of the gas station country is all that Russia is capable of in its current state? It's just that in the yuan zone everything is somewhat poorer than in the dollar zone.
Do they understand this in Russia - there is nothing to talk about here, but in China they understand it just fine. That is why Xi Jinping came to visit, and not vice versa. Therefore, there is absolutely no specifics in the signed documents, all this diplomatic husk is a stage of preliminary preparation for what will happen. If it will be.
Of course, something will happen, but everything here is 100% dependent on China. It is China that will dictate the terms of upcoming deals and agreements, and these terms will be very tough. But Russia simply has nothing to offer or oppose, unfortunately, the country's completely toothless policy will not allow this. The attacking style of diplomacy in the style of the USSR is all in the distant past, all that Russian diplomacy can do is try to respond by completely giving the initiative to the wrong hands. That notorious drawing of red, burgundy and purple lines in endless quantities.
China is implementing this with maximum benefit for itself.
But before that, the Chinese, with their peculiarities in psychology and approach to processes, simply need to understand what is happening in Russia and draw many conclusions for the future. And the Chinese know how to draw conclusions for the future. Here it is worth recalling the Vietnamese-Chinese conflicts, of which there were plenty. And the lost war of 1979, when, on the one hand, the goals and objectives that the CPC leadership set for the PLA were not fulfilled, and on the other hand, a check was made to see if the USSR would stand up for its ally. The USSR did not stand up for Vietnam, limiting itself to military supplies and condemnation of the PRC.
However, the Soviet Union - that was a long time ago, today you can remember how Russia stood up for its ... no, of course, not allies. Fellow travelers, judging by the press. But we know how to file when necessary, why it was not worth helping Yugoslavia, Iraq and Libya.
This is also taken into account in China. They generally know how to consider the future, so in our case everything will be taken into account: foreign policy, diplomacy, and the military power of Russia. Military power in particular.
Probably, the Chinese, having the negative experience of the last century, do not quite understand what is happening on Ukrainian territory today. Therefore, the "12 points of reconciliation" look somewhat inexpressive. And here the interests of China can be divided into two parts: on the one hand, a neighbor who can get a good deal of cheap resources, distracted by the war, is not bad. You can do things. On the other hand, a country that is experiencing problems with the population (both in terms of demography and in terms of everyday life), with a government that is unable to solve external and internal problems, but with a nuclear
weapons
...
How are you an ally? So in China they think and evaluate. Calculate possible consequences.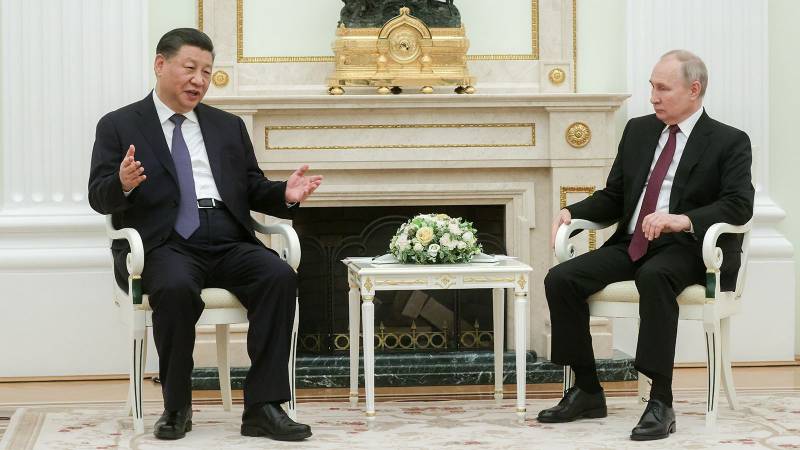 The political message of China is understandable, it slips through the experience of the 1979 war: if it didn't work out, jump off. Worse than it is - will not be. Let's quickly forget the war, which is clearly unfolding unsuccessfully (as China did in its time) and get down to business. Reforms of the army, the release of new equipment and everything else. Chinese rationality demands such a solution, but diplomacy prevents it from being stated directly.
China needs to buy time at any cost and strengthen the country. Because it is obvious that it will not be so long before the West takes China seriously. While everyone is running around and around Ukraine, China has time. On the other hand, the PRC now has a lot of its own problems, and allowing the West to use them to its detriment is an unaffordable luxury.
So if you look from this side, then Xi Jinping's visit is an attempt to understand and evaluate how Russia is generally suitable for the role assigned to it. No, not an ally, for an ally one must harness oneself not only in the diplomatic and political, but also in the military arena. Therefore - for the role of a good neighbor, a reliable supplier of resources in the future, and so on.
The fact that it is precisely for evaluating everything yourself, with your own eyes, so to speak, with subsequent analysis - that is, perhaps, why the Chinese leader came. The media, reports of diplomats and other sources of information, this is, of course, good, but ...
The fact that Russia is not suitable for the role of an ally to China (too weak army, too weak industry, too weak financial sector, tied exclusively to the trade in resources), is understandable. But a neighbor who can be crushed, flood his market with your goods, and transfer financial rails to your own currency, buy resources not only profitably, but at bargain prices - this is quite an option.
And such an option would be more beneficial for China. This is quite obvious and natural. Capitalism in all its glory, although the PRC stands in the way of developed socialism, but who said that this should extend to other countries?
Total:
We are too weak in the eyes of China to claim allied relations. Here are the relations between the metropolis and the colony-raw material appendage - yes, it is quite possible. But in order to become a full-fledged ally of China, one must be on the same level with it. And this, alas, is not observed.
Moreover, today Russia has become so dependent on Chinese industry due to the destruction of its own that it is scary to imagine what will happen in ten years.
We were scared for a long time that "NATO soldiers will come and take away all the resources." As a result, these resources go to China for next to nothing. Of course, this is an indicator of a very strong state, because only such a state is able to give away oil, gas, metals, wood on the cheap.
The US can't. And we - easily. That is why China will pretend for a long time to come that Russia is its reliable partner and neighbor.
Just remember that trade with Russia in 2022 amounted to $190 billion
Trade with the United States - 759,4 billion dollars.
Trade with the European Union - 847,3 billion dollars.
Trade with ASEAN - $975,3 billion.
Moreover, China exports more from Russia than it supplies. Further, everyone can draw conclusions about how Russia is a serious partner for China. And finish off the idea of ​​the possibility of an alliance.
China, which has two gorgeous allies, the army and navy, can afford not to enter into alliances with anyone. He will not be, Russia is destined for the role of a fellow traveler-supplier. It is unfortunate, but this is the role Russia will have to play until the country really becomes strong and confident both politically and militarily.