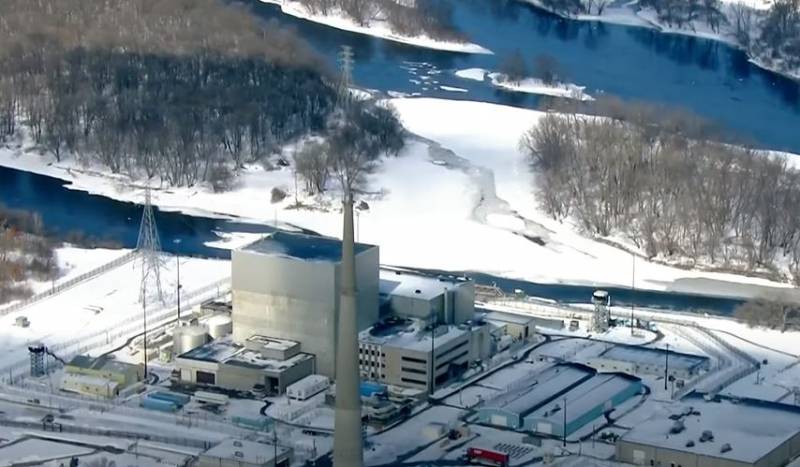 A series of man-made disasters continues in the United States, after several derailments of trains, including those with hazardous chemicals, as well as an explosion at a chemical plant, there was a leak of water with tritium at one of the nuclear power plants in Minnesota.
A leak of water with tritium was recorded at the Monticello nuclear power plant in the north of the United States. Xcel Energy, which owns the nuclear power plant, has begun disconnecting it from the grid, planning to repair and eliminate the causes of the incident. At the same time, it is argued that the leak does not pose a danger to either the public or the environment. But this, as it turned out, is already the second incident of this kind, the first leak occurred back in November 2022, but it was reported after the fact on March 16, and on March 22 the second one occurred.
More than 400 gallons of water containing tritium (a radioactive isotope of hydrogen) leaked from nuclear power plants last November. Specialists collected some of the water, sending it back to the nuclear power plant system, but some went into groundwater. They decided to tell about this only on March 16, and six days later they discovered a second leak of several hundred liters more.
A small amount of water has entered the groundwater (...) it also poses no risk to human health or the environment
- say in Xcel Energy.
At the moment, the company declares the localization of the leak, the company's specialists have collected approximately 32% of the spilled liquid. The collection of the rest will take at least a year. Residents are concerned about the possibility of radioactive water entering the Mississippi River, which flows next to the nuclear power plant.
Meanwhile, according to the American media, a chocolate factory has blown up in Pennsylvania today, there are casualties, several people are missing.