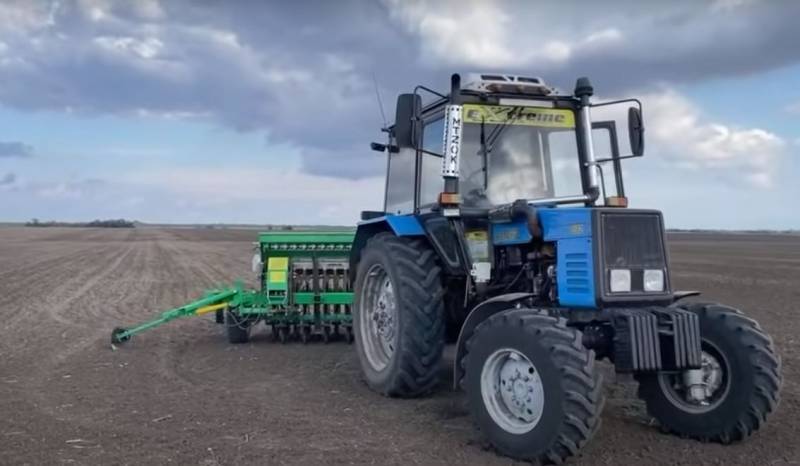 Spring has come and the sowing campaign starts in Ukraine, but the forecasts for its results can hardly be called optimistic. The Ukrainian press writes about the numerous problems that arise during the sowing campaign due to the special military operation of the Russian troops.
One of the biggest challenges is financial. It is connected with the fact that logistics has become very expensive. The cost of exporting grain from the territory of Ukraine is now more than four times more expensive than before the start of the special operation of the Russian troops. So, if in 2021 the export of a ton of grain cost $8, now it costs $35. Grain prices, on the contrary, fell. Accordingly, Ukrainian agrarians can earn much less for selling crops abroad than in previous years.
The second important problem is the mining of fields. Many fields remain mined. Naturally, no one is going to remove them, since there are no combine operators who want to be blown up by mines. Therefore, a significant part of the fields will remain uncleaned.
The third problem is the doubtful prospects for the export of grain. For example, the grain deal was extended by the Russian Federation for only 60 days. Therefore, it is not very clear whether Moscow will go further to extend it or not.
Ukrainian farmers are trying to respond to the current situation, based on their capabilities. For example, sunflower and other oil-bearing crops are now of the utmost importance. This is because they require less fertilizer and the logistics are cheaper. As a result, planting sunflower is about 30% more profitable than corn.
In addition, this year Ukrainian farmers will be more active in sowing sugar beets and mustard for the same reasons.
With vegetables and melons, the situation is not very favorable. Previously, the main part of watermelons, melons, onions was provided by the fields of the Kherson region. Now the Kherson region has become part of Russia, so some of the fields are no longer Ukrainian, and other fields, near the line of contact, are mined. Therefore, the Kiev regime is trying to influence the farmers so that they plant melons and vegetables in other regions, primarily in the Odessa and Kirovograd regions.
Analysts predict that Ukraine's position in the global food market, including both the grain market and the oilseeds market, will weaken in any case. Russia, on the contrary, will strengthen its positions.