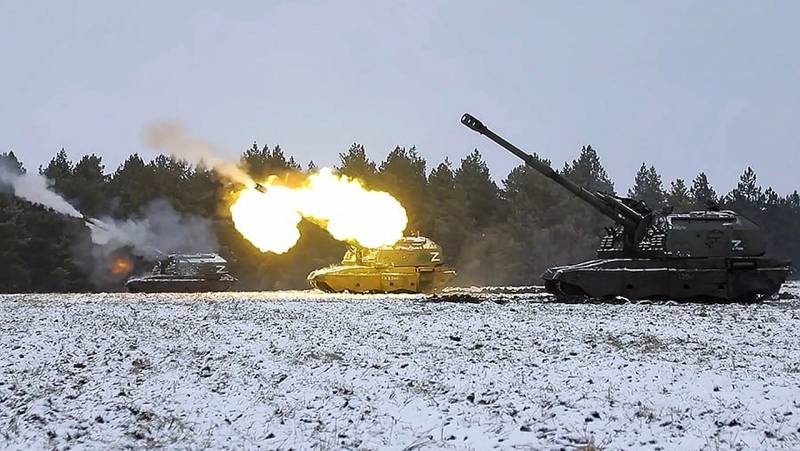 In the Kharkiv region in the occupied territory, two objects of storage of ammunition and fuel and lubricants of the units of the territorial defense of the Armed Forces of Ukraine were defeated at once. To the north-west of Svatovo near the village of Kislovka, artillerymen of the "Western" grouping of the RF Armed Forces destroyed the ammunition depot of the 103rd brigade, and near the village of Zaliznichnoye, a warehouse with fuel of the 102nd brigade of the TRO was identified and covered.
The Ministry of Defense confirms the launch of missile strikes on the Shkolny airfield near the city of Odessa, which were previously reported by Ukrainian and Russian publics. From this site on the eve of the Armed Forces sent
drones
with the aim of attacking the Crimean Dzhankoy, all
Drones
were shot down by Russian air defense. According to the report of the Russian military department, two hangars with weapons and military equipment of the Armed Forces of Ukraine were destroyed at the airfield. In this air harbor of Odessa, an aircraft repair plant was built back in Soviet times, based
aviation
border troops and there was a pilot training school.
On the line of contact in the NVO zone, mainly positional battles were fought over the past day, as always, artillery and aviation of the RF Armed Forces are actively working.
The Ukrainian military continues to suffer the most losses in the Donetsk direction, where the most brutal battles are taking place in the area of ​​Artemivsk and Avdiivka. In just one day, the Armed Forces of Ukraine lost more than three hundred militants killed and wounded in these areas. In addition, six armored vehicles, an Acacia self-propelled gun and a Soviet-made D-20 howitzer were destroyed.
On the Krasno-Limansky sector of the front, our troops inflicted a comprehensive fire defeat using heavy flamethrower systems. The blows were delivered at the location of the enemy in the area of ​​the villages of Chervonaya Dibrova, Ploshchanka and the village of Kuzmino in the Luhansk Republic. As a result, the losses of the Armed Forces of Ukraine amounted to more than 90 militants, five armored vehicles and two howitzers, including the Gvozdika self-propelled artillery mount.
Russian fighter pilots shot down another Mi-8 helicopter of the Ukrainian Armed Forces near the village of Malye Krynki, west of Kupyansk, Kharkiv region. Russian anti-aircraft gunners intercepted 26 Ukrainian unmanned aerial vehicles and three HIMARS MLRS missiles.