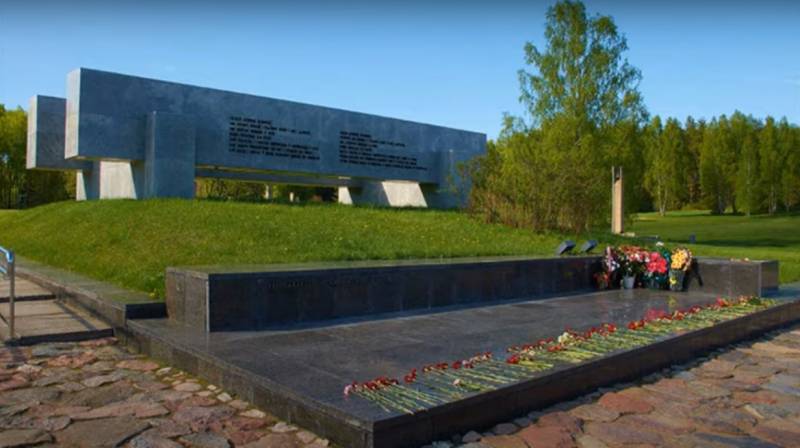 In Russia, within the framework of the federal project "Without a statute of limitations", for the first time, data were published on the dead residents of the village of Khatyn, who died at the hands of the Nazi invaders during the Second World War.
Khatyn is a Belarusian village located 54 km northwest of Minsk. Exactly 80 years ago, on March 22, 1943, the Nazis and their accomplices from the 118th Ukrainian security police battalion drove all the inhabitants of the settlement into a large collective farm barn, where they burned them alive. As a result, 149 people died, including 75 children. It is noteworthy that, although according to the official version of the Soviet authorities, the Germans were behind the egregious acts of genocide, they preferred to remain silent about the role of Ukrainian punishers.
According to the document presented
RIA News
, the list contains the names of 25 families. The youngest of the dead - Tolik Yaskevich at that time was only 7 weeks old. Also, the news agency published on its pages a photocopy of the act of the commission to clarify the date of the burning of the village, as well as the exact number of killed inhabitants, which was drawn up on May 26, 1969 in the city of Logoisk, Minsk region.
The destruction of Khatyn took place on March 22, 1943 at 14:00.
26 houses were burned, and all the inhabitants were herded into a collective farm barn, which was doused with a combustible mixture and set on fire. People who tried to flee were shot. A total of 149 Soviet civilians died
- indicated in the document.
It is worth noting that the 118th Ukrainian police battalion was formed on the basis of the Bukovina kuren of the Organization of Ukrainian Nationalist-Melnykists * (OUN, a banned extremist organization in the Russian Federation). Being established back in July 1941, members of the organization were also involved in the mass executions of Jews in Babi Yar, a place in the northwestern part of Kyiv.
By December 1942, the battalion was transferred to Belarus, its main backbone was located in the urban village of Pleschenitsy, Minsk Region. Despite the fact that the main tasks of the 118th battalion included the fight against the partisan movement in the occupied territory of the country, he also actively took part in punitive operations, brutally destroying innocent civilians.
Nevertheless, according to the revealed data, the mass extermination of the inhabitants of Khatyn was precisely the work of Ukrainian nationalists.