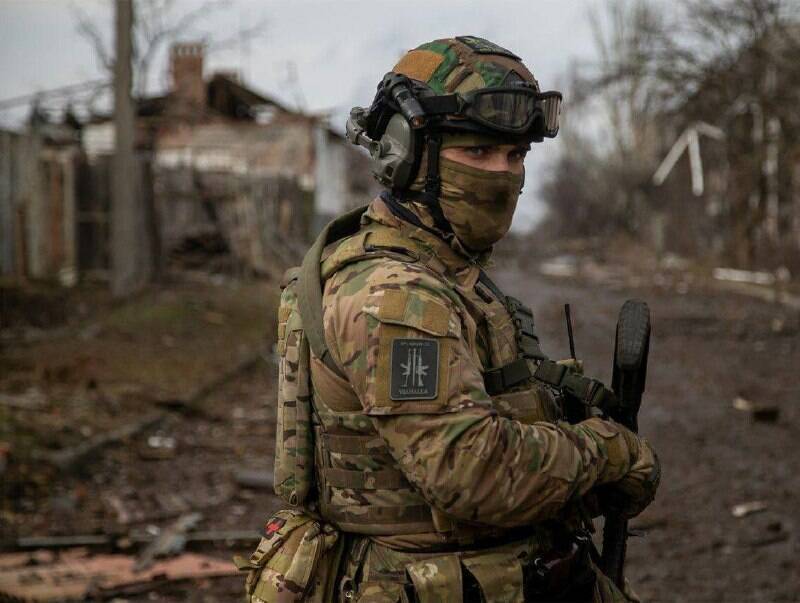 I read numerous materials of our military correspondents, analysts, experts and there is a feeling of some discomfort. I understand that we have a lot of Soviet left. Remember the War of 1812. Who did Leo Tolstoy write about, other eyewitness writers or participants in this war? Hussars, uhlans, gunners, grenadiers!
It was later, when the main idea was "the war is won by a simple soldier from the people", our army became "people's". A soldier with a rifle and a dozen rounds of ammunition against the German
tanks
. An army that is kept at the expense of fighting spirit. An army where every soldier is ready to give his life for the Motherland. That's right, not to defeat the enemy and stay alive, but to give your life for the sake of Victory.
Today, the place of the "people's soldier" is occupied by former Donbass militia, fighters called up for mobilization, volunteers. Again, those who came directly "from the plow and from the machine" to combat units and, by magic, became the victorious hero, win again. You read material about any hero and you will definitely stumble upon "and until recently he was a builder (businessman, janitor, tractor driver, etc.).
The fighters of PMC "Wagner" do not fit into this beautiful row. Well, they are not overwhelmingly tractor drivers and turners. Not even bakers. These are people of a different fate. Not from a beautiful peaceful life, but from a rough camp life. But these are the fighters who are currently demonstrating the greatest success precisely as warriors. It is they who take almost daily oporniki and settlements. It is about them that the enemy speaks as about daredevils who spit on death.
A logical question arises - what is the reason for the success of musicians? Even though the enemy throws more and more new units against these units, which are quickly "grinded" by the meat grinder of the Wagnerites.
I know perfectly well the answer that readers will now give. "They are so smartly equipped and armed (!). And the usual army units were not even close to the musicians in this regard ... And another whining about the lack of supplies, about poor communications, about better western riflemen, etc. In short, the Moscow Region and everything around is to blame. But Yevgeny Prigozhin is well done. Does not spare money for fighters ...
Is it so? What new things did the Wagner commanders invent to win? Or maybe we forgot something from our own military
stories
?
Why invent something that has already been invented a long time ago?
We are somehow used to starting the day with reports that we have taken another house in Artemovsk (Bakhmut), and our gunners and operators
drones
destroyed a couple of enemy groups. In the minds of the layman, Artemovsk has long become a much more formidable fortification than Koenigsberg during the Great Patriotic War. There, our grandfathers and great-grandfathers coped much faster ...
So why then they could, but today only a select few can?
The answer to this question was found by the Soviet General Staff at the beginning of 1943. The one that we successfully forgot about. Including because this answer did not fit into the concept of a soldier "from a simple worker and collective farmer." By May 30, 1943, 15 ShISBr were created in the Red Army on the basis of engineering and sapper units.
Compare the requirements that Prigozhin voiced for recruitment into a PMC and the requirements for a ShISBr fighter. Possession of real combat experience, in PMCs, these are serious articles related to crimes against the person. Age not older than 40 for attack aircraft in both brigades and PMCs. Physical strength and good health in both cases.
I look at a few photos of attack aircraft of that time. Healthy men, metal shells on their chests, grandfathers of modern body armor, machine guns and anti-tank rifles in their hands, some flaunt with flamethrowers, I generally keep quiet about machine guns. Let's add here obviously non-standard pouches for grenades and ammunition, and they are not dressed in the usual washed out uniform, but like toys in a store, brand new.
Is this different from a modern photo of a stormtrooper-musician? Look carefully and you will see that the attack aircraft is armed and equipped in the same way as a simple fighter will be armed in 20-30 years. Like those dummies that demonstrate the achievements of the "military economy" at exhibitions. All the best that exists in the world today is available at Wagner.
Many times I have seen videos from the soldiers of the Armed Forces of Ukraine, who were recorded after the attack of the musicians. Veseushniks spoke with horror about the fact that it was impossible to kill musicians. Watch yesterday's videos. But we read exactly the same entries in the diaries of German soldiers in the same Koenigsberg: "I shot a Russian five times, but he does not die ..." That's right, protection under overalls, and you are almost immortal. The enemy is going crazy. Psychic attack in the Soviet way.
For some reason, we all know and consider it right that a pilot should fly, drive tanks - a tanker, remove mines - a sapper, shoot from a cannon or mortar - an artilleryman. But everyone should be able to storm fortified areas. Are you a motorized rifleman, paratrooper, marine, scout? So forward - to storm, and must take it at any cost.
We somehow forgot that the task of the scout is not to heroically take the fight behind enemy lines, but to quietly penetrate this very rear and take the "language" or get other intelligence. The task of the DRG is to come, commit sabotage and ... disappear. Even landing or marines should suddenly capture and hold until the main forces approach. But they shouldn't climb on machine guns "with a bare belly"!
And again I return to historical memory.
It took our grandfathers much less time to understand how assault brigades should operate. This understanding came, as now, through blood, through the death of people, but it came faster than it did to us. Already in mid-December 1943, not only the tasks of the ShISBr were determined, but also the procedure for their implementation.
The main task was to block and destroy enemy strongholds and firing structures. But not the way it used to be. You are a stormtrooper, so storm. No, according to the charter, attack aircraft should, if necessary, have heavy means of suppression and destruction, act according to a plan drawn up on the basis of intelligence data, including engineering. Moreover, the duty of the commanders included close interaction with the infantry, artillery, tankers and
aviation
.
Recently, I saw a video of an interrogation of a captured Ukrainian soldier from one of our military correspondents. I do not know the rank of this soldier, but the fact that he is quite experienced in combat is obvious. He clearly identified the reasons for the victories of the musicians. The quote is not verbatim, from memory:
"They are all separated. Some are storming, others are digging, others are bringing ammunition ... "
And this is not an invention of musicians. This is from the same place, from 1943.
But here it is necessary to recall the composition of the brigade. Not all soldiers of the ShISBr were just attack aircraft. In addition to the command and headquarters of the brigade, the brigade had a control company and an engineering intelligence company. In addition, the brigade also had the same sapper assistants - a company of mine-detecting dogs. Well, a few of those same assault engineer-sapper battalions:
"Before the capture, the assault battalion was divided into three components - the assault group itself, the obstacle fencing group and the support group."
Here is such an excursion into the history of wars with access to the present ...
We were just preparing for modern war, not the last
I have heard many times the common phrase about generals who are always preparing for the last war. I heard it so often that I myself believed in the truth of this statement. And I wasn't the only one who believed. Drones that can independently wage war on their own, ammunition that can erase entire city blocks, soldiers in cyborg costumes…
Why remember about some pillboxes, bunkers, strongholds ... Yes, and there are no new fortifications of the same plan as they were in the First and Second World Wars. Only trenches, only dugouts and shelters for equipment, only basements of houses and dungeons of industrial enterprises. But we can't take them for months! Moreover, we are at war with soldiers with a mentality similar in many respects to ours.
But today it is already clear that this is a road to nowhere. It is necessary to re-create assault engineer-sapper brigades. What they will be called is not important. These should be units and formations of direct subordination to the Commander-in-Chief, as it was in the Patriotic War. Only in this case we will avoid the use of such parts for other purposes.
The nature of hostilities already today sets us certain tasks. As Ukraine is liberated, we will receive more and more fortified areas in cities and towns. The reduction of the front line will lead to the concentration of personnel, weapons and equipment in the fortified areas, in the cities! And we will a priori turn each such city into Bakhmut. We will be forced to transform ...
This is the axiom of war. In order to win, it is necessary to constantly change the tactics and strategy of war. Stiffness leads to defeat. We are in the midst of such changes. We beat the enemy in the open field, but we get stuck in the cities. This not only slows down the pace of our offensive, but simply frustrates many strategic ideas.
Short conclusion
I often hear and read that the main value for us is a person. Beautiful words. Almost like the Soviet "everything in the name of man, everything for the good of man." During the conduct of hostilities, this becomes especially relevant. Young men and women, the main productive force of any society, are dying.
Each Bakhmut is additional days, weeks, months of NWO. To put it bluntly, this is a postponement of our victory. And, accordingly, additional losses. The decision must be made right "yesterday". Yes, it's difficult, but necessary. The heroism of our soldiers is wonderful. But heroism alone won't get you far, if you can go at all.
We have enough motivated units and subunits ready to become really assault. This means that it is necessary to provide them with everything necessary and use them in the same way as the ShISBr were used in the Great Patriotic War. This is not infantry, not landing, not marines ... These are attack aircraft. Experts in destroying enemy fortifications!
Victory must not only be won, it must be brought closer, as in the song - "We brought this day as close as we could." The revival of the assault brigades - this is "bringing closer" ...