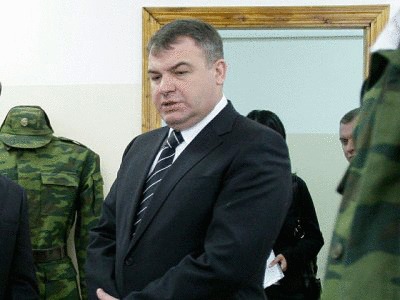 "Russian Technologies" finally disowned Anatoly Serdyukov: by decree of President Vladimir Putin, he was dismissed on Thursday from the duties of the chairman of the supervisory board of the state corporation. This post has been held by ex-minister since 2007. Instead, he was appointed Minister of Industry and Trade Denis Manturov, according to the Kremlin website.
In the middle of November, it was rumored that the ex-head of the Ministry of Defense was appointed advisor to the general director of Russian Technologies, Sergei Chemezov. However, the company's press service denied it a day later, stating that "there are currently no documents or other official instructions governing Serdyukov's status as an adviser to the general director or employee of the Russian Technologies state corporation."
Kommersant wrote on Friday that Chemezov personally recommended the chairman of the supervisory board of Manturov, who is considered his confidant. As for Serdyukov, the director general of Russian Technologies has developed conflicting relations because of the desire of the ex-head of the Ministry of Defense to gain control over the special exporter of Russian weapons.
In the spring of 2011 of the year, on the eve of the incorporation of FSUE Rosoboronexport, Serdyukov, being the head of the supervisory board, offered to transfer the state-owned shares of the new OJSC not to Rostekhnologii, but to the Ministry of Defense. Chemezov managed to keep the system in its current form, but relations with Serdyukov were completely ruined, the newspaper said.
Where "den" Serdyukov
The further fate of the former Minister of Defense interests the public against the backdrop of a major corruption scandal, which served as the reason for his resignation. The investigation, which examines billions of dollars of embezzlement in the department, is known to have no personal complaints against Serdyukov, so it is possible that he can get a new high position. President Putin himself made it clear, after which many analysts decided that the ex-minister had been relieved of any responsibility.
Vladimir Markin, an official representative of the Investigative Committee, said this week that Serdyukov could be summoned for questioning, "if his testimony is necessary," noting that "there are no untouchables in this case." However, sources close to the investigation later said that the investigation team was forbidden to take Serdyukov into the development, despite the existence of evidence of his involvement in corruption.
At the same time, more than half of Russians polled by the All-Russian Center for the Study of Public Opinion (VTsIOM) are confident that the decision to resign Serdyukov should have been made much earlier, since the situation in the army was noticeably worse with him. So consider 55% of respondents.
The situation with corruption scandals Russians assess ambiguously. Some believe that this is Putin's fulfillment of election promises in the fight against corruption, others - that this is an internal political struggle, the settling of accounts. Opinions on this score were divided equally: by 45%.