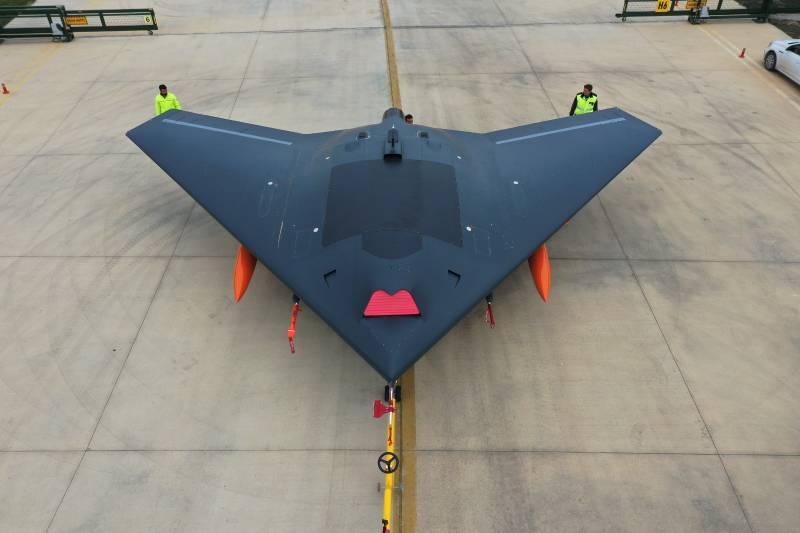 Turkey continues to develop its own
Drones
including jet engines. Turkish Aerospace Industries held a presentation of the new Anka-3 strike UAV, the creation of which was announced in December last year.
Anka-3 drone, announced at the end of last year, was finally shown in the form of a full-scale model, and not drawings, as it was before. Whether it was a mock-up or a full-fledged prototype, the company did not explain, but Temel Kotil, CEO of Turkish Aerospace Industries, said that the new drone would soon make its first flight. Judging by this statement, work on this UAV is being carried out very actively.
A new attack drone was announced in Turkey in December 2022. It is being developed by TUSAŞ Engine Industries, a subsidiary of Turkish Aerospace Industries (TAI). The UAV is positioned as a new jet-powered heavy strike UAV capable of striking ground targets even in areas with a strong air defense system, thanks to its armament and its design invisible to radar. The assembly of prototypes and the start of testing are scheduled for this year, but the exact dates are not known.
The importance for Turkey of this development is evidenced by the fact that Erdogan himself presented it in December, saying that Anka-3 is a new generation project that will raise the capabilities of unmanned aerial vehicles to a higher level.
Experts compare the Turkish Anka-3 UAV with the American X-47B, the European nEUROn and the Russian S-70 Okhotnik. From open sources it became known that the maximum takeoff weight of the Turkish
drone
will be about 7 tons, it will be equipped with a turbofan jet engine.