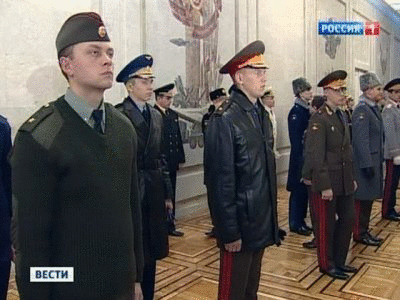 The scandal with the repeatedly criticized new military uniform continues: after yesterday's statements by the famous fashion designer Valentin Yudashkin that he has nothing to do with army clothing, the Main Military Prosecutor's Office has acted on his side.
Prosecutors have identified numerous violations in the manufacture of uniforms of the new model, which caused mass colds in the army, told Interfax in the military department on Thursday. Valentin Yudashkin is not involved in them, the agency interlocutor assured.
According to a source, in connection with the frequent epidemics of ARVI and complaints about the form, a large-scale check was conducted. GWP established that, at the first stage, the sketches and prototypes did indeed produce LLC Valentin Yudashkin. However, then the officials of the Ministry of Defense, without the consent of the developer, made "substantial constructive changes," the official said.
Since the new form was significantly different from the previous one, the army leadership had to bring the "rules for its use" to the troops, but the officials did not. Violations were found in the clothing industry, where they made uniforms, the source added.
The innovations made by the military in the approved model concerned "both the overall design and individual elements of the uniform: the linings and trousers, some of their parts and parts" were excluded from the products, the PRT reported. To make the form cheaper, military officials independently replaced heat-retaining materials with fabrics without such properties. Nobody conducted "troop tests of products."
After verification, the Main Military Prosecutor's Office submitted a submission to the Minister of Defense of Russia, Sergei Shoigu, on the elimination of violations of the law and bringing the military uniform to the proper condition. According to the source, the Ministry of Defense has already ordered to recycle and bring to the necessary condition low-quality sets of army clothing.
Recall that on the eve of Valentin Yudashkin after many months of attacks on the form attributed to him, finally explained about this. He stated that Dolchi and Gabana from the Ministry of Defense grossly distorted the original design of military clothing developed by him, replacing fabrics, accessories, heat-holding materials with cheap versions. He noted that he was still silent, because he hoped that the military would take responsibility for the changes made.
Yudashkin stressed that for the army "it is now incomprehensible that they sew something incomprehensible," and all this has nothing to do with him personally or with his Fashion House. According to the designer, the form, which is now worn in the army, "at times" cheaper than his version.
On Wednesday, the couturier as a proof of his words posted on Twitter photos of their form samples. However, the bloggers didn't like this "Yudashkin's" form - they found similarities to paintball and fishing clothing.