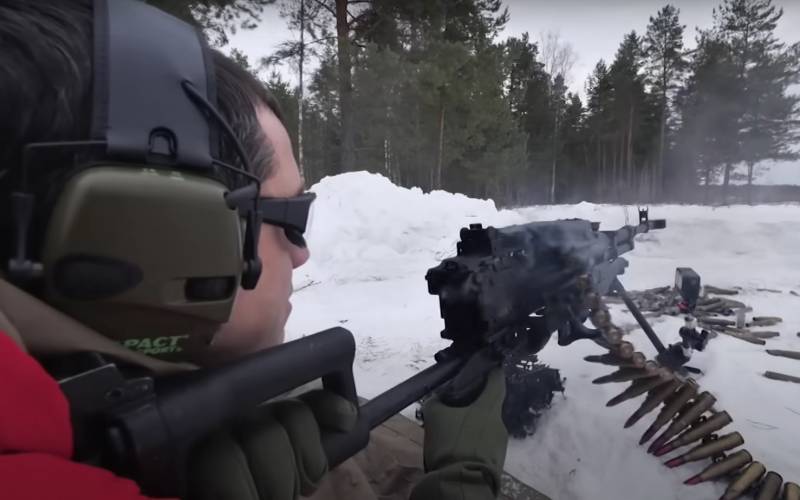 The Russian heavy machine gun "Kord" is a truly unique weapon. After all, he is the only machine gun in the world of 12,7 mm caliber, which allows you to fire not only from bipods, but also from hands.
"Kord" is the very case when a problem that has arisen and its forced solution allows you to create something much better than it was before.
To the gunsmiths of the V.A. Degtyarev (Kovrov) had to develop a large-caliber machine gun to replace the Utyos in a short time. The latter were produced on the territory of Kazakhstan, which became a problem after the collapse of the USSR.
Development began in the early 90s, and already in 1998, the machine gun was adopted by the RF Armed Forces and is still in use today.
It is worth noting here that the Kovrov gunsmiths managed to solve three important tasks, which, in fact, made their brainchild unique.
Firstly, the aforementioned ability to shoot Kord from bipods and hands appeared due to the fact that the developers managed to reduce the recoil energy and increase the stability of the machine gun.
Secondly, due to the achievement of independence of the operation of the mechanisms of the barrel and automation, the craftsmen managed to reduce resonant vibrations. This directly affected the accuracy
weapons
, which, according to some sources, is almost 2 times higher than that of Utes.
Thirdly, "Kord" is the lightest among the full-fledged 12,7-mm machine guns. For example, his American "competitor" Browning M2 Heavy Barrel on a tripod to carry 58 kg. However, the "body" of the machine gun itself is also not easy - 38 kg versus 32 for Korda along with the machine.
Among other advantages of the Russian machine gun, it is worth noting the high reliability. The weapon is capable of uninterrupted operation in the temperature range from -50 to 50 degrees Celsius. Also, the machine gun continues to work stably after immersion in water and in conditions of heavy dust.
Initially, "Kord" was created chambered for 12,7x108 mm. However, today there is a version for NATO ammunition 12,7x99 mm.
What the most powerful machine gun in Russia is capable of is clearly demonstrated by the hosts of the Military Acceptance: