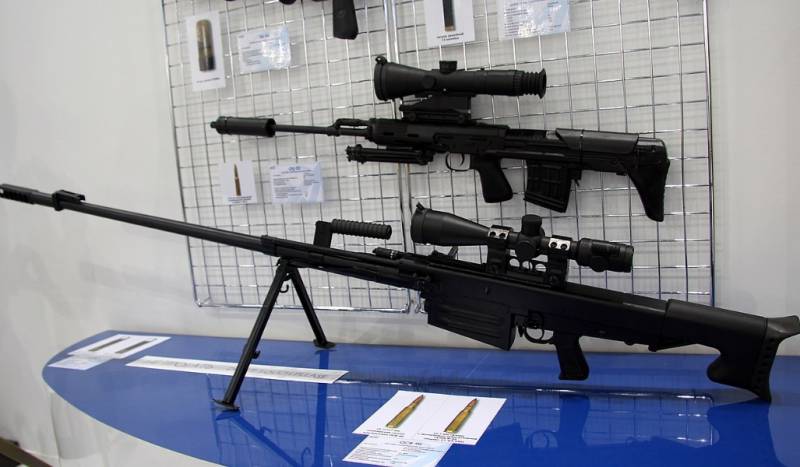 The OSV-96 large-caliber sniper rifle was developed in the mid-90s at the Tula Instrument Design Bureau (KBP). This rifle is a typical representative of the so-called "anti-material" class.
weapons
. For firing from OSV-96, ammunition of 12,7x108 mm caliber is used, which corresponds to the standard of NATO countries 12,7x99 mm or 50 BMG (Browning machine gun).
The rifle is capable of hitting not only personnel, but also light armored vehicles and even some enemy fortifications. The muzzle energy of the 18,7x108mm cartridge is 18 joules. Currently there is no wearable armor capable of withstanding the bullet of this ammunition. Hitting a bullet of this caliber in almost any part of the body with a high degree of probability guarantees a fatal outcome. Any unarmored vehicle is defenseless against such a bullet, and at a distance of up to 100 meters, a 12,7x108 mm calbir bullet can even penetrate an armored personnel carrier.
There are several types of ammunition for this rifle: sniper, armor-piercing and armor-piercing incendiary. In addition to the Tula rifle, 12,7x108 mm caliber ammunition is used in several types of weapons: in the Kord heavy machine gun, the ASVK sniper rifle and the DShK heavy machine gun.
Due to the significant muzzle energy, a bullet fired from the OSV-96 rifle is capable of hitting targets at a distance exceeding 1,5 kilometers, according to some sources - up to 2 kilometers. This rifle is often used as an anti-sniper rifle.
Regularly, one of several types of day or night sights is installed on the OSV-96 rifle. The automatic rifle operates on the energy of powder gases vented from the bore through the gas outlet tube. The shutter is locked by four lugs, the OSV-96 store is designed for five rounds. Under the barrel are retractable bipods. The rifle does not have a handguard, since it is not supposed to fire from the hands.
The mass of the OSV-96 is almost 12 kilograms, and the length in combat condition is 174 cm. To dampen recoil, the butt is equipped with a rubber butt pad. This rifle is in service with special forces units of a number of power structures of the Russian Federation.