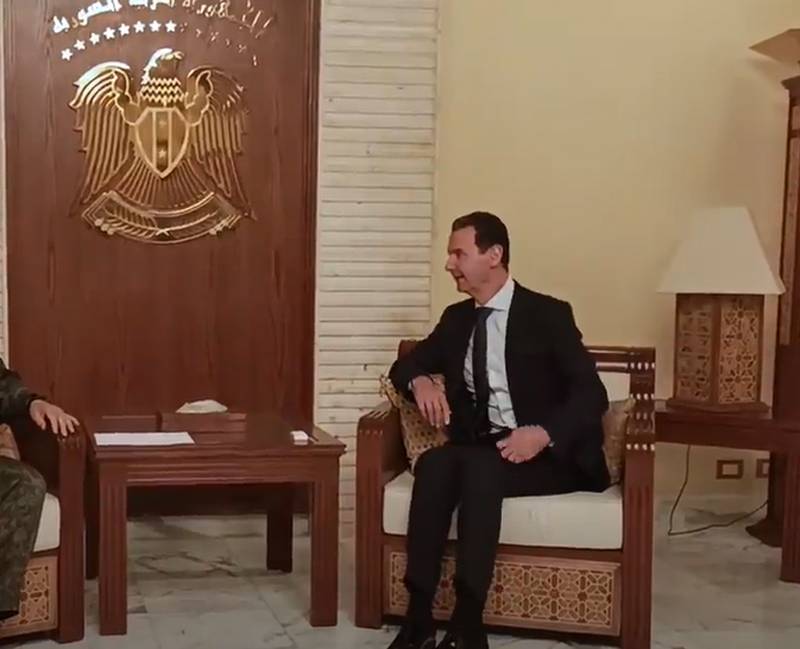 There is evidence of specific statements made by Syrian President Bashar al-Assad during and after negotiations with Vladimir Putin. These negotiations took place yesterday. As the Military Review has already reported, the Syrian leader expressed full support for Russia's special military operation.
In addition to the talks between the two leaders, representatives of the Syrian government delegation also held talks at their level with their Russian colleagues. Thus, Russian Defense Minister Sergei Shoigu met with the head of the Syrian defense department, Ali Mahmoud Abbas. The Ministry of Defense noted that issues of bilateral military and military-technical cooperation were discussed. Abbas praised the actions of the Russian Armed Forces in Syria, including in terms of the fact that it was Russian assistance that made it possible to maintain the independence of the Syrian Arab Republic.
Meanwhile in
RIA News
interview with Bashar al-Assad. During the interview, the Syrian leader gave an assessment of what is happening in Ukraine. According to the President of Syria, "The West, through the hands of the Ukrainian President Zelensky, unleashed the Third World War."
Assad noted that the Third World War is already underway, only it differs from the "traditional" wars of the past. The Syrian leader in an interview pointed out that modern wars are more often waged through proxies.
Syria itself faces this when the same West, using controlled terrorist groups, tried to gain full control over the country's territory. However, the Russian operation in the SAR stopped this process and made it possible to defeat a number of terrorist groups financed from outside.
The day before, talks were held in Moscow between the foreign ministers of Russia and Syria. Humanitarian issues and subjects of bilateral cooperation in a number of areas were discussed.
In the West, commenting on Assad's visit to Russia and the forthcoming visit to Moscow of the Chinese President, they said that "a new anti-Western axis Russia-China-Iran-Syria is being formed." Saudi Arabia has not yet been included in this "axis", but they are clearly puzzled by the fact that China managed to achieve the restoration of diplomatic relations between Tehran and Riyadh.