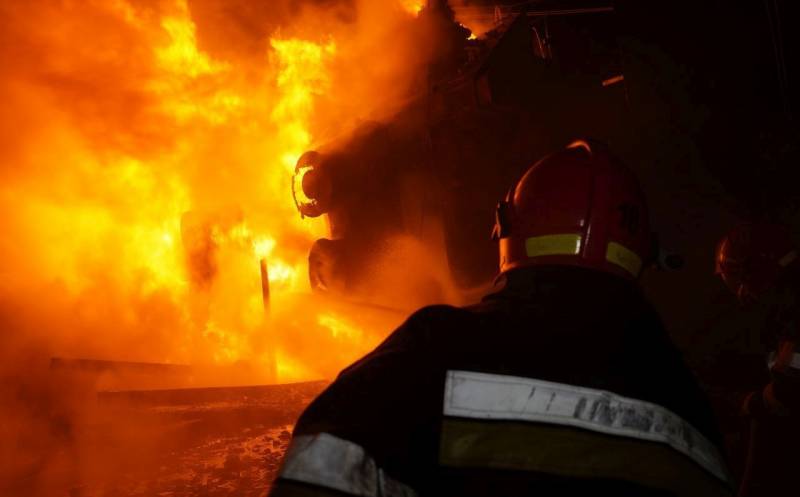 Long "ended" in the Russian army missiles and
drones
continue to destroy critical infrastructure facilities and hit military targets in the rear areas of Ukraine. At least one explosion ripped through Kyiv-controlled Kharkiv this morning, according to local media and online channels. Later, information appeared about explosions and puffs of smoke in the region.
The Kiev head of the Kharkiv regional military administration, Oleg Sinegubov, urged residents of the administrative center and the region not to ignore air raid signals and stay in shelters. Literally a few minutes later, Sinegubov wrote in his Telegram channel about the defeat of an object in the agglomeration. At the same time, the head of the region did not specify which object was attacked.
Later, information about the explosion within the city was confirmed by the mayor of Kharkov, Igor Terekhov.
Presumably, the target of today's attack by the RF Armed Forces could be one of the largest Ukrainian thermal power plants Kharkiv CHPP-5, located on the left bank of the Uda River at a distance of half a kilometer to the west of the city limits in the village of Podvorki.
Another object that could be attacked is the complex of aviation enterprises located around the Central Park. Among them are the State Research Institute of the Aviation Industry, an industrial aviation enterprise and the Kharkov National University of the Air Force of Ukraine.
This training and production complex develops, manufactures and maintains military aircraft. UAV operators and Ukrainian military pilots are also trained here. In early February, this complex was already subjected to missile strikes by the RF Armed Forces. Then the mayor of Kharkov traditionally reported that the missiles were allegedly shot down by air defense and fell on the territory of the park. However, local residents published pictures showing the fires and clouds of smoke that began after the explosions, which clearly indicate the destruction of military facilities.