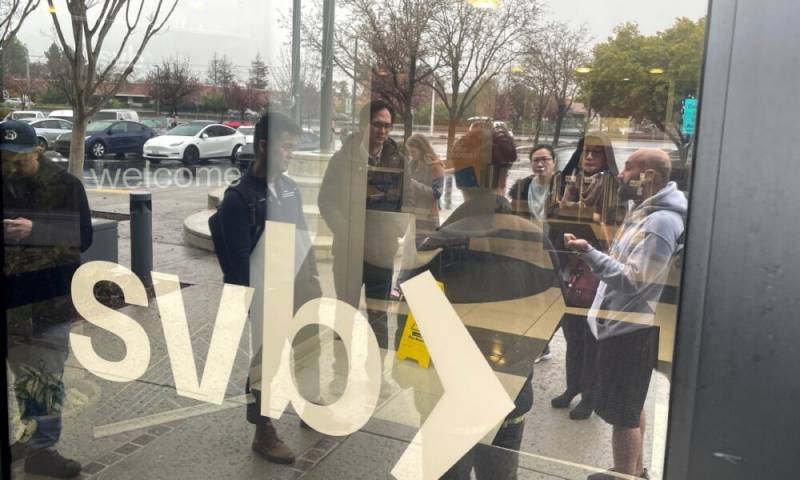 Who said "let's go"?
Now everyone is talking about the bankrupt SVB - Silicon Valley Bank. A characteristic name for a bank from Silicon Valley in California, with huge investments in the IT industry. SVB, ranked 16th among US banks, was the most active in tech start-ups.
But it collapsed as soon as the FRS rates crept up to suppress inflation, and the quotes of securities, designed to be the foundation of the reliability of such a bank, went down. All this reminds me of a lot, but above all, the arguments of our liberal financiers-economists, who are still at the helm, about investing in overseas assets, "highly liquid and most reliable."
Fifteen years ago, they already stepped on this rake, and now again - right along Chernomyrdin. However, SVB itself, no longer the last in line for bankruptcy, was by no means the first. He managed to get ahead of Silvergate Bank, known for its narrow specialization in cryptocurrencies. But the market hardly noticed this first call.
It seems that many, including the most advanced exchange traders, considered what happened just a confirmation that the crypt, even with the unsinkable bitcoin in the lead, is too similar to financial pyramids. But the process never stopped.
First, it became known about a 65% drop in stock prices, and after that, a message from the US Treasury on March 12 about the closure of the New York Signature Bank appeared. As stated in the release - "due to systemic risks after the collapse of Silicon Valley."
The process continues.
It was scary
Today, few people can remember the names of Russian banks that did not survive the default-98. ONEXIM and Most, Russian Credit, Mosbusiness and, perhaps, Chara. It is even more difficult to remember those who, in addition to the investment bank Lehman Brothers, could not resist the crisis in the fall of 2008 in the States.
Recall that these were Fannie Mae and Freddie Mac, funds, also investment, with the involvement of insurance and pension money, although formally mortgage. In both crises, the effect of money bubbles worked, and although we are now being told that the situation in 2023 is completely different, it is hard to believe.
Yes, the stakes are different, but the bubbles pumped up at zero rates during the pandemic are also evident. And in August 1998 it was really scary, but for those who had nothing in Chara, it was not for long. In 2008, it was scary just a little bit and especially not for long.
It's disgusting, of course, when the dollar rose again, but you had to pay for the pleasure of relaxing abroad. Now, of course, we must wait for statements that the Russians, who sent troops to Ukraine, are once again to blame for everything. But it is unlikely that anyone will seriously remember August 2008 and Abkhazia and South Ossetia, although against the backdrop of the "Maidan" in Tbilisi, this would even be very helpful.
Fifteen years ago, the banking collapse, which, fortunately, did not become as large-scale as in the days of the Great Depression, occurred almost immediately after Tskhinvali and Sukhumi - that very "small and victorious" one. The Crimean spring also backfired on us with a two-fold fall of the ruble against the dollar and the euro in the fall of 2014.
This should not be forgotten, just as the numerous "terrible" forecasts, in which war was called the only way out of the economic impasse for the United States, should not be forgotten. In Russia, this was first voiced by the notorious "catastrophist" Mikhail Khazin, as well as a slightly less well-known opposition economist Valentin Katasonov.
Scary not there
Later, they were actively supported in such an assessment of the world outlook by Sergei Glazyev and Mikhail Delyagin, who regularly harshly criticize the Central Bank and the Ministry of Finance. However, we have no doubt that even if they take leadership positions in these departments, no matter who and what, it will change little in essence.
Russia, like the whole world, including allegedly "communist" China, is in a happy imperialist present, and Comrade Lenin told us more than a hundred years ago what imperialism leads to.
However, let's get back to the current topic - just the day before, the authors, without even taking into account the first American bankruptcies, once again spoke out in support of a strong ruble (
Strong ruble - two sources and ...
).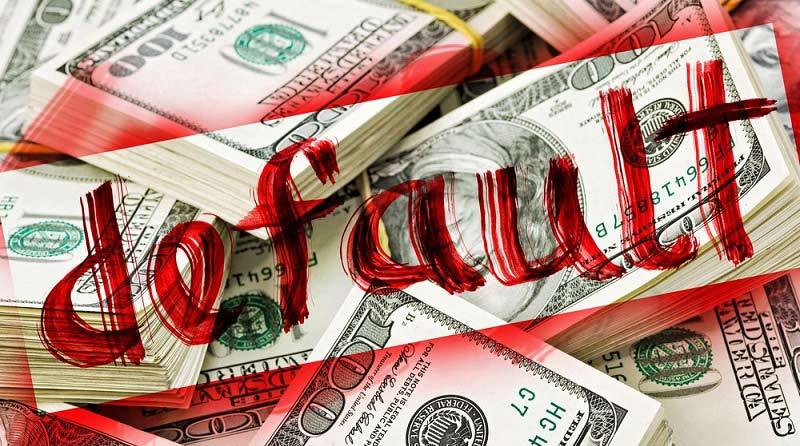 Now is the time to continue, especially since analysts are already manipulating maxims about the "domino effect" or "chain reaction" with might and main. However, both can still be somehow stopped by removing extra bones or grams of uranium, but if a house of cards collapses, nothing can be done.
It is the house of cards that most resembles the global financial system based almost exclusively on the dollar. In the era of high technology, which has become some kind of fetish for true economic growth, the stability of the system has not increased at all.
We must not forget that the IT sector is not even a service, although it produces something quite real, but sometimes as ephemeral as bank accounts and exchange instruments. The bankruptcy of SVB threatens a serious financial crisis not only in the US, billionaire Bill Ekman, who founded his Pershing Square hedge fund specifically to prevent such risks, warns almost in panic.
It's not scary anymore
A pandemic or pension reform - compared to what is happening to us today, you see, some trifles. We survived then, and we will survive now, despite the difficulties and outright sabotage, both at the front and with import substitution or de-dollarization.
Surviving and winning not thanks to, but in spite of, is a very good and far from exclusively Russian habit. Let's not forget, moreover, that Russians today again, like decades ago, are by no means alone. And there is no need to be afraid of the Chinese threat, just as we once were not afraid of Bush's legs, although we should have been.
Closer to the end, let's add pathos, perhaps just salutary. Those who found Afghanistan and passed the 90s in Russia, who remember the blown up houses and two Chechen wars, and also the Georgian one, who remember the default, denominations, devaluations and a couple of crises with sanctions, there is simply nothing more to be afraid of.
But, alas, this is only for themselves. Our mothers kept repeating - "if only there was no war." Now there is, although it is officially called differently. Now we understand mothers who have left and are still with us, because we are afraid not for ourselves, but for our children and grandchildren.
We see that they have an absolutely unpredictable future ahead of them, unlike us with our "bright communist one". But they, unlike us, do not seem to be afraid of him at all. Well, maybe that's how it should be.
The dollar is leaving - also not scary
More than half of the countries of the world, and almost three-quarters of the population, do not want to impose sanctions against Russia, and Washington has finally realized this. And in de-dollarization, real, not declarative and decorative, many are already ahead of Russia.
And the fact that there is supposedly no alternative to the dollar is a bluff, in the United States they also began to understand and began to rivet surrogates, like the euro and digital assets. It is the network market that could become a lifeline for the global economy, but information and virtual reality still cannot completely replace something really real, starting with resources and food.
Dollars, as Maria Zakharova from the Russian Foreign Ministry accurately noted, these "papers of trust", you can draw as many as you like. Also click on the computer. It only helps badly, but the war, which still gives the impression of "strange", does not help either.
It has been said more than once about such wars that they end badly (
Strange wars end badly
). But on the other hand, the war is already almost a world war, the third, no matter how you call it - even a hybrid, even a proxy.
Since the gold standard was replaced by the dollar, almost all the worst things that happen on the planet happen because of it. And before that, of course, because of gold, but in fact, in both cases, because of immoderate human greed.

However, "the era of unlimited dollar printing may be coming to an end, and with it our ability to buy foreign goods cheaply will be gone," famous columnist Jay Newman tried to remind American readers voting for war in a New York article. post.
And it is not easy to understand why people decided that the planet belongs to them, called it the Earth, although in fact the name "Water" or "Ocean" in general is more suitable for it. But no one from the depths of the waters can save the planet, alas, although only through the salvation of the Ocean is there a chance to save the Earth from turning into the desert of the Apocalypse.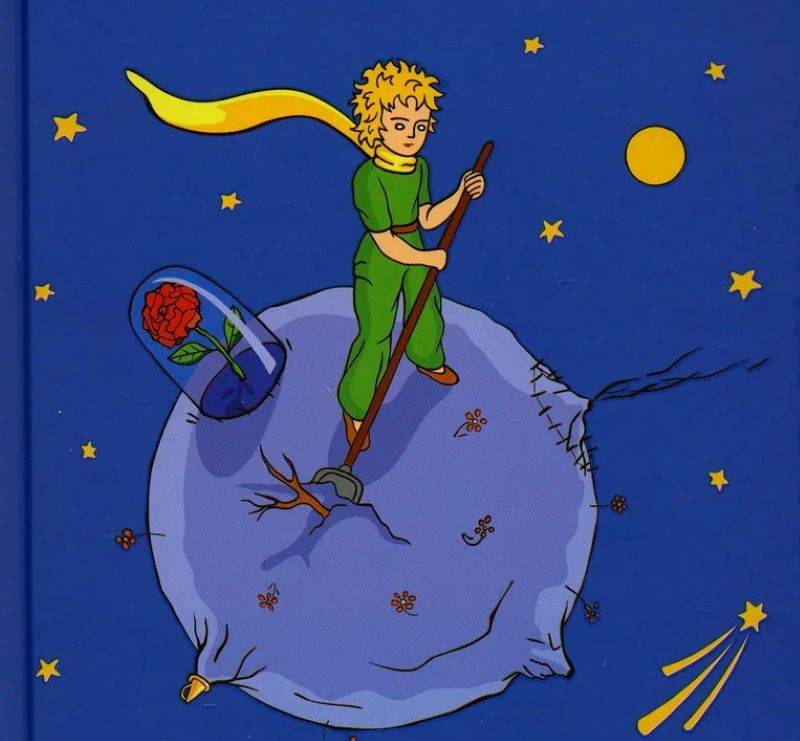 Remember, Exupery:
"There is such a firm rule," the Little Prince told me later. "I got up in the morning, washed myself, put myself in order - and immediately put your planet in order."