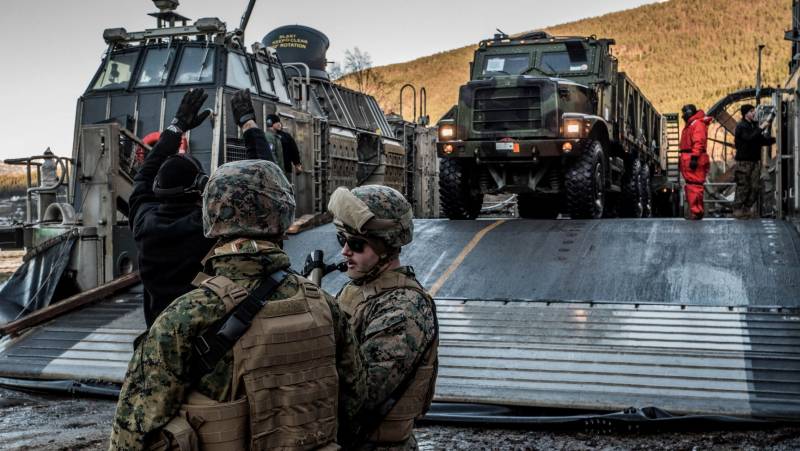 Introduction
I immediately warn you that to view some of the materials you need a VPN if you are in Russia.
In modern wars, it is impossible to achieve success if military units and subunits are not properly supplied with fuel, ammunition and food, and if their weapons and equipment are not maintained. Modern combat is characterized by decisive and dynamic actions, as well as abrupt changes in the situation, which require more supplies than in the Second World War. Therefore, the continuity of logistics support plays an increasingly important role, the purpose of which is to supply each soldier in a timely manner with everything that he needs to carry out his combat mission.
Colonel General I. M. Golushko, Chief of Staff of the Logistics of the Armed Forces of the USSR, 1984
Starting from the spring of 2022, publications on the integration of the Ukrainian Armed Forces into NATO structures began to appear more and more often on the Internet. When it became obvious that Russia's original plans for the operation in Ukraine had not been fulfilled, not only the embassies began to return to Kyiv. Trains, convoys and aircraft / steamers with military equipment and equipment went to Ukraine.
Along with this movement of machinery and equipment, other work also intensified. The Armed Forces of Ukraine are moving by leaps and bounds to NATO standards not only in the field of armaments, but also standards. In particular, material support. The entire modern information system, which began to actively build up after 2014, was already formed under the influence of NATO. The events of February 2022 accelerated this movement many times over and, in fact, completely subordinated all processes to curators from NATO.
Amateurs discuss tactics, armchair generals discuss strategy, and professionals discuss logistics.
Bridge between NATO armies. Ukraine transfers military logistics to the NATO IT system LOGFAS. How difficult is this path
(September 8, 2022),
Arms deliveries: Ukraine has successfully introduced the LOGFAS logistics system from NATO
(October 21, 2022). These are just some of the articles on this topic (I advise you to look at them).
Modern logistics can do a lot, and it is critical to constantly improve logistics support. I will briefly describe NATO's logistics system and draw some conclusions. All information is taken from public sources. NATO prudently does not hide what is in principle obvious.
Theoretical basis
NATO Logistics Principles
• Collective responsibility. NATO as an organization and all its members have a collective responsibility for providing operations and missions ("one for all and all for one"). Responsibility is distributed in accordance with the capabilities of the participant and - in certain cases - the desire of one or another participant.
• Authority. The appropriate level of NATO Commander must be given sufficient authority to deploy, receive, use, maintain and redeploy nations-contributed forces in the most efficient manner.
• Priority of Operational Requirements. Logistics must provide the right support - in the right amount - in the right place - at the right time. Must be fully integrated into the operational structure and operations planning process. Both military and civilian structures of NATO are focused on the implementation of the assigned tasks, so that the operation (from planning to completion) is carried out successfully.
• Cooperation and Coordination. Cooperation and coordination between nations and NATO is essential. The civil and military sectors are coordinated; non-NATO countries and other relevant organizations - UN, EU, OSCE, etc.
• Assured Provision.
• Sufficiency.
• Efficiency.
• Flexibility.
• Visibility and transparency (Visibility and Transparency). Using various tools (LOGFAS) to understand the "logistics picture" (planning and management).
• Simplicity.
Functional and related areas of NATO logistics
Functional areas:
• Supplies.
• Ensuring the life cycle of materials.
• Equipment maintenance.
• Movement and transportation.
• Services.
• Medicine.
Related areas:
• Budget and finance.
• Military engineering.
• Funeral affairs.
• Support of operations by contractors.
• Civil-military interaction.
• Military police.
The effectiveness of logistics depends not only on the quality of each individual area, but also on the quality of their interaction at various levels (NATO as an organization, between NATO and individual members, between NATO members). Unification and synchronization of procedures increase the level of support in various areas of support.
Logistics
Deployment of the armed forces
The red dotted line is the JOA (joint operation area), the area where the conflict is taking place and where the aircraft will be deployed to carry out the mission.
Home base - the place of permanent deployment of the armed forces.
AA / FD (Assembly Area / Final Destination) - the "collection" point or the final deployment point on the ground.
Aircraft move from Home base to APOE/SPOE (Airport of Embarkation/Seaport of Embarkation) and then to APOD/SPOD (Airport of Debarkation/Seaport of Debarkation) – air/sea port of loading/unloading. The same applies to equipment and materials. After arriving at JOA, aircraft are concentrated in HA (Holding area, holding area), and equipment - in MA (Marshalling area, sorting).
After that, the aircraft and equipment move to the meeting in SA (Staging area, intermediate zone). After the necessary preparations, the aircraft with equipment and materials moves forward to AA / FD. If AA / FD cannot be reached in one transition, then a stop is made at the CSC (Convoy Support Center).
The first part (moving from home base to APOE / SPOE) is the responsibility of the one whose forces and means are moving. Moving from APOE / SPOE to APOD / SPOD is the responsibility of NATO structures (SD, Strategic Deployment).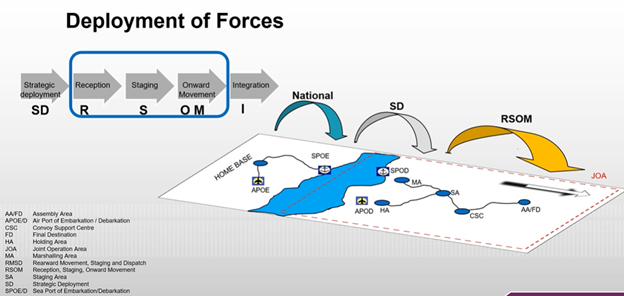 Support levels
There is a close relationship between the level of operation and the lines of supply support. The Level of operation indicates the level at which the control is performed. The Lines of Support shows where supplies are grouped, stored, in the context of the military command structure. The support level is where the stocks are physically located, including.
When planning an operation, the number of days of provision is determined. This figure (number of supply days) determines the amount of stocks needed to be distributed along the supply chain to supply the aircraft participating in the operation.
One day of resource consumption is the basic unit of calculation. The DOS indicator (Days of supply, days of consumption) is set for each support level. That is, for how many days of support a reserve must be formed for the successful completion of the mission.
These metrics vary from operation to operation and are part of the planning and forecasting task that is performed in advance.

If we talk about 30 days of stock, then an example distribution could be as follows:
• The first line (2 days) is the support of the ship, unit, squadron (I don't know how to translate this adequately; probably the minimum indivisible unit: tank, infantry fighting vehicle, platoon).
• The second line (3 days) refers to the tactical level and for the ground forces - this is the brigade logistic unit (brigade logistics unit).
• The third line (15 days) refers to the operational zone. Third line support capabilities provided to the armed forces as part of operations in the theater of operations or at facilities established along the strategic line of communication. Often this will be the logistical base of a theater of operations. Typically, this level contains up to 50% of all stocks for planned days of consumption.
• The fourth line (10 days) refers to the strategic area and includes stocks at home base, civilian supplies and industrial production, as well as stocks "in transit" that have not yet reached JOA.
Types of collateral
(Classes of supply)

TOE - table of equipment (list of equipment), POL - petroleum, oil and lubricants.
All nomenclature units belong to one of the specified classes (the remark is made that not all NATO members adhere to such a classification, and there is a separate standard for such "individuals", which describes the rules for classification and the rules for transposing into a standard classification).
This simplifies accountability for individual supplies, both in terms of who is responsible within the functions and in terms of how supplies are stored and transported.
Push-Pull Strategies
(Push and pull)
There are two provisioning strategies:
Push is a strategy where inventory is shipped in predetermined quantities, at predetermined intervals, to predetermined locations. Usually used for positions with low uncertainty of demand (i.e., the rate of consumption is known in advance with a high degree of probability), a high level of economies of scale of movement. For example, water, food and groceries, ammunition per brigade or battalion based on average daily consumption rates. Deliveries are carried out constantly, tactical units do not need to carry out an order.
Pull - tactical units carry out the order of positions that they need. This strategy is used for positions with a high level of demand uncertainty, low volume values. In this regard, the supply chain is guided by real demand.
General Logistics System
(Generic Theater Sustainment System)
This picture shows a general description of how stocks are distributed between support lines.
The third line, as mentioned earlier, is TLB (theater logistic base, theater logistics base). If necessary, there may be several TLBs (for example, due to the geography of the theater of operations).
The main task of TLB is to replenish stocks of the second line of support. The logistics units of the second line depend on the type of troops (land, air or sea) and can also be represented by a different number of units depending on the requirements and characteristics of the theater of operations.
Each brigade has its own brigade support area (BSA), which is managed by the brigade support battalion. Typically, the TLB uses a push strategy to restock the second line of support.
Ground and air units use both push and pull strategies to resupply the first line of support. For marine units, pull is usually used exclusively. When performing tasks, the supply of marine units is carried out by transport and cargo ships, and not by entering the port (RAS, replenishment at sea). Either directly from ship to ship, or using helicopters.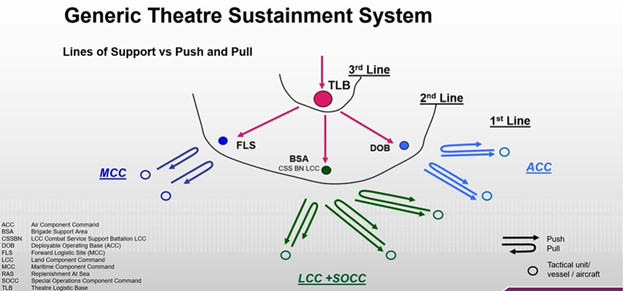 Logistics at the tactical level depends on operational logistics in the theater of operations and conditions, which are determined through planning and coordination at the operational level. The use of theater logistics allows the tactical level to properly leverage its capabilities and ability to maintain operational efficiency over time and ensure resilience.
Joint Logistics Group
(Joint Logistic Support Group JLSG)
The picture shows generalized information about JLSG. The main elements of this group are responsible for the functioning of the TLB. TLB's logistics departments are responsible for receiving, storing and distributing stocks of all classes. Also, there are dedicated units in the ports of receipt, escort services that can receive, organize temporary storage and transport both aircraft and equipment.
The area of ​​responsibility also includes engineering and security units of the TLB.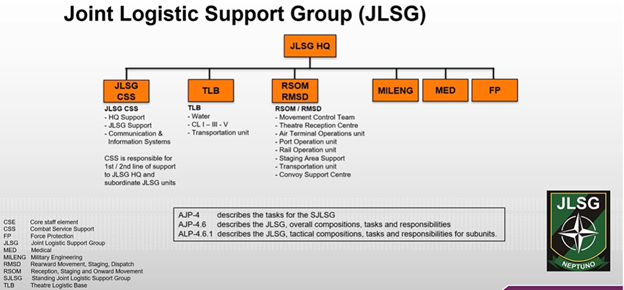 Unified Logistics Network
(Joint Logistic Support Network, JLSN)
Logistics entities are linked through the Logistics Network (JLSN). The integrated logistics support network is a system of interconnected logistics hubs, activities, organizations and facilities, their multimodal connections in the zone of joint activity. As shown in the figure, a typical integrated logistics network consists of loading and unloading points, communication lines, a theater logistics base, convoy support centers, and transfer points.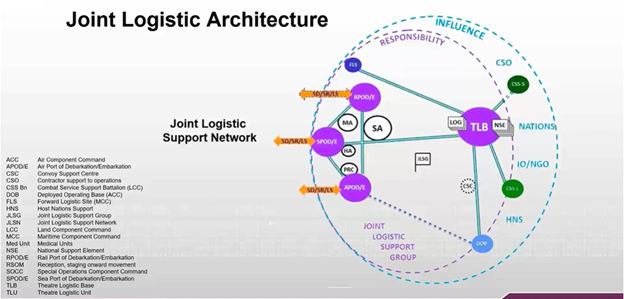 It is important to emphasize that the commander of the joint logistic support group is not the owner of the combat space. The battlespace commander usually has command and control of units passing through his area.
LOGFAS
Logistics Functional Area Services - LOGFAS is a set of tools supporting NATO's logistics processes for strategic movement and transportation, deployment planning and execution, theater movement planning and support planning. Developed and maintained by the NATO Communications and Information Agency (NCIA) Help Desk and Business Applications.
NATO's LOGFAS is the cornerstone of the interoperability of multinational forces. LOGFAS manages logistics information at all levels of planning and execution, both within NATO forces and across NATO allies and partners.
Benefits of using LOGFAS:
• Provides the ability to plan and conduct multinational logistics operations, including with NATO allies and partners.
• Can work offline when connection is not available during operations. With automatic synchronization after the connection is restored, the ability to enter manual updates through files.
• Entrance to the overall operational picture with a variety of options available in one click. For example: modeling the movement of motorcades in LOGFAS or access to the dashboard and map in real time, as well as
historical
data.
LOGFAS includes the following modules:
• GEOMAN (Geographical Data Management Module) – geographic data management module. Everything related to maps and geographic information services. As far as I understand, they collect in this module all the necessary and possible maps (including satellite and aerial photography) and saturate them with information about objects (sea and air ports, bridges, roads, railways) and their properties (throughput, type of coverage, etc.) . P.). A sort of OpenStreetMap and GoogleMaps. Moreover, they collect data from open sources as well. This module can be used both independently and provide data for other modules of the system.
• LDM (LOGFAS Data Management Module) – data management module. This is a large classifier (reference book) of all positions from nuts to brigades and corps inclusive. For complex objects (such as an infantry fighting vehicle, a tank, a brigade), there are profiles and specifications that show what the object consists of, what resources it consumes at what speed (and under what conditions).
• SPM (Sustainment Planning Module) – maintenance planning module. The module is primarily intended for operational planning of logistics support for units. In particular, it can be used for the following types of calculations: long-term stock planning; planning the logistics of existing units; analysis of the sustainability of existing logistics centers.
• ADAMS (Allied Deployment and Movements System) - deployment and movement module. Used for planning, estimating and modeling movement and transportation. The data includes a list of personnel, equipment, consumables, modes of transport, communication lines, and schedules. The result is a detailed deployment plan (Detailed Deployment Plan, DDP), which consists of information about what, where, when and how assets are moved. The focal point collects national DDPs, resolves their conflicts and develops a multinational DDP.
The main objective of this module is high-level planning and conflict resolution between different national deployment plans in case of coalition operations.
• CORSOM (Coalition Reception, Staging and Onward Movement) - Coalition reception, staging and further movement (something like that). In my opinion, this is a module designed to plan, monitor and resolve RSOM conflicts (reception, arming and further movement) during the deployment of forces. Allows you to: plan in detail and coordinate the movement from places of unloading to the final destinations of units; monitor traffic, administer convoys and trains; plan, analyze the execution of tasks; select alternative routes. Unlike ADAMS, there is already detailed planning and real-time monitoring of the situation in relation to previously formed plans.
The following module is used to verify and model the planned logistics support: SDM (Supply Distribution Module) - supply distribution module. It is a decision support tool used for scenario planning.
To support the planning process, a number of countries use the Allied Commands Resource Optimization Software System (ACROSS, Command Resource Optimization System).
ACROSS is an information subsystem to support the decision-making process in planning critical and combat-required supplies. The system consists of a common database (LOGBASE) and four models for calculating ammunition consumption:
• ADMEM (Air Defense Munitions Expenditure Model) – Air Defense Munitions Expenditure Model.
• AGMEM (Air-to-Ground Munitions Expenditure Model) - Air-to-Ground Munitions Expenditure Model.
• LEMEM (Land Forces Equipment and Munitions Expenditure Model) - a model of the consumption of equipment and ammunition for the ground forces.
• MARMEM (Maritime Munitions Expenditure Model) is a model for the consumption of naval munitions.
The models use linear programming to calculate the optimal combination of ammunition to inflict maximum damage on certain targets at the minimum required level of cost of purchased ammunition.
In simple words, these are mathematical models that, having received data about the enemy at the input, can simulate the consumption of ammunition to perform the assigned tasks (destruction, containment, etc.).
Information support of logistics in the Russian Armed Forces
There should have been a chapter on the logistics of the Russian Armed Forces. But, unfortunately, I could not find any useful and interesting data on the net so that I could study this issue in a reasonable time. Most likely, everything is on paper and "for official use".
-
Logistics in the logistics system of the Armed Forces of the Russian Federation: specifics and directions of development
.
-
Implementation of the national project "Digital Economy of the Russian Federation"
.
-
The logistics system of the Armed Forces of the Russian Federation is a reliable guarantor of their combat capability
.
-
Five years on the road to innovation
.
An American view of the logistics capabilities of the Russian Armed Forces
Almost at the end of 2021, a very interesting article was published in one of the US online publications
Feeding The Bear: A Closer Look At Russian Army Logistics And The Fait Accompli
. One well-known blog has translated into Russian -
Feeding the Bear: A Closer Look at the Logistics of the Russian Army and the Possibility of a Politics of "Facit Facts"
. I strongly advise you to read this article, keeping in mind the time when it was published.
The essence of this article is that the Russian Armed Forces do not have adequate (including comparable to NATO) logistical support for the existing composition of the Armed Forces. And it is precisely this, and not the power of the Russian Armed Forces, that is the "weak link". And it is precisely this weakness that needs to be turned into weakness by destroying the existing logistical potential. The Russian Armed Forces are capable of only small seizures of territories outside the former USSR without an operational pause. And NATO's strategy in a hypothetical confrontation between NATO and Russia should be to withdraw the aircraft deep into the territory (so that we stretch our communications) and destroy everything that the logistics of the aircraft relies on (and this is primarily the railway infrastructure).
Conclusion
But, as "practice" has shown, even on the territory of the former USSR, the logistical capabilities of the Russian Armed Forces turned out to be extremely limited and not adequate to the tasks being solved. And the key problem here, in my opinion, is the almost complete lack of information support for logistics activities.
NATO countries have launched a large process to digitize data in the Ukrainian Armed Forces. A specialized solution based on SAP - S / 4HANA is being implemented there. This solution already has the ability to integrate into LOGFAS. Understanding the importance of this work, they do it not "first we will win, and only then we will do it", but right now.
NATO logistics is distinguished primarily by its methodological sophistication. What you have read is only part of a small training course on "introduction" to the specialty. Moreover, the data is completely open and available to those interested. Those who are familiar with civilian logistics, who understand the abbreviations BOM, MRP, MRP2, DRP, APS, in fact, will not find anything new. And this is precisely the strength of NATO's logistics support - they use what they already use in the world (in particular, all calculations and supplies are carried out in standard twenty-foot containers).
Of course, they also have difficulties.
LOGFAS was born in the late 80s and was originally conceived as a temporary measure until a commercial system was developed. But there is nothing more permanent than temporary. Apparently, changes in the geopolitical realities of the late 80s - early 90s influenced the course of events, and LOGFAS, developing and supplementing with new opportunities, survived until the end of the first quarter of the twenty-first century. In the 2010s, a project was launched to switch to a new system (LOG FS), which was supposed to replace LOGFAS by 2020. But it didn't work out.
We urgently need a program to build our own logistics information system. I am sure that part of the problems with what is called the "sluggishness of the Defense Ministry" is directly related to the lack of adequate information systems. The problem will grow as the crisis grows and new types of weapons and support appear, which are needed already "yesterday".
Total informatization is not a panacea. But it will definitely avoid this:
List of materials for additional study
-
YouTube NATO Logistics lessons
.
-
Use Of Logfas Tools In Logistics Planning In NATO
.
-
Application Of The New NATO Logistics System
.
-
NATO Logistic Handbook
.
-
NATO Logistics Handbook
.