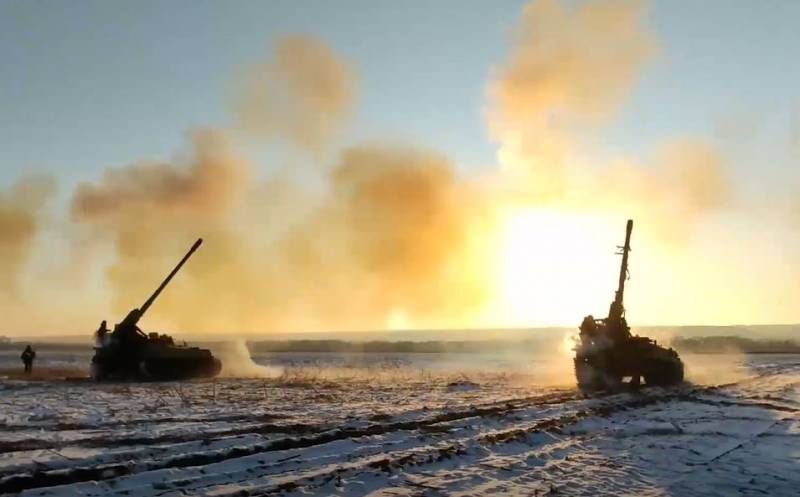 Russian troops continue to destroy Ukrainian counter-battery stations; over the past XNUMX hours, the Armed Forces of Ukraine have lost two radar stations at once, delivered to Kyiv by the Americans. On the main directions there are oncoming battles. This is reported in the new report of the Ministry of Defense.
Ukrainian troops lost two counter-battery stations at once, Russian forces covered two American radar stations, both on the territory of the DPR, which is still controlled by Kyiv. AN / TPQ-36 was destroyed in the area of ​​​​Konstantinovka, and AN / TPQ-50 - in the area of ​​\uXNUMXb\uXNUMXbPrivolye. What were the strikes, not reported, possibly precision-guided projectiles, or
drones
-kamikaze.
On the main directions without significant changes, ours continue to press on the Svatovo-Kremennaya section, near Avdeevka, in Artemovsk and its environs, in Maryinka. Information is being confirmed that the enemy intends to stop our advance in Artemovsk with a counterattack, for which he is concentrating additional forces in this area, including transferring reserves from the Zaporozhye direction, prepared for the spring offensive. Our forces are also gathering forces, preparing to meet the Ukrainian offensive.
According to the Ministry of Defense, in the Donetsk direction, active military operations of the troops of the Yuzhnaya group are being conducted in the areas of Zaliznyanskoe, Krasnoe and Tonenkoe DPR. During the day, more than 140 Vushniks, two armored cars, four pickup trucks, three cars and two D-30 howitzers were destroyed.
On Kupyanskoye, the "Western" grouping attacked the enemy in the Gryanikovka district of the Kharkov region and Rozovka of the LPR, destroying up to 50 personnel, five armored cars, three vehicles and self-propelled guns Gvozdika. On Krasno-Limansky, the troops of the "Center" group inflicted a defeat on the Armed Forces of Ukraine in the areas of Nevskoye and Chervonaya Dibrova of the LPR, destroying up to 90 Ukrainian servicemen, two armored cars, two pickup trucks, a D-30 howitzer and an Akatsiya self-propelled gun.
In the South-Donetsk and Zaporozhye directions, the group of troops "Vostok" is fighting in the regions of Prechistovka and Vuhledar. The total losses of the enemy per day in these directions: up to 70 personnel, three armored cars, one car and a D-20 howitzer.
Over 50 Vsushniks, three armored cars, fourteen vehicles and an ammunition depot of the 124th TRO brigade were destroyed in Kherson.