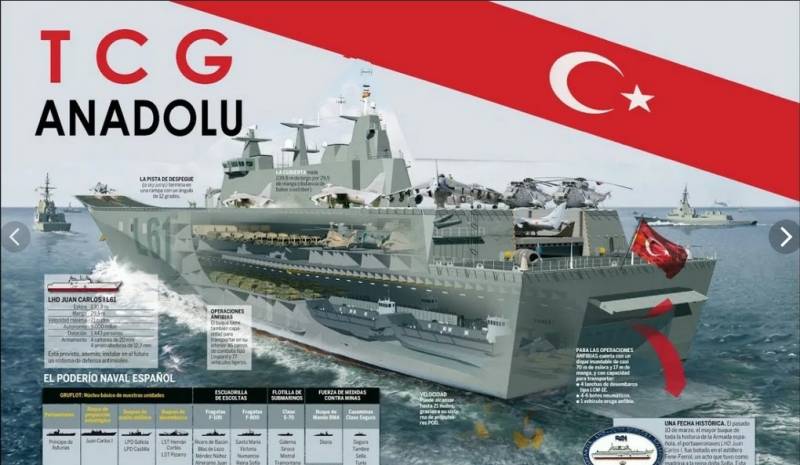 A year ago, maritime specialist Alexander Timokhin, whose articles appear here, published an article on the pages of another publication under the heading "
Turkey disgraced with its first aircraft carrier
". We had my article
Aircraft carrier tears or drone carrier in Turkish
". After a year, it became clear that we were not so much mistaken, but could not predict the development of both technologies and application tactics.
drones
. Therefore, it makes sense to reconsider some things.
In fact, it is difficult to judge, but something tells you to be disgraced is when a completely incapable ship descends into the water. Or which sinks during the descent. And how much the Turks have "disgraced", we will now try to figure it out, especially considering the fact that "Anadolu" became part of the Turkish military
fleet
, and in parallel with this, a second ship, Thrace, is being built.
It is worth noting here that the entire Turkish fleet is divided into two operational groups, Northern and Southern. The northern group is responsible for the Black Sea, the southern one for the Mediterranean. Therefore, the appearance of two such ships is understandable and justified, one for each operational connection.
UDC - universal landing ship - no matter how you look at it, there is a tool for aggressive force projection. Able to deliver from point A to point B a regiment of marines with equipment and ammunition and support it with a regiment of attack helicopters.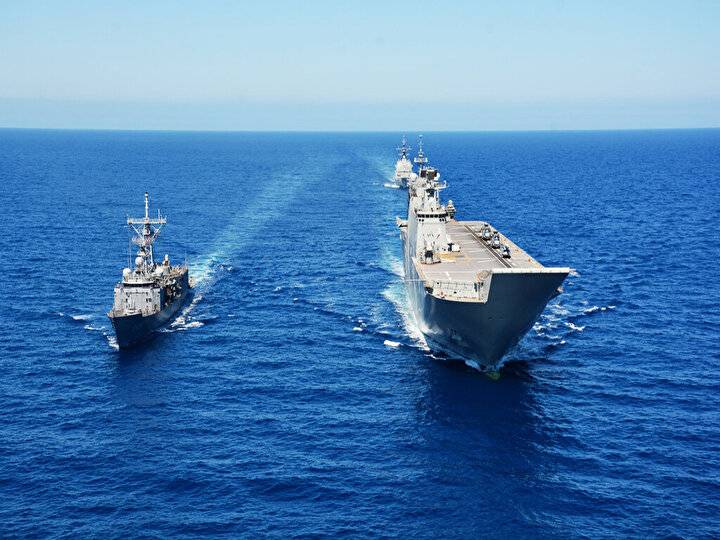 Why the Turks need such a percussion instrument is understandable. To protect the sphere of its interests in the world, and the fact that Turkey has plans that simply delight in their scale in the form of building a certain pan-Turkic world, then there will be something to protect. Starting from the same Africa, where Turkey rushed at the beginning of the XNUMXs.
It has long been clear that only the fleet (despite the development
aviation
) can properly ensure the transfer and supply of troops at a distance from their bases. And the best ship for landing is a landing ship.
What is UDC, known for a long time. All such ships in the world are built according to such canons: capacity from an infantry battalion with all equipment and weapons, hospitals for the surgical treatment of the wounded, a docking chamber in the stern, from which loaded landing craft and equipment with sufficient buoyancy can leave, the presence of a large deck, from which it is convenient to start helicopters or aircraft with vertical takeoff and landing. Plus, large holds of ships allow you to take on board a sufficient supply of food, fuel and ammunition for combat operations for the first time.
UDC is a very controversial ship, as soon as it starts talking about its aviation group. An ordinary landing ship, without such excesses, is much simpler in terms of the fact that there is no need to fight between the air and land components.
That aviation, that landing, require one thing: places. A place for equipment, a place for repairs (for aircraft), a place for weapons and fuel. Considering how much you need, there is a catastrophic lack of space, otherwise, if you give everyone as much as you need, you will get a vessel with a displacement of 40-50 thousand tons. Not fast and not very maneuverable, and even with a decent draft.
For comparison: the draft of our BDK project 11711 "Ivan Gren" is 3,8 meters with a displacement of 6600 tons.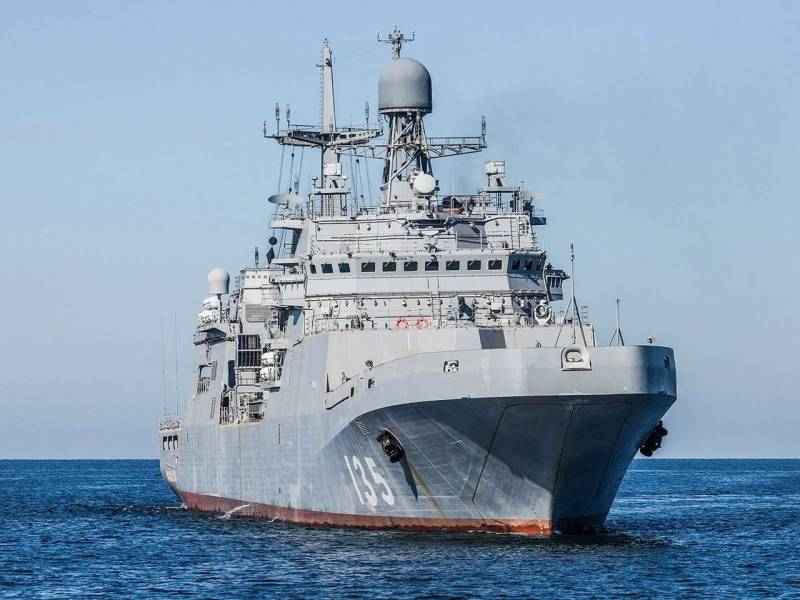 The draft of the ship "Juan Carlos 1" is 7 meters with a displacement of 27 tons. Here's the airfare. Landing "Gren" can approach the shore and dump on it everything that is in the holds.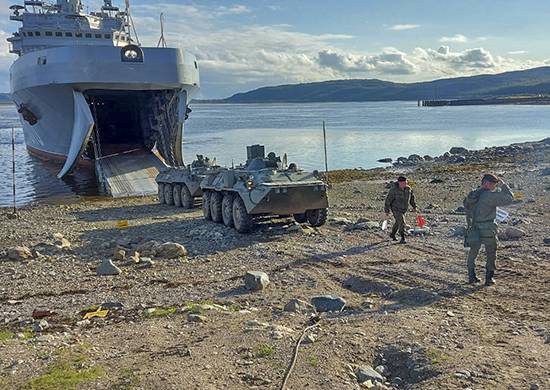 I don't know how the Anadolu, which is a licensed copy of the Juan Carlos, will look in this regard, but it definitely won't fit the shore. The troops will land on boats and self-propelled (if conditions permit), and this will already take much more time than landing directly on the shore. Yes, and it will be easier for the enemy to establish counteraction.
By the way, the draft of the monsters of the UDC project 23900 of the Ivan Rogov type, which are being built in Kerch, is even more - 8 meters. And it also evokes certain thoughts in terms of application.
Roughly the same with the air wing. The fact that the UDC can take from 6 to 12 aircraft does not make it an aircraft carrier. It can, of course, be called a light aircraft carrier, but this only indicates that the ship will be able to solve only lightweight tasks in the conditions of the almost complete absence of opposition in terms of air defense.
By the way, about air defense. Ships of the UDC type are not up to par with their air defense, and this is again due to the fact that there is not enough displacement. UDC is a warrant ship that requires serious cover.
The compromise of the assault landing ship is that the balance between the landing force, the air group and its own forces will never be maintained. This is simply unrealistic, and always one of the components will have an advantage over the others. For a normal UDC, this will be a landing force, for a light aircraft carrier, it will be an air wing.
Today, UDC is in the fleets of many countries whose military doctrine implies military operations outside their own space. Naturally, a country that is not going to land troops on the territory of other states does not need such ships.
Why Turkey needed ships capable of landing somewhere in Africa - the question contains the answer. Because Turkey has state interests far beyond its territory. Interests that Turkey is ready to protect with the help of
weapons
.
UDC "Anadolu", which "Juan Carlos 1" is a wonderful ship.
The best in terms of balance between capabilities, but still frankly weak in terms of aviation. As a light aircraft carrier, it is even worse than our Admiral Kuznetsov. But he can deliver troops where ordered, land them and cover them from the air.
In general, initially helicopters were supposed to cover. But as the shipbuilding business unfolded, the idea changed. Since the ship was ordered by Spanish partners, it became possible to place the F-35В on the UDC and turn the UDC into a light aircraft carrier. For a country with ambitions to enter the aircraft carrier club - well, what could be more pleasant for Erdogan?
So the Anadolu got a bow with a springboard, since the ship was originally built with a flat deck, for helicopters. In 2015, everything looked very beautiful. Almost like the F-35B on the deck of the first Turkish, albeit light, but aircraft carrier.
But in 2019, everything collapsed. The ship was already being completed, but Turkey was thrown out of the F-35B program for the willful purchase of the S-400 from Russia.
So at one point Turkey lost its light aircraft carrier. It seems that the springboard and the entire radio engineering complex became unnecessary at one moment? Many people thought so, and tons of gloating was poured out in the media.
However, was it worth it to rejoice? Let's take a calm look at the situation: Turkey has laid down two UDCs. There was an opportunity to improve the UDC to a light aircraft carrier. Then, after making changes to the design of the ship, the possibility disappeared. Everyone, shame on the jungle?
No, we are looking at point 1. Anadolu was built as a universal landing ship. A springboard that no planes will fly to? Yes, not very convenient. "Extra" drive and landing radars? There is nothing superfluous.
It is possible to talk about the shame of the Turkish Navy only if the Anadolu was cut into metal or sold. Like "Mistral", a third world country.
The return of the Anadolu to the role of a universal landing ship is a normal move. No one has taken away from Turkey helicopters, which were originally planned as an air strike force.
In addition, there is a marine version of the Bayraktar, which will quite normally launch from the deck of the Anadolu.
In some sources, the Anadolu situation was called an attempt to build a quasi-aircraft carrier. In general, a ship that can (and Anadolu can) carry a large number of UAVs is useful. Today, drones have proven themselves to be excellent reconnaissance, first of all, and strike, second, means.
When conducting a hypothetical landing operation on the territory of an unfriendly state, the use of UAVs for reconnaissance and primary testing of such important targets as unsuppressed air defense, the Bayraktar will be much more effective (including from a financial point of view) than the F-35B. And if we are talking about losses, then the advantages of the drone are simply huge.
The F-35B is a very modern and serious combat vehicle, however, the more serious the vehicle, the more man-hours of technical and engineering personnel are required for it inside not the most spacious and suitable UDC hangars. Many people who are knowledgeable in the subject directly say that it will be unrealistic to provide the necessary level of training in UDC conditions for the F-35B, which means that you should not expect high intensity flights.
In this situation, the use of several dozen UAVs in place of 12 aircraft does not look stupid. Today's practice of the war in Ukraine has shown how serious the enemy is - an attack drone or a kamikaze drone. Personnel, where machines worth several thousand dollars hit air defense systems worth several million is the best confirmation of this.
There is no doubt that Turkish military experts are following the events in Ukraine very closely, and therefore the order for Baykar Defense
drone
TB-3 "Bayraktar" with a folding wing does not look stupid.
In addition, in 2021, Baykar announced a project for a promising attack jet drone MIUS, which can also be based on the Anadolu UDC. The first flight of this device is scheduled for 2023, and there is confidence that this flight will take place.
But this is not about somehow adapting Anadolu to normal military service (as the Americans tried with the same Freedoms), but about strengthening the capabilities of the UDC. And if you place two or three dozen Bayraktars on Anadolu, then these opportunities will really increase.
The deck area of ​​5 square meters can accommodate a lot of things. Yes, the springboard will be an unnecessary thing, but it can also be useful for taking off the Bayraktars in the configuration of a shock UAV, with bombs. There is no point in converting back to a smooth-deck design, in addition, the American partners may forgive, so the Turks will be able to get the F-440B in the long term.
If you look at what happened in the end, then the performance characteristics of the Anadolu UDC are quite a decent clone of Juan Carlos.
The Anadolu displacement is slightly more than 27 tons, the hull length is 000 meters, and the width is 231 meters. UDC develops speed up to 32 knots, cruising range - 20,5 nautical miles.
The area of ​​the flight deck is 5 sq. meters, there is an aircraft hangar with an area of ​​440 sq. meters, which can accommodate 990 medium-class helicopters or eight heavy-lift helicopters. Four landing craft of the LCM type or two hovercraft of the LCAC type are based on board.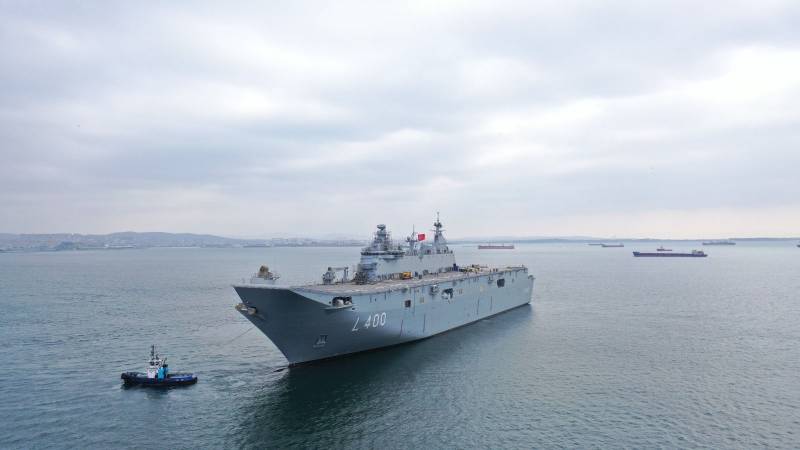 "Anadolu" is really capable of taking troops with equipment, moving a fairly considerable distance and landing. Cover... In general, four attack helicopters T-129 ATAK and eight Eurocopter AS 532 may not be enough, but the question is - against whom to be friends.
Since Anadolu's own defense is better than that of Juan Carlos, two 20-mm Phalanx CIWS artillery systems, five Aselsan 25-mm artillery systems and a RAM anti-aircraft missile system, they can fight off problems at close range. As for the distant one, support ships are needed here.
But Turkey has frigates capable of escorting Anadolu to the other side of the earth, and this is a problem for the enemy. And attack drones will be able to significantly enhance the capabilities of the ship's aviation group, consisting of helicopters.
Last year, when Anadolu was put to the test, I confess that I was rather critical of the idea of ​​creating a quasi-aircraft carrier with aircraft armament from drones. But after a year, during which I closely watched what was happening in Ukraine, my opinion changed somewhat.
During this year, we have all witnessed how unmanned aerial vehicles on both sides of the front destroyed enemy manpower and equipment. And today we can definitely say that strike UAVs account for many more hit targets than aviation.
Of course, the launch of NURSs from a roll-up is very colorful. A bunch of missiles, and so not distinguished by accuracy, flies somewhere there, outside the sights. But it flies beautifully. Hitting areas and causing certain damage to these areas. However, NURS digging the ground cannot be compared with a cheap FPV drone that calmly destroys an anti-aircraft missile system. Or causes him such damage that requires urgent repair.
Today, the idea of ​​retrofitting the UDC with a flock of unmanned vehicles does not look like a desperate attempt to save face. I admit that UAV operators in Russia and Ukraine were forced to treat this type of weapon with respect.
So in 2023, it is worth recognizing that the Turks very gracefully got out of the seemingly problem with the non-delivery of the F-35B to them.
UDC was planned. They made a light aircraft carrier out of it. The aircraft carrier did not work out, they returned to the topic of UDC and reinforced the air group with drones. In any case, the Turkish fleet did not lose anything. We ordered two UDC - receive and sign. They did not receive light aircraft carriers - well, not everything is lost yet, Erdogan will wait for the change of president and make a second call. And Turkey will have non-aircraft carriers.
But landing ships - they already exist and will be ready to serve.
Another question is where and how they will be used, but I'm sure we'll see. And one moment. Russian UDC project 23900 is just under construction, and at best will be ready by 2027 ("Ivan Rogov"). And how ships are being built in our country, and even in a crisis, the expected timeframe can be shifted to the right in such a way ...
But during this time, one can easily collect information about the use of their UDC by the Turkish Navy and draw certain conclusions based on it. For example, about the fact that in the Black Sea, where it is planned to use the Rogov, we do not have escort ships for it. And the scope of application does not seem intelligible and understandable.
But there seems to be time. Meanwhile, the Turkish fleet is starting to operate its first UDC, accepted into the ranks of the Navy.