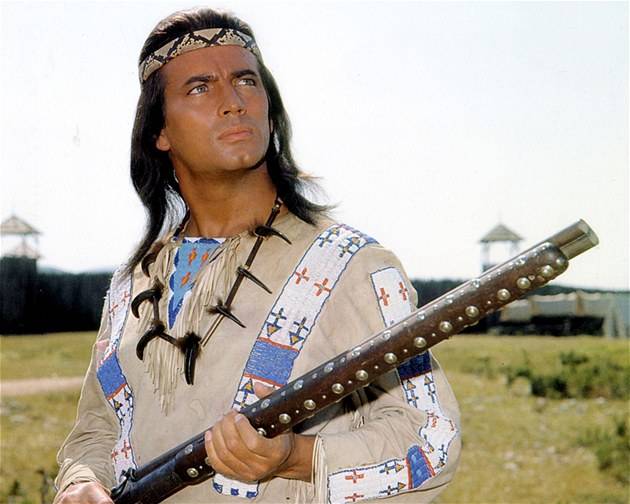 Another famous Indian of all times and peoples Vinnet (Pierre-Louis, Baron Le Bris) with his "silver double-barreled shotgun" ... By the way, the Indians loved double-barreled hunting rifles and willingly purchased them from white merchants!
"... Every warrior fears most of all that the ill-fated star does not lead him to death without being painted in a military way."
"At the American Indians", J. Katlin
Indians with and without tomahawks.
We continue our cycle dedicated to the culture of the Indian tribes of North America. Last time we talked about the Crow Indians, who were fiercely at odds with the Sioux Dakota. But what did all these steppe Indians fight with, besides the guns and revolvers they got from the whites? This is what our story will be about today...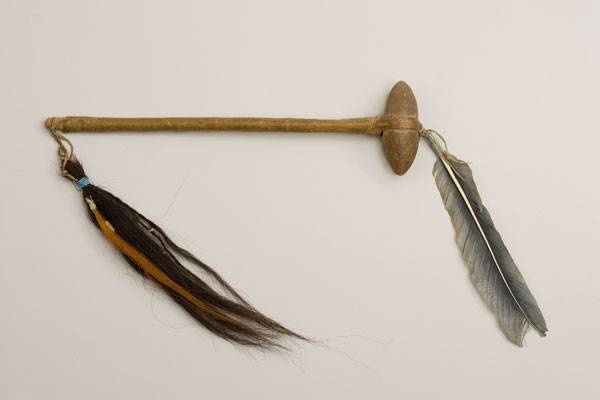 Stone mace of the non-Persian Indians. National historical non perce park
The image of an Indian, no matter what - steppe or forest, is associated in our minds with a bow and a tomahawk. Fenimore Cooper, and James Willard Schultz, and many others have tried to do this. And - yes, indeed, although the steppe Indians used a variety of weapons, targets at a distance were mainly hit with a bow. It is believed that the ancestors of the steppe Indians in ancient times also used a spear-throwing stick and a wind pipe, but since the steppe culture was formed much later, namely, when the prairie Indians had already met Europeans and learned to ride, archaic species
weapons
disappeared, as more unclaimed. But the bow and arrows continued to retain their significance.
Apache bow with arrow quiver
It is interesting that the Indians did not abandon these weapons, even when they got acquainted with the guns of the pale-faced. The reason is simple - guns were expensive, besides, the Indians could neither repair them nor produce gunpowder on their own. But any Indian could make a bow, among which, as in any business, there were true masters of this business. The bow was also beneficial in that during the mass hunting of buffalo, it was easy to determine from the marks on the arrows which bison belonged to whom. In addition, a bow shot is silent, which is important both in hunting and in war. And arrows could be launched from a canopy and hit enemies hiding behind cover. Rifles didn't have that. And lastly, the bow and arrows helped to use a technique that was very effectively and repeatedly shown to us in the movies: "fiery arrows", with which the Indians throw the dwellings of their pale-faced enemies.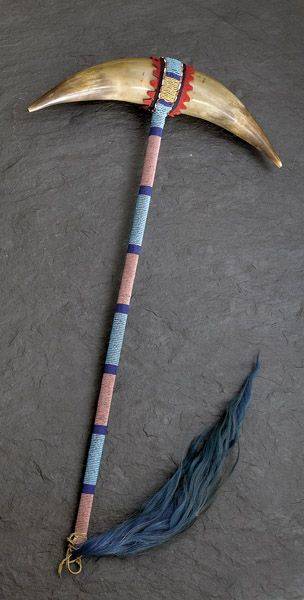 Crow's weapon - a club of buffalo horns
Unlike the "long English bow", the Indian bow was small. Its length was one meter or a little more. They were made from ash, elm, yew, cedar or hazel wood. Willard Schultz's story "With the Indians in the Rocky Mountains" describes how such a bow was strengthened with tendons laid over its shoulders, and this made it more elastic. The Indians also knew bows from a wooden base lined with horn overlays, and also reinforced with tendons. As overlays, strips split off from elk horns, straightened horns of a mountain sheep or strips of whalebone, which the steppe Indians exchanged with tribes from the Pacific coast, were used. The strongest and most powerful bows were made entirely of horn, but it was still necessary to look for suitable horns for this. The glue with which the Indians glued the parts of the bows, they boiled from buffalo or deer hooves. Bows were sometimes wrapped in rawhide or put on them like a stocking, the skin of a rattlesnake. Bow decorations were the most diverse: ermine fur, and porcupine quills, and red fabric ...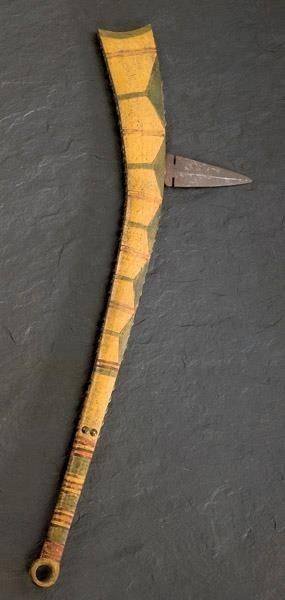 Applied baton. Weapons of the Iroquois tribes
The bowstring was made from tendons taken from the spine of a bison. The length of the arrow was usually equal to the length of the owner's arm - from the armpit to the tips of his fingers. The tips were made of stone, bone and sheet iron. Usually they were a simple triangular shape, but there were also diamond-shaped ones.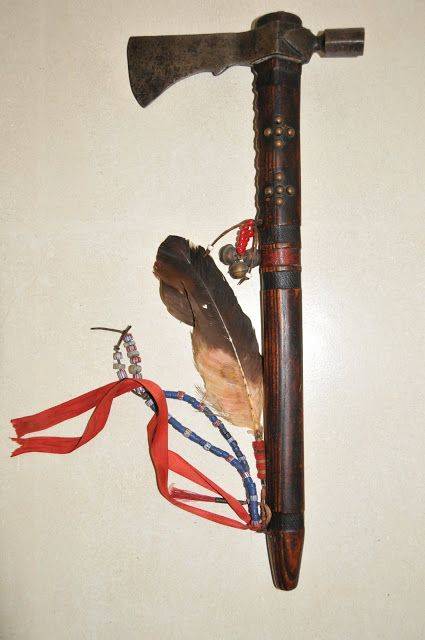 Tomahawk Sioux Dakota, 1860
Plumage - always from three clipped feathers, most often - feathers of an eagle. Arrow shafts, like plumage, were usually painted, and thanks to this, the owner of the arrow was easily identified. But there were also arrows that had a common, tribal coloring. For example, the Cheyennes had three wavy lines along the shaft from plumage to tip. A quiver with arrows was usually worn behind the back so that the arrows could be taken out from behind the right shoulder. At the same time, they were laid with the tips up.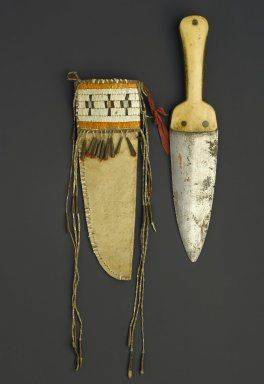 Knife for scalping. Brooklyn Museum of Art
The power of the Indian bows used by the prairie tribes was very great. Yuri Kotenko, in his book The Indians of the Great Plains, for example, reports that the Cheyenne bow, with a length of 114 cm, had a tension of 51 cm, the range of a shot from it was 150 m, and the force needed for tension was 30,5 kg. The Apache bow, with a length of 104 cm, had a tension of 56 cm, a firing range of 110 m, and a pull force of 12,7 kg. However, all these data are approximate. But something else is known: eyewitnesses have repeatedly written that during the hunt for bison, an Indian could kill a huge bison with two or three arrows. There were Indians who managed to knock him down with one arrow... It is interesting that the Indians also had hybrid bows with a spear tip on one of the shoulders. Spear-bows were used in combat as well as in military dances.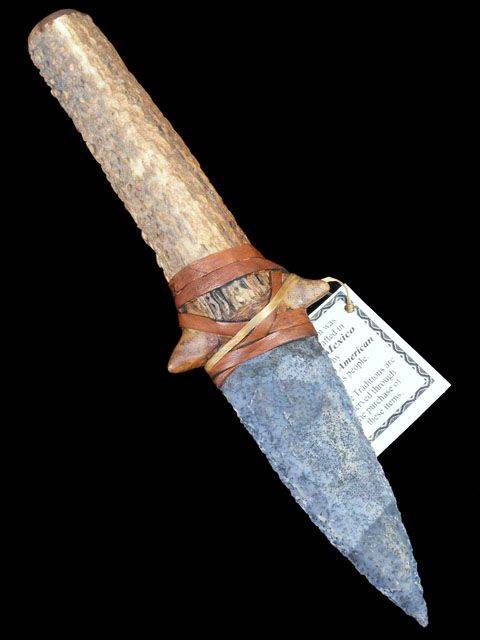 Homemade Indian knife with an antler handle
But the straight long spear, although it was used, was gradually losing ground. Interestingly, the Indians often supplied them with European bayonets instead of tips, which, of course, were much cheaper than guns. The so-called "crooked spears", similar to a hook, were also used. With such weapons, it was possible, having caught up with the rider, to pull him by the neck from the back of the horse, but most often they were used as ritual attributes and therefore were very richly trimmed.
All kinds of clubs were extremely popular. The "signature" weapon of the Sioux, for example, was the so-called flexible club. It was a stone woven with vines or wrapped in leather and attached to a wooden handle so that it could hang freely. Naturally, it was very easy to make such a weapon, but a blow to them could crush the skull of a wolf, and it wouldn't seem enough to a person.

Knife and scabbard of the Plains Cree, 1850
Often the handles of such weapons were richly trimmed, primarily with scalp strands of hair. Applied clubs were used (their idea was borrowed from Europeans), which had the shape of a gun with a butt. In the place where the gun was supposed to have a lock, the Indians inserted a metal point, or even three knives. The wooden part was covered with red cloth, upholstered with copper wallpaper nails - in a word, it was a very terrible, but also a beautiful weapon!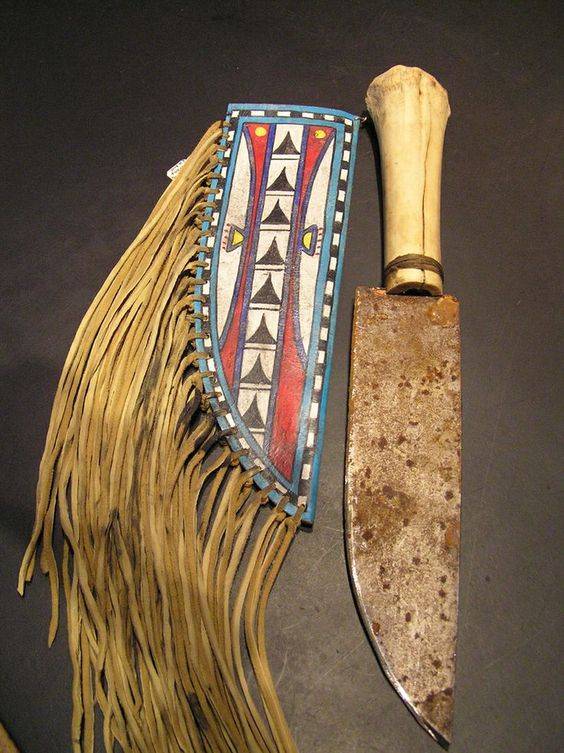 Knife of the Dakota Indians with a bison tubular bone handle
There has already been material here about hatchets-tomahawks, so it is hardly worth repeating in this case. The main thing is that the tomahawk entered not only the military life of the Indians, but also the spiritual one. Even their sacred pipes made of catlinite - a red stone from Minnesota, they very often made in the form of a tomahawk, and the tomahawks themselves quite often had a cup for tobacco on the butt.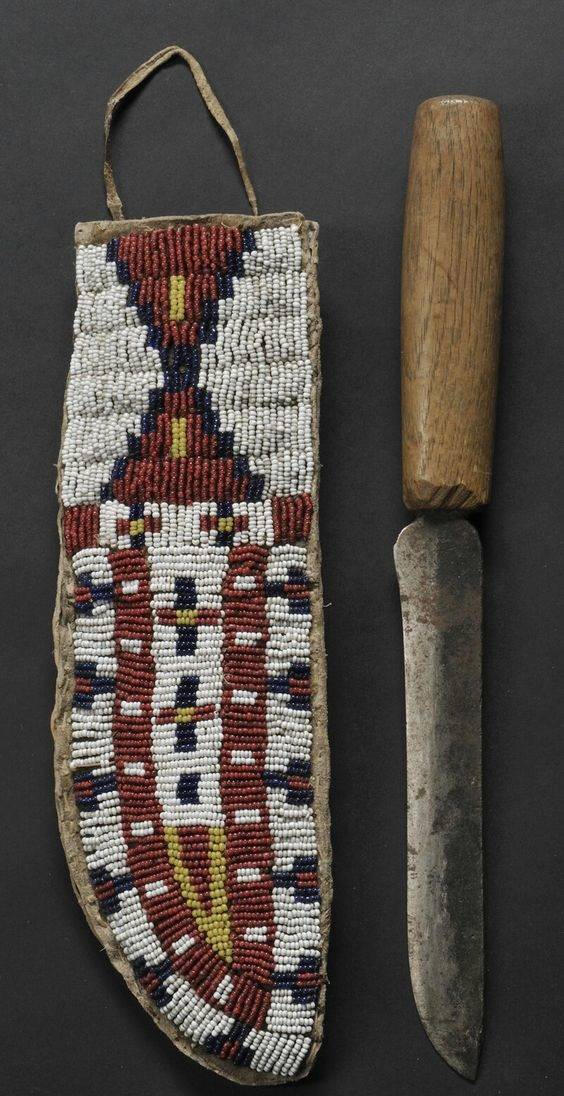 Dakota knife with a simple wooden handle
An important part of the weapons of the Prairie Indians (and the Indians in general) were knives. Before meeting with Europeans, they had two types: flint, similar to the knives of many other peoples, and "yellow", made from native copper. There was even a tribe of "Yellownaf" ("yellow knives"), whose representatives were engaged in their manufacture from deposits of high-quality native copper ore that was available in their territory.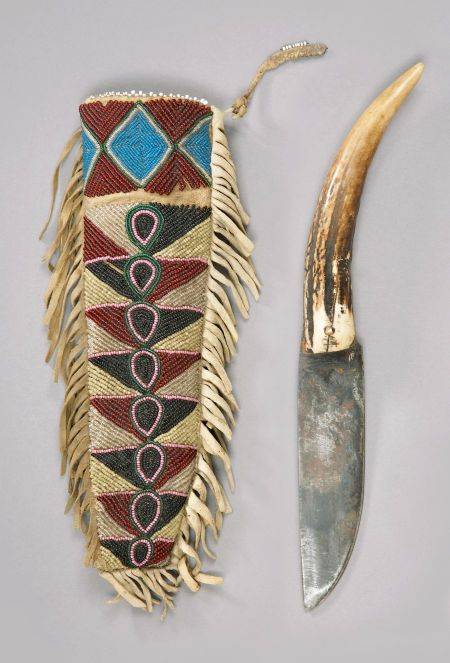 Steppe Cree knife and scabbard, 1875 Horn handle
But barter with Europeans helped all Indians, young and old, to acquire metal knives. Moreover, blades were usually purchased from Europeans. The Indians attached the handles to them themselves, and there is nothing to say about the beautiful sheaths made of leather, embroidered with patterns from porcupine quills - these are real works of art. Interestingly, unlike the Europeans, the Indians sharpened their knives only on one side, and not on two. But this did not affect their sharpness in any way!
As for the white weapons, by 1830 almost all prairie tribes could get flintlock guns. The price was not too high, let's just say: a gun, 100 bullets, two spare flints and a bag of gunpowder cost only 20 beaver skins. Primer guns were more expensive: a gun, four boxes of primers, a bag of bullets and another one with gunpowder - 45 beaver skins! For guns, again, leather cases were sewn and richly embroidered, and also decorated with fringe.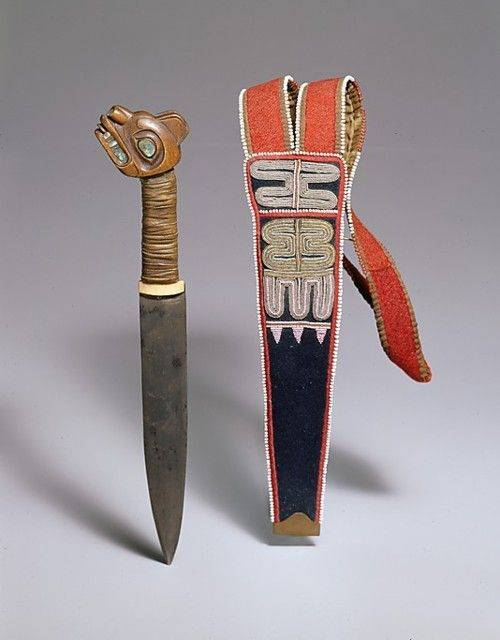 Tlingit Indian knife. True, they do not belong to the steppe Indians, but their knives are very beautiful!
They did not disdain, but on the contrary, the Indians and revolvers were very actively used. Firstly, the revolver relied on the state of the Indian scout. Secondly, it is clear that, having become acquainted with these weapons through their brethren, other Indians - their fellow tribesmen - tried to keep up with them and also acquired these weapons, which they kept in a richly embroidered holster.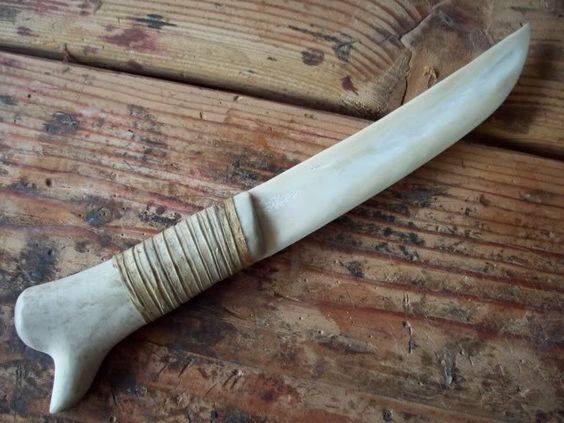 An Indian knife made entirely from the bone of a caribou deer.
It is interesting that some Indians even had European sabers (again in leather scabbards embroidered in their own way!) and ... Spanish chain mail. So the armament of some of them was very, very colorful!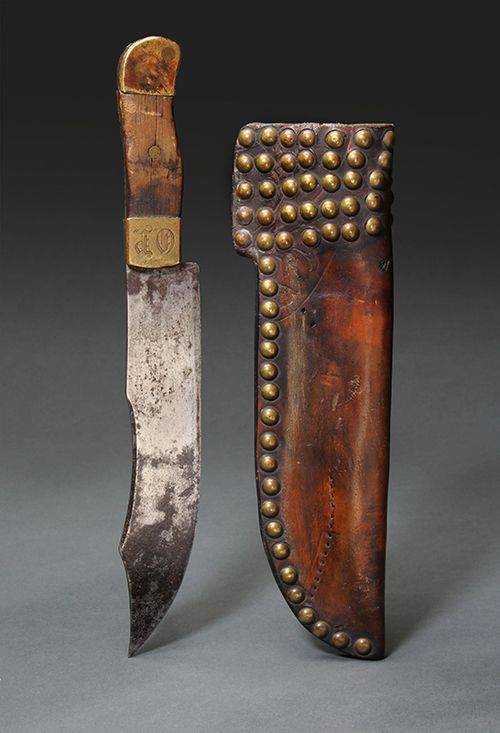 The knife of the Crow Indians (it was not in the previous material, we fill this gap). Moreover, this knife is a typical Bowie, but it belonged to the Indians of this tribe!
PS We have a certain degree of misconception about the Indians, whether it concerns their weapons or life in general. It is believed that they are unhappy, oppressed people. But here, for example, the Shakopi Mdeyaganton tribe owns two casinos Mutis Lake Sagino Nottel and LittleSich. Both have annual revenues of over $1 billion. Thus, for each of the 500 members of the tribe, about 1,08 million dollars annually. Add to that the fact that they don't pay taxes (according to US law)! In addition to two casinos, this tribe also owns a golf course that hosts national championships, as well as a concert hall and a 600-room hotel. Today, the Shakopee Tribe is the largest employer in the Cĸot community in Minnesota. Many of the members of the tribe have a second home off the reservation. True, not all Indian tribes are so rich, so the Shakopees have made donations to other Indian tribes in the amount of $ 1996 million since 243!
PSS Photographs from the National Museum of Indians in Washington DC are used to illustrate the article.