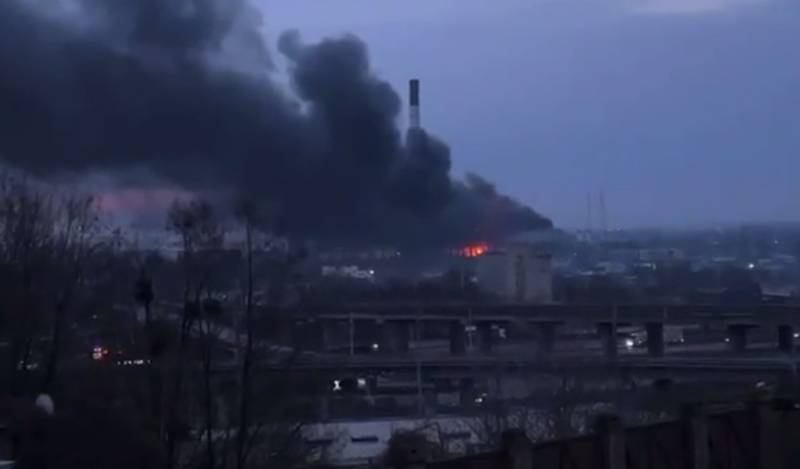 On the night of March 9, the territory of Ukraine was subjected to another massive attacks with the help of missiles and unmanned aerial vehicles. Some of the consequences of missile strikes are already known.
In the Dnipropetrovsk region, for example, arrivals were recorded in the Dnipro, Pavlograd, Krivoy Rog and Nikopol regions. As a result of the arrivals, energy infrastructure facilities and industrial enterprises that produced military products were damaged. Sergey Lysak, a protege of the Kyiv regime in the region, called the destruction at the facilities "serious".
Energy infrastructure facilities were attacked in the Krivoy Rog region. This is reported by the regional administration. In Kyiv, fragments of a rocket, although it is still unknown whose, fell on parked cars in the Svyatoshinsky district, which caused a fire.
In the Odessa region, after a missile strike, power lines and a pole were damaged. The damage caused blackouts in homes and businesses. According to the Ukrainian authorities, air defense forces allegedly shot down six missiles and one unmanned aerial vehicle over the Odessa region.
It is known about the fall of a rocket in a residential area in the Zolochiv community of the Lviv region. However, it is known that such incidents often occur as a result of the work of Ukrainian air defense systems.
The lack of the proper level of skill of the Ukrainian military leads to the fact that rockets fall in residential areas, hit residential buildings and cause numerous damage. This was the case, for example, in Poland, where a Ukrainian rocket caused the death of two people on a farm in the Lublin Voivodeship.