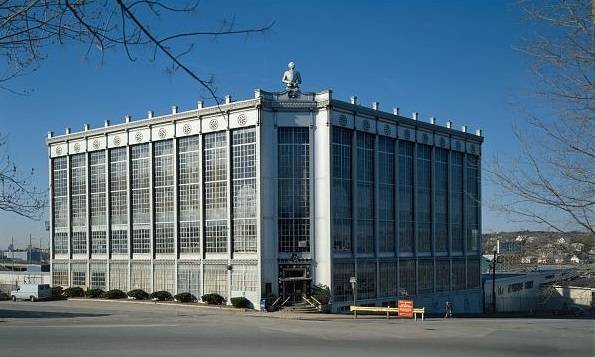 Higgins Armory Building
David girded himself with a sword over his armor
and tried to walk in them, because I was not used to it. -
I cannot walk in them, he said to Saul,
because I'm not used to them. And he took them off.
17 Kings 39: XNUMX
Weapons museums of the world.
Today we will again go to the American continent, and get acquainted with the collection of the museum, which no longer exists. Just imagine that this happens, it turns out: there was a museum, exhibits were exhibited in it, and now, the museum no longer exists, and the collections ended up in a completely different place. We are talking about a completely unique private museum of Higgins, which exhibited beautiful samples of armor and weapons of the New Age for quite a long time.
John Woodman Higgins was a wealthy industrialist from Worcester, Massachusetts, where he owned the Worcester Pressed Steel Company. In the 1920s, he visited Europe several times, where he bought weapons, armor and various interesting metal products. In 1927, he was especially lucky: he managed to buy eight complete armor pieces from the collection of George Jay Gould. He brought all this to his house, which they very quickly remembered to failure, so that it became extremely difficult to live in it: here and there stood knightly armor, in boxes were various metal curiosities and glassware.
By 1928, his collection was larger than his house could hold, so in 1929 he decided to build a special steel and glass building for it next to his factory. And he called it that - "Museum of Steel and Glass." The opening was very solemn and took place on January 12, 1931. The Boston Symphony Orchestra was invited to the celebration, and the sons of Higgins, dressed in knightly armor, greeted the guests.
In its original form, the museum exhibited a wide variety of objects made specifically from steel, including such steel products as medieval weapons, car parts, and even ... an airplane made of steel suspended from its ceiling.
The tour of the exhibits began with a walk through the exhibition of knightly armor and ended with a tour of the production lines to see modern steel production. It was possible to get into the production workshop through special podiums connecting the factory and the museum itself. Moreover, Higgins invited not only just visitors to the museum, but also invited his employees to come there during breaks to be inspired by the ideas of the past ... He died in 1961, leaving a donation of $ 17 to the museum.
Gradually, however, the museum's exposition was reorganized. Only weapons and armor remained in it, that is, from the Steel and Glass Museum, it turned into the Higgins Armory Museum. And until 2004, he was the second in the United States in terms of the wealth of his weapons collections after the Metropolitan Museum of Art in New York. And it was the only museum in the States dedicated only to weapons and armor!
His weapons collection consists of 2 items, and it contains as many as 000 completely complete armor. And all this would have been just fine if it had not closed at the end of 24 due to lack of funding. Of course, the collections were not lost, but were transferred to the Worcester Art Museum. The former museum building also found a new use: it was sold in December 2013 and now serves as a venue for various local events.
True, at the Worcester Art Museum, the collection is currently scattered throughout the museum, so that antique armor is adjacent to works of art, such as paintings and sculptures, however, also depicting armor and weapons. Every first Saturday of the month, the museum hosts demonstrations of the armor so that visitors can better put it in a historical context. The museum also organizes special educational programs on medieval
stories
, weapons and armor, conducts school seminars, and its employees also give relevant lectures for school teachers.
The Olive Higgins Prouty Research Library, founded in 1997, continues its work. It contains several thousand books on weapons and armor, so you can also come there and ... read any of them!
It was the Higgins armory and a major center for the study of medieval martial arts. A number of historians worked there, who wrote scientific monographs and reports on its materials. She sponsored meetings at scientific conferences, as well as lectures, both in the US and in Europe.
The former museum also hosted lessons in historical fencing and martial arts. In a word, the collections in it were excellent, and they did not lie idle - they were actively used.
By the way, what was not there. Not only full sets of armor, but also a gladiator's helmet and even a stuffed dog named "Helmutt" dressed in a reproduction greyhound armor. The oldest artifact in the collection is a bronze dagger from the Eastern Mediterranean, circa 3000-1500 BC. BC e. There are gladiatorial and Corinthian helmets, Renaissance gauntlets and ... the helmet of a French cuirassier of the mid-XNUMXth century.
But the main part of plate equipment belongs to the New Age, that is, the period after 1500. These are helmets for jousting tournaments, a hunting crossbow, full sets of armor for horsemen and foot soldiers, and even ... an anvil, on which such items were made.
There are African exotics: throwing knives and axes. There are weapons of the East: chain mail, a horned kulah hood (helmet) from India, as well as samurai armor from Japan. It is interesting that among the exhibits there are also armor for horses and even dogs.
Of course, we won't be able to see all this, but we will undoubtedly conduct an interesting and eventful tour of the collection of the Higgins Museum. So…
First of all, the Great Hall. This is where our tour starts. And here is a tournament with a barrier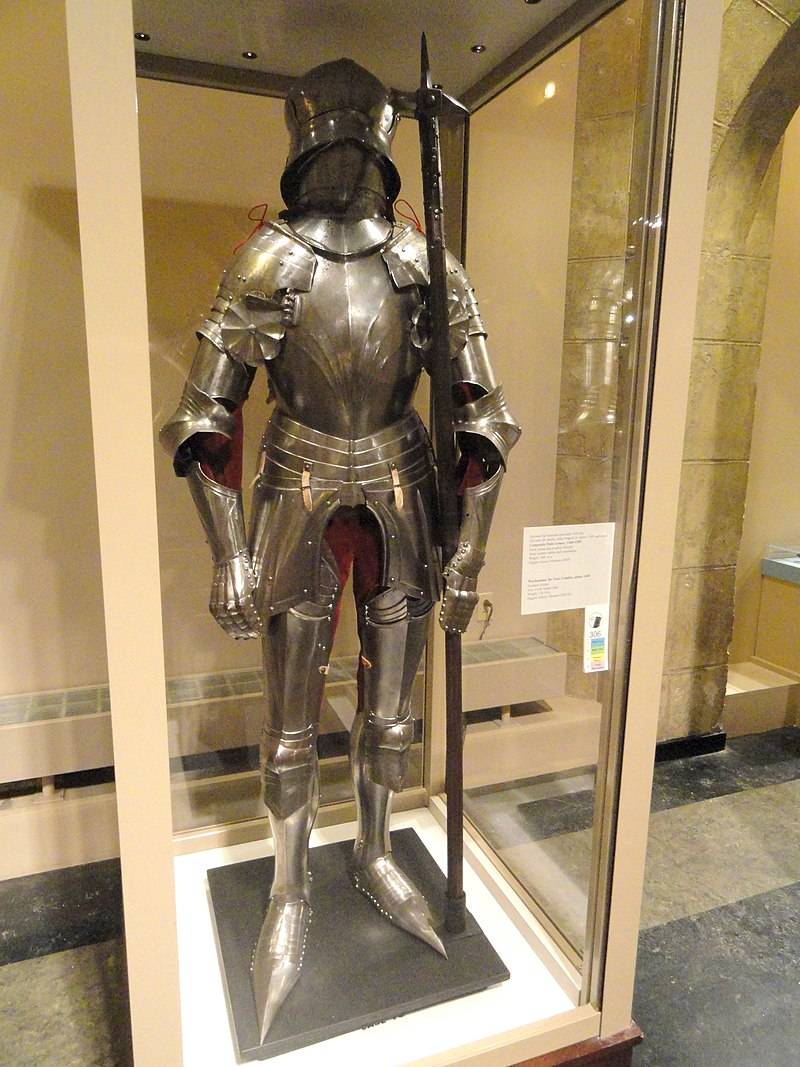 Gothic armor from Northern Italy or Flanders, Giovanni da Caravalle, 1440-1505 Typical "white armor", devoid of any decorations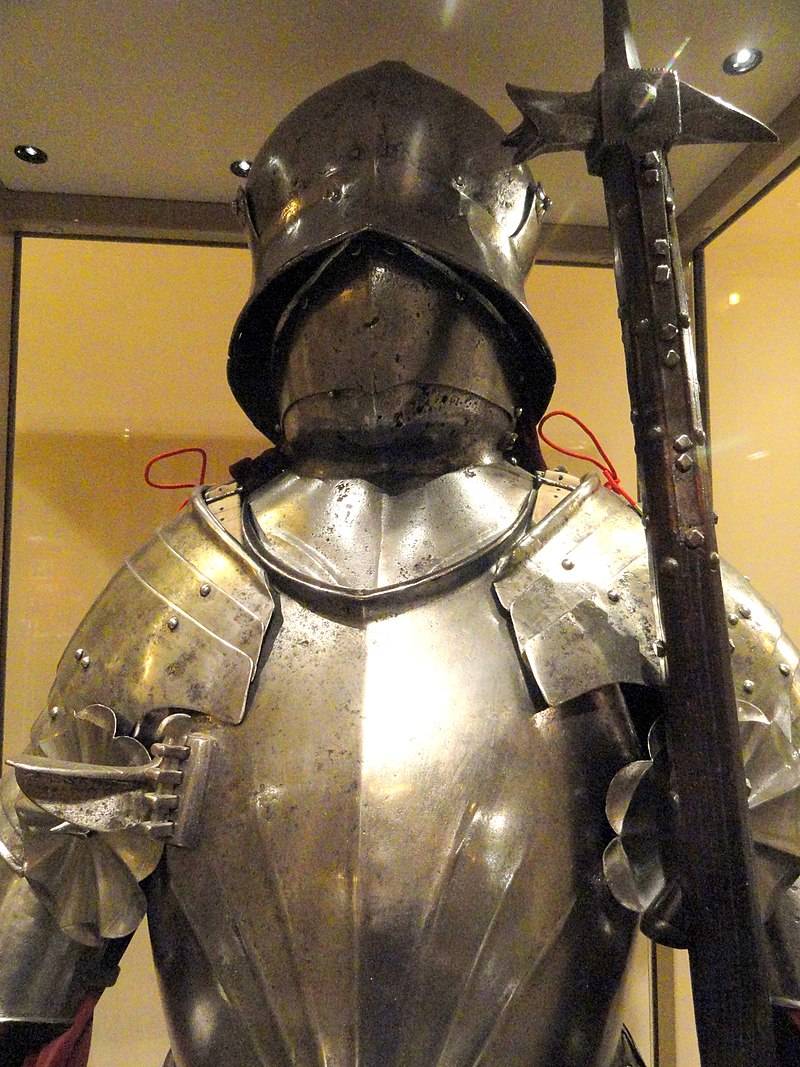 The same armor close-up. The bevor (forehand), the spear hook (fokr) and the awesome "crow's beak" in his hands are clearly visible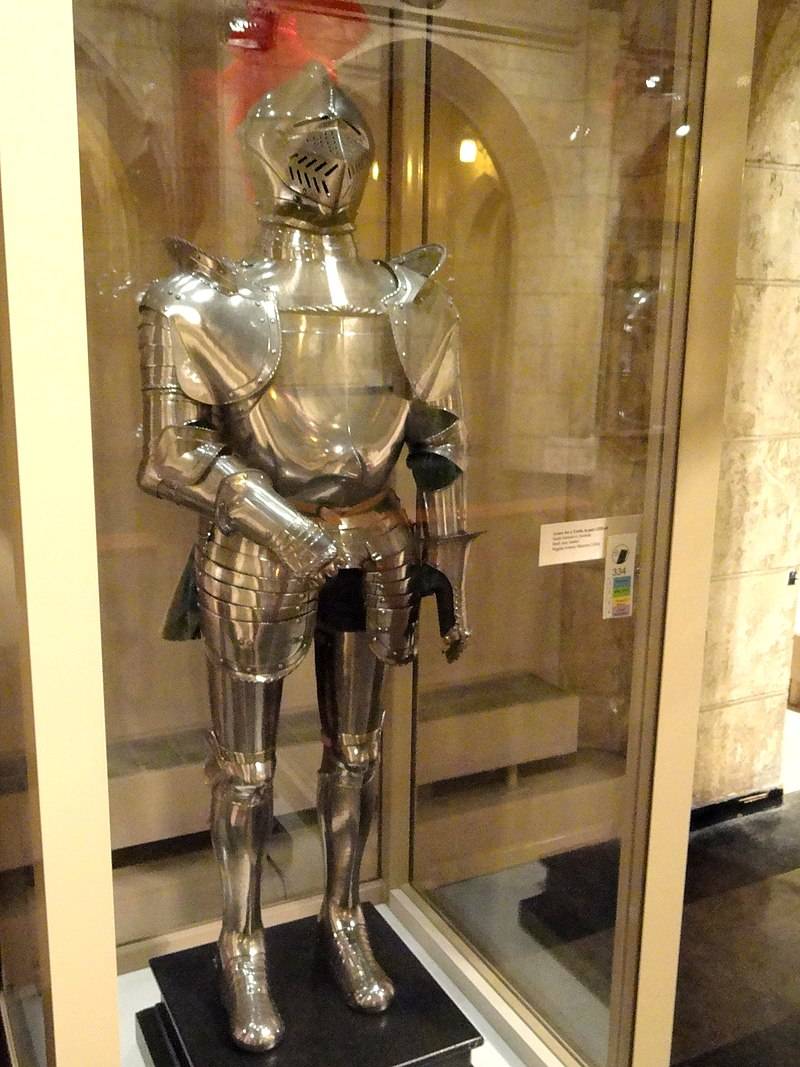 Armor for a youth, 1555–1560 Southern Germany or Austria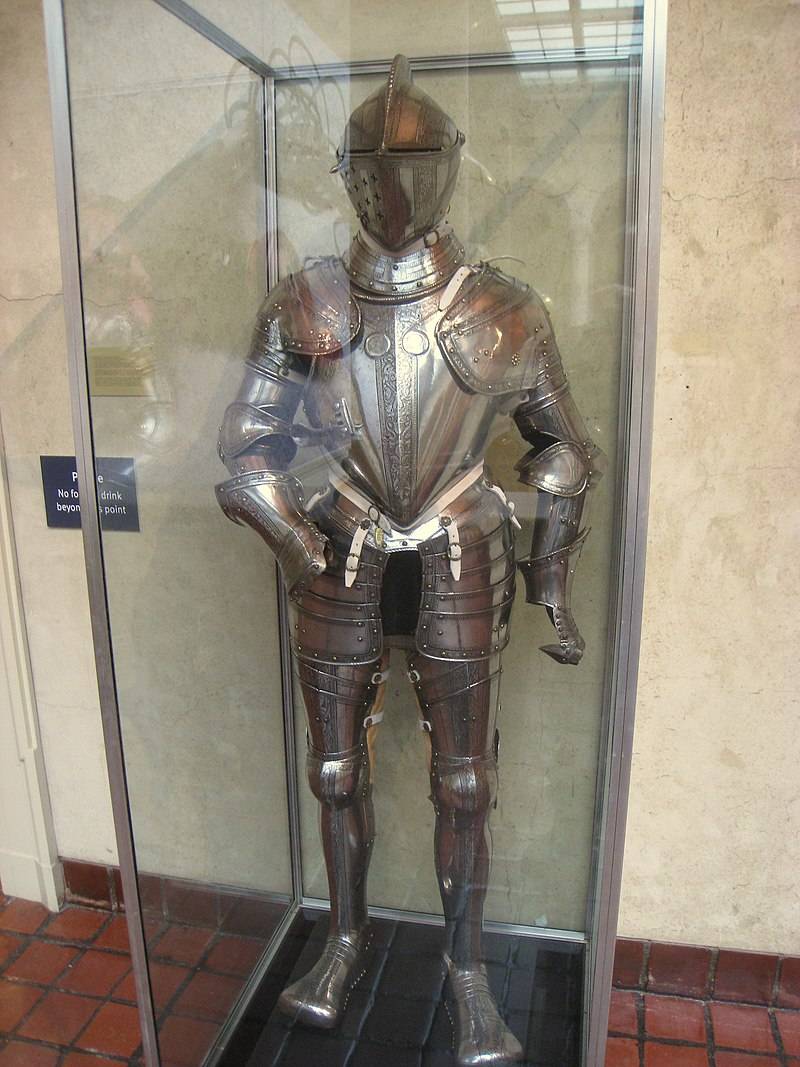 Full knight's battle armor, late XNUMXth century. Northern Italy. Exhibition at the Volchester Museum of Art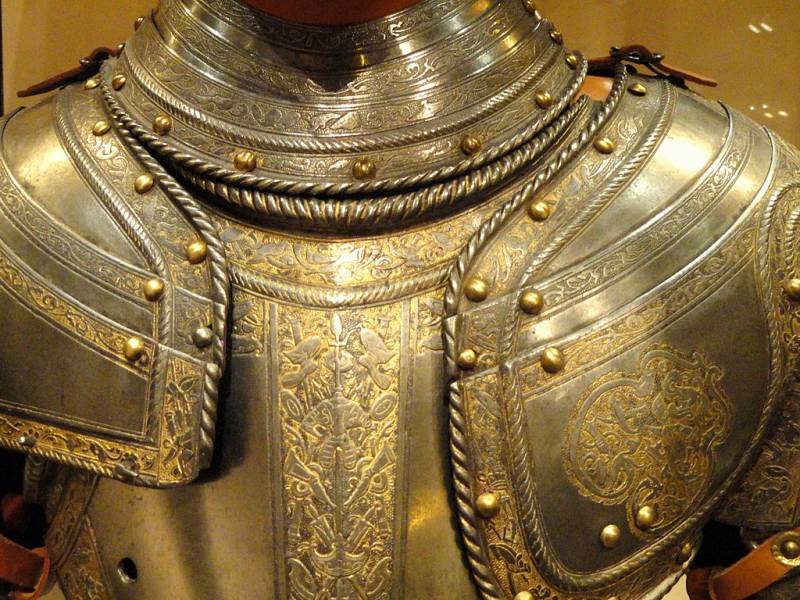 "Armor in three quarters" (did not have cover for the legs). May have belonged to Henry Herbert, 1560nd Earl of Pembroke. Milan, 1570–XNUMX The so-called armored carving that adorns them attracts attention: the background is removed, and the details of the drawing stand out noticeably ...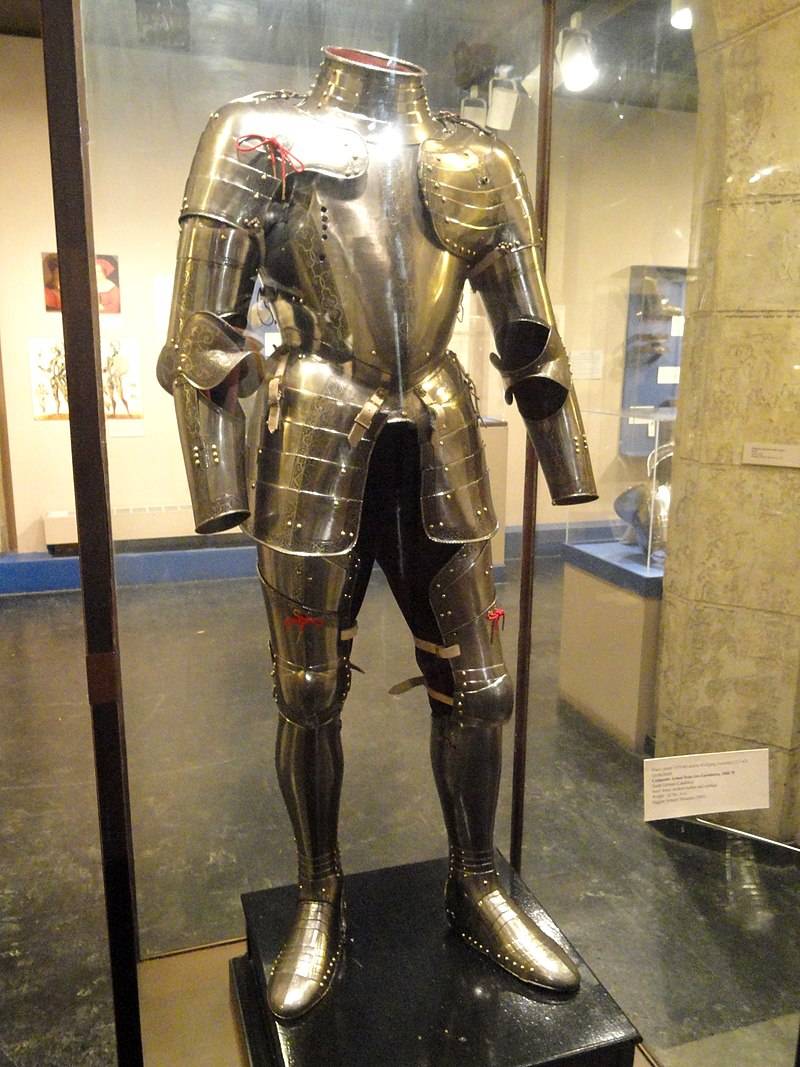 Composite armor composed of two armor sets, by Franz and/or Wolfgang Grossschedel, Southern Germany (Landshut), 1560-1570.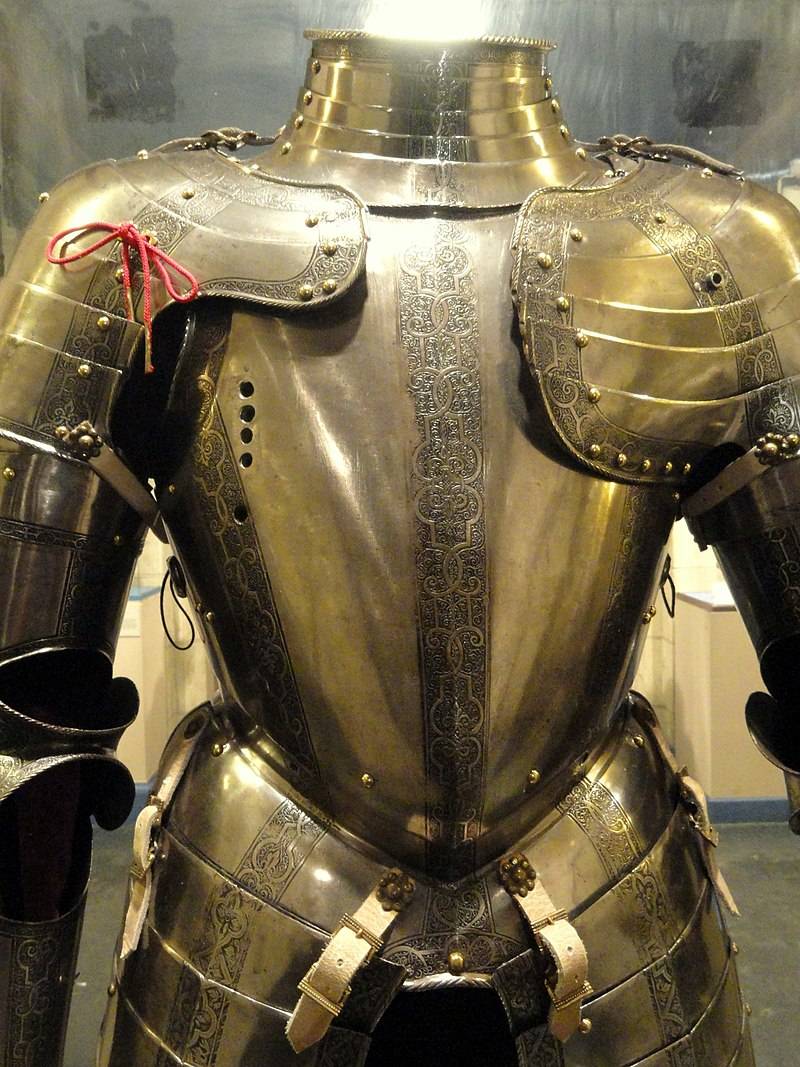 The same armor close-up. The fokr has gone somewhere ...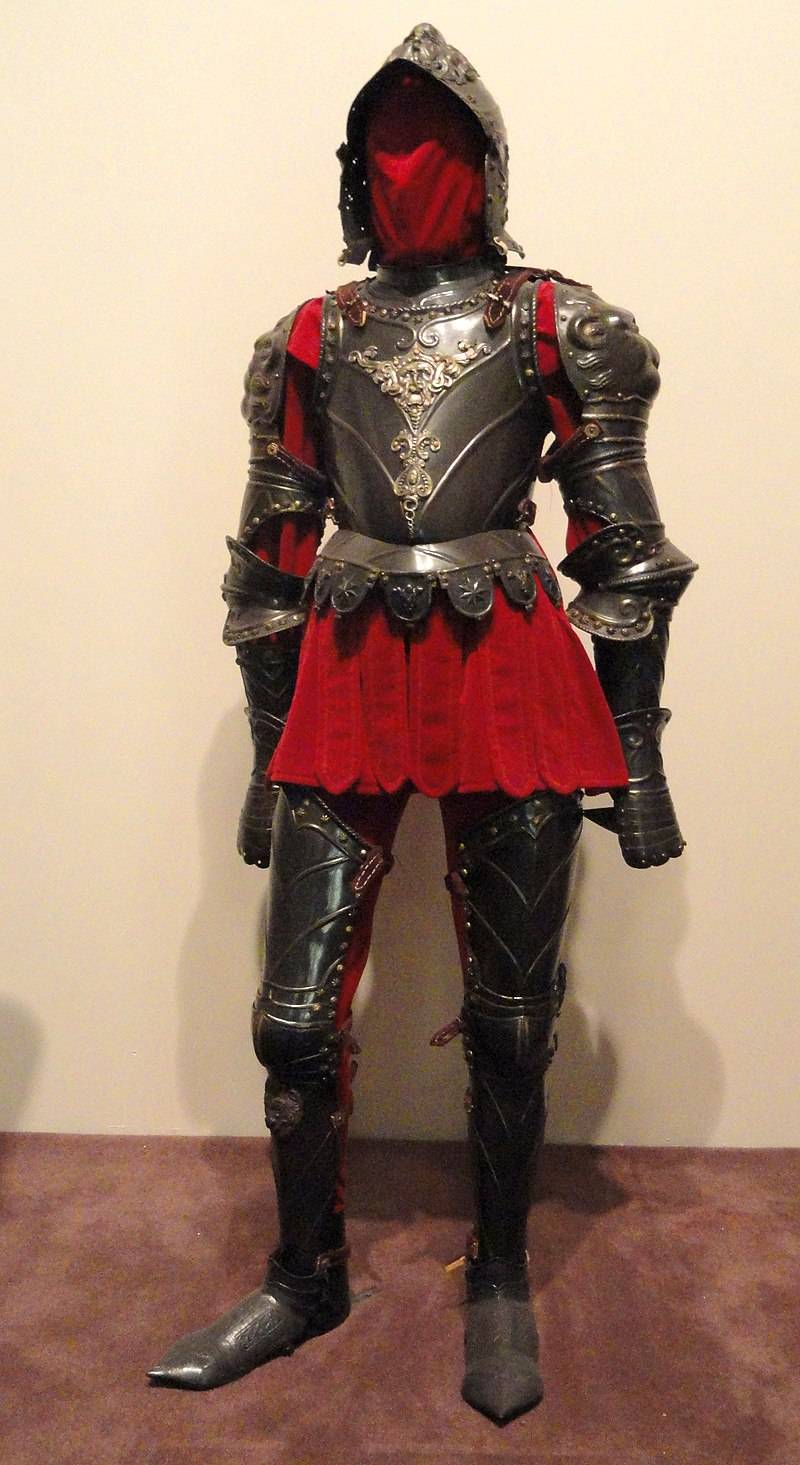 Ceremonial armor "in the Roman style", Italy, late 1500s - early 1600s, with additional decorations made in the XNUMXth century.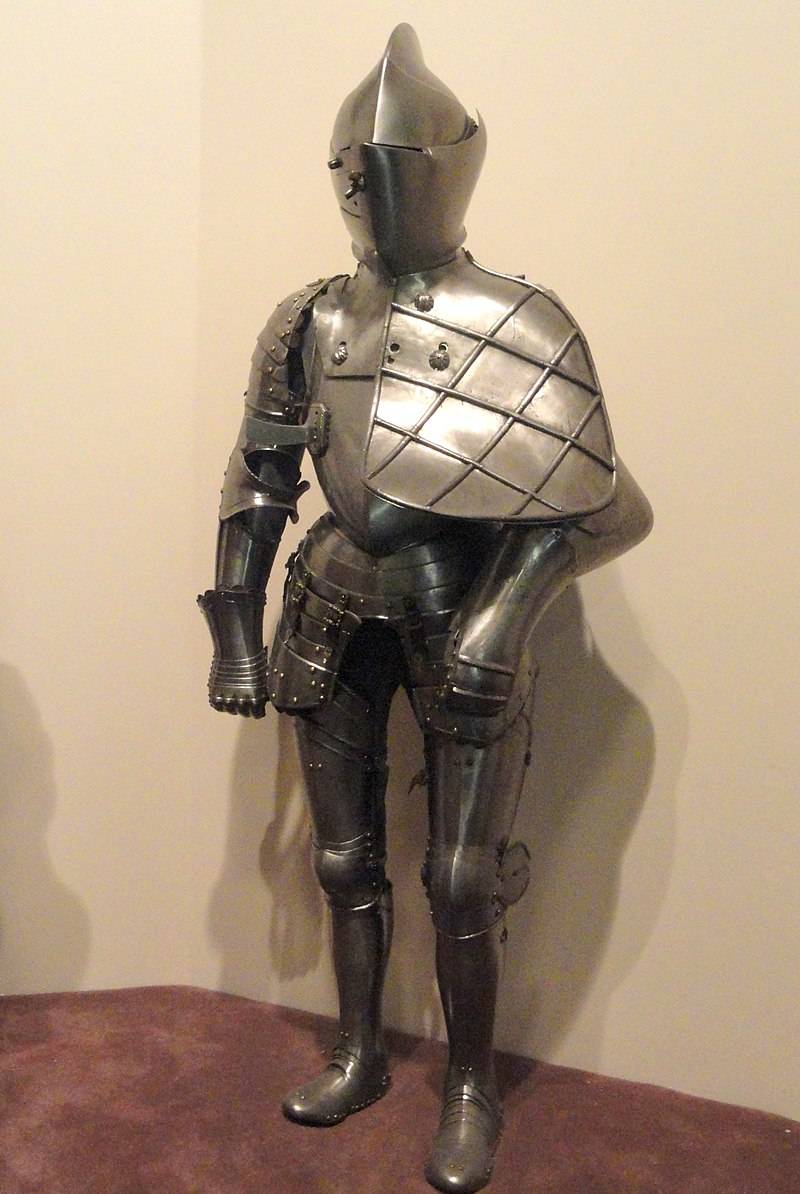 Tournament armor for Jostra in the Italian style. Work of master Anton Peffenhauser, Augsburg and Italy, 1570-1575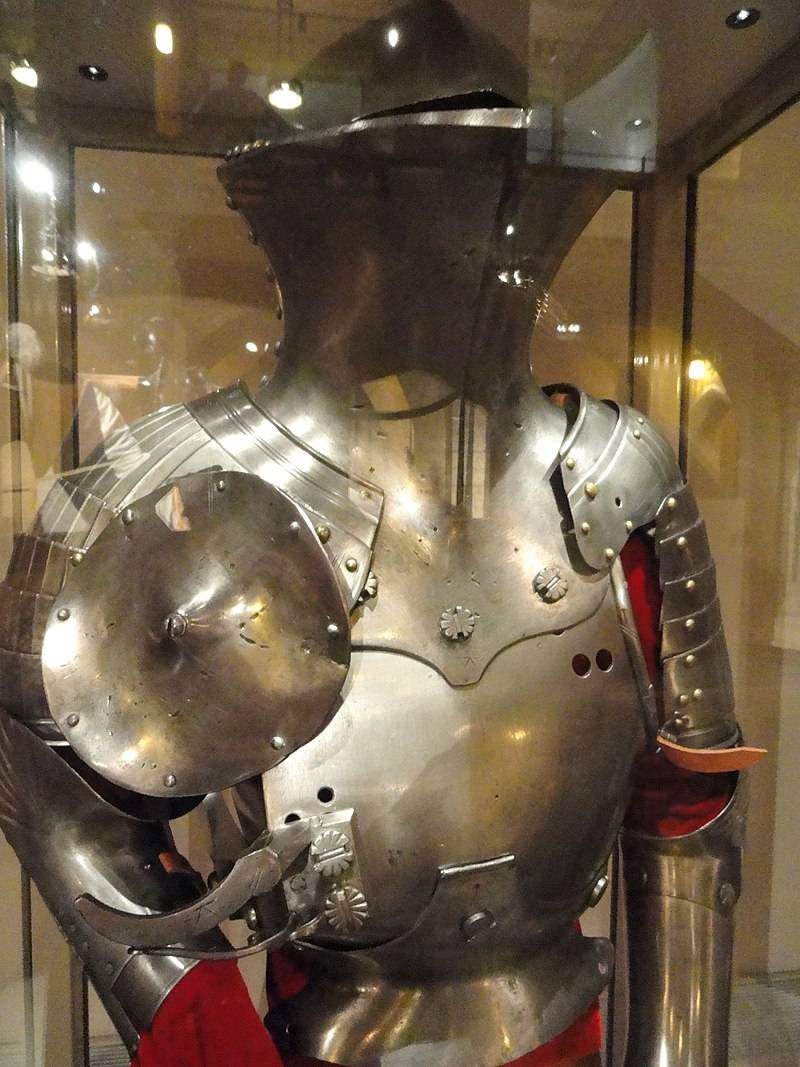 German-style jostra armor with a distinctive "toad head" helmet. Work of master Valentin Sibenburger, Nuremberg, circa 1480-1540.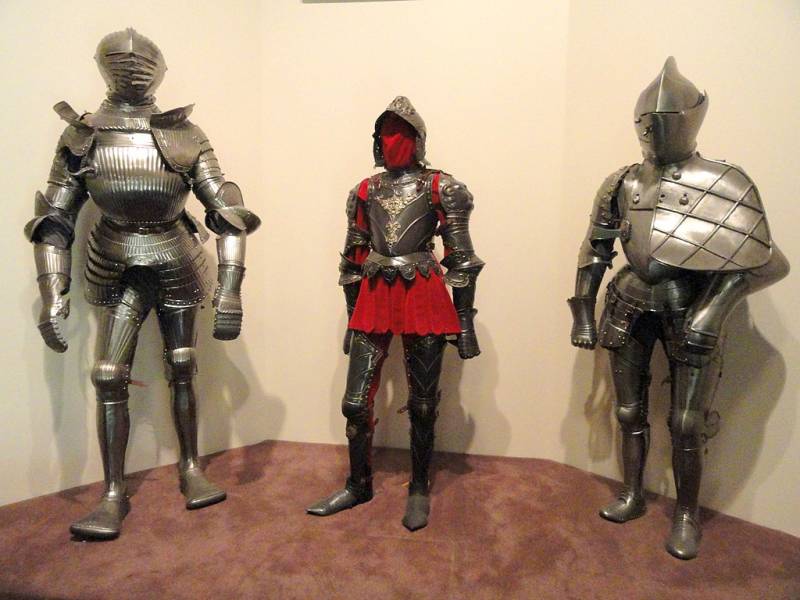 People at that time were of different complexion ...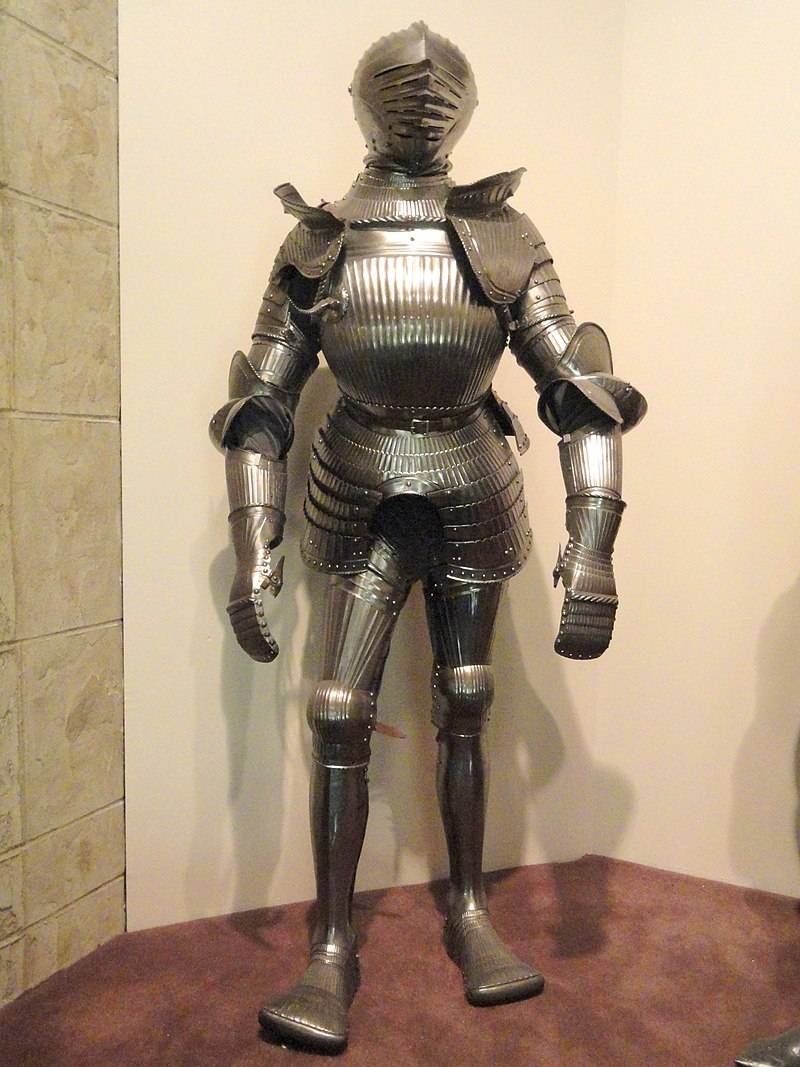 The pinnacle of armor craftsmanship - "Maximilian armor", South Germany, ca. 1525-1530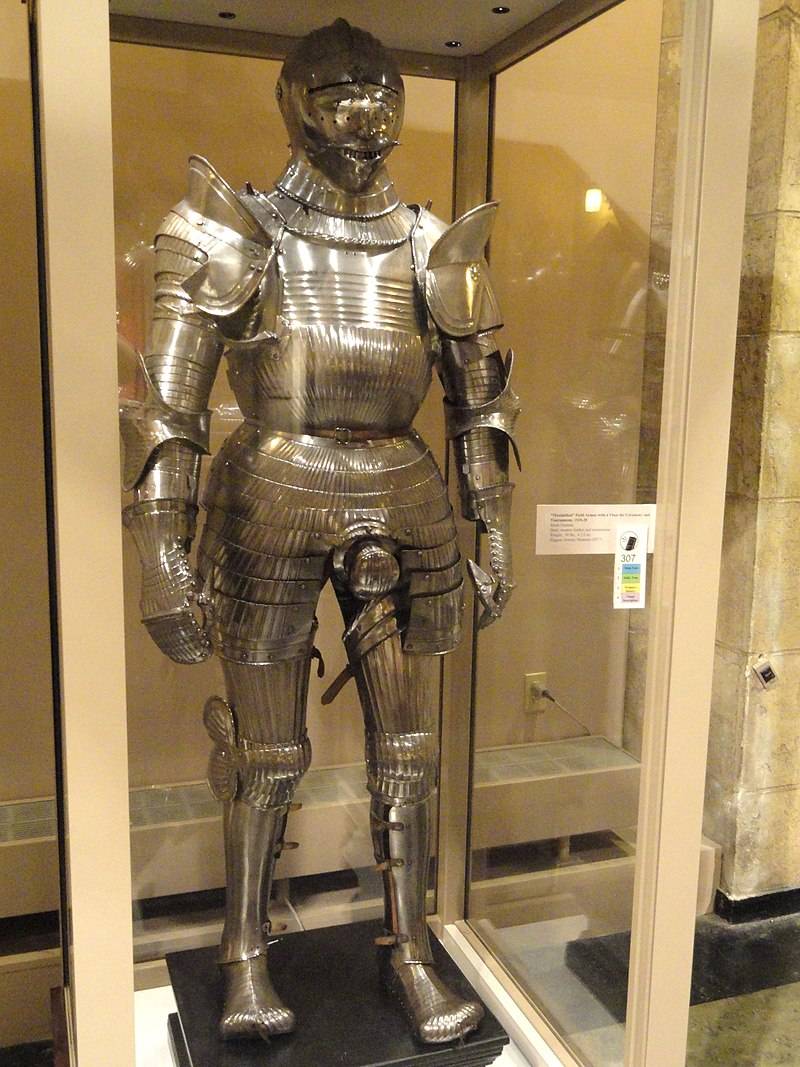 Another set of "Maximilian armor", Southern Germany, ca. 1510–1520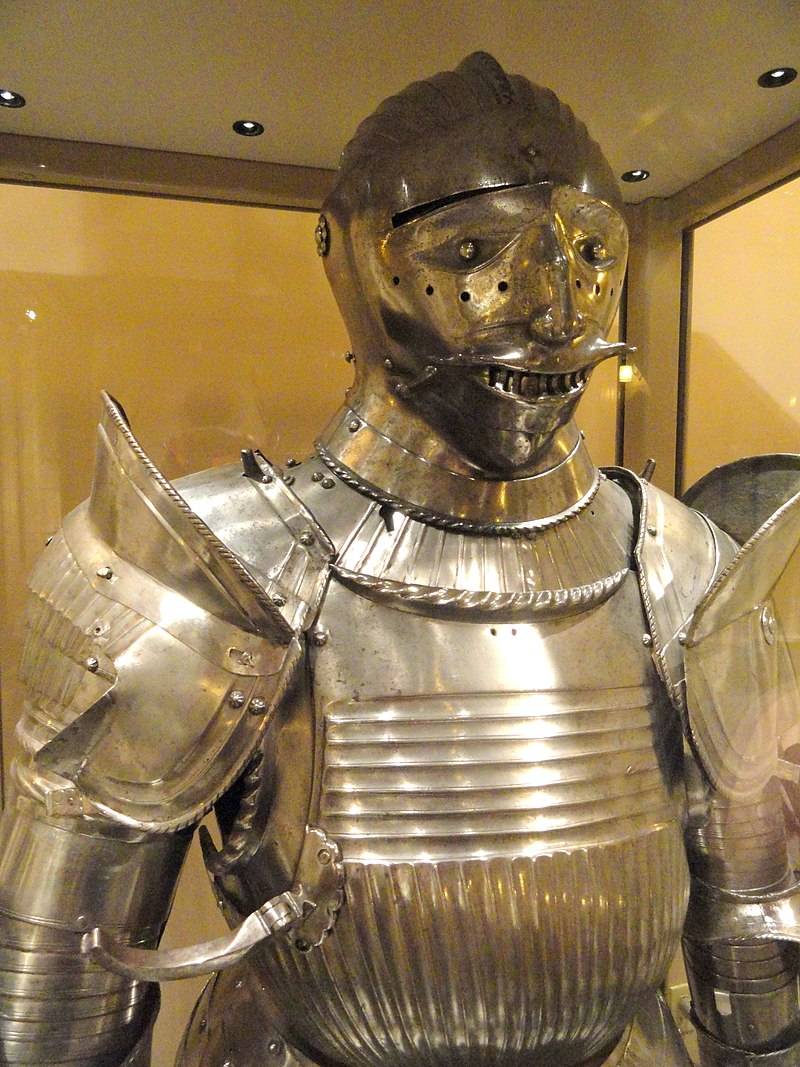 He has an impressive face, doesn't he? Fortunately, the fashion for such visors was not very long!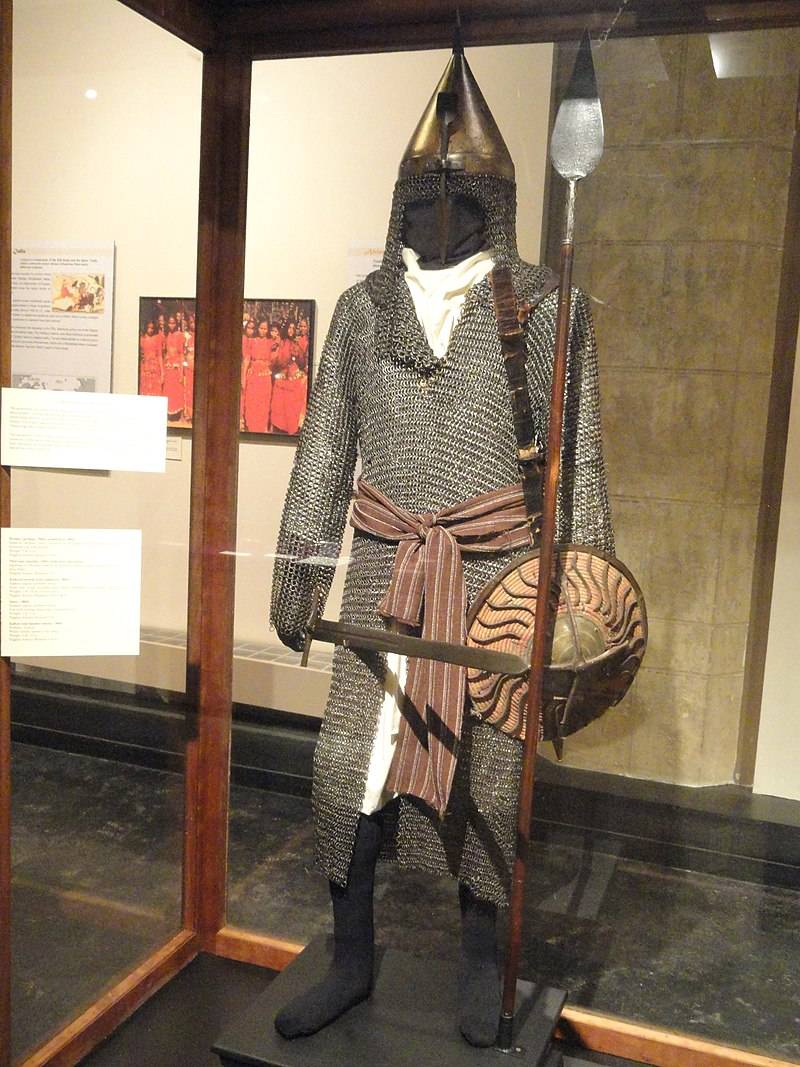 Armor from Sudan - there the knightly weapons of the riders lingered until 1898!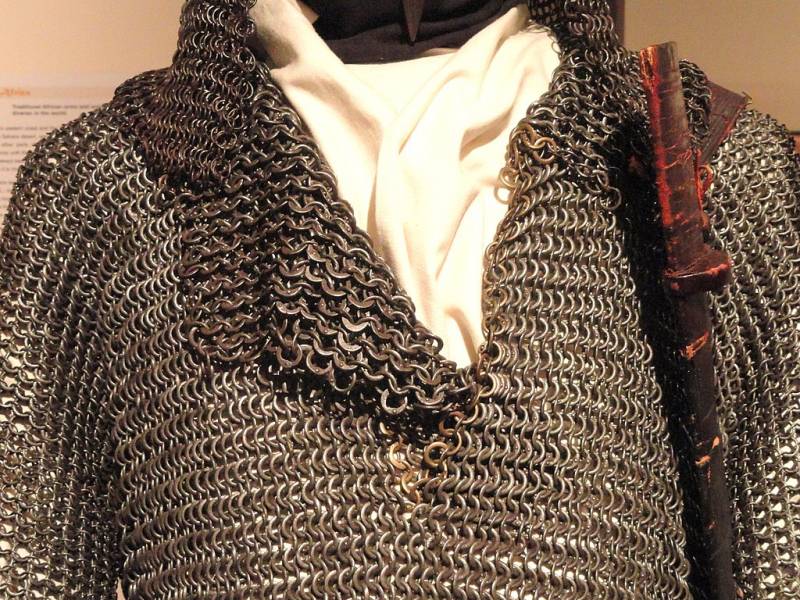 Egyptian chain mail, ca. 1500 with later inserts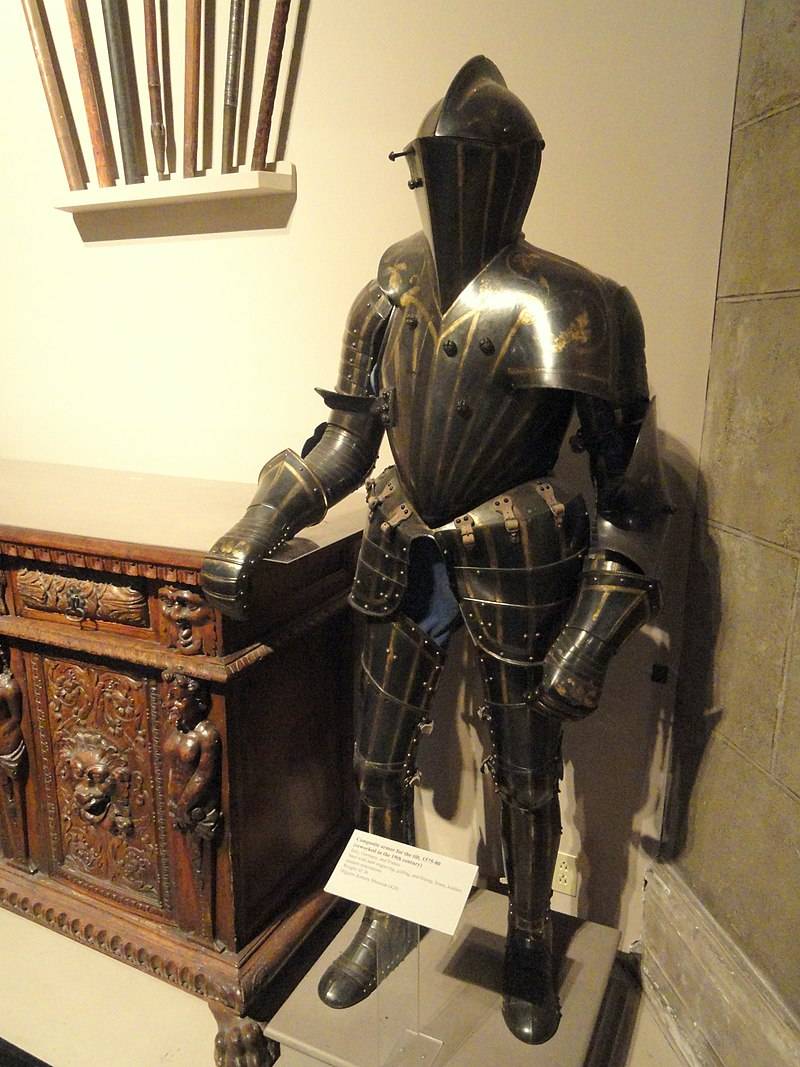 Armor for the "sloping barrier" tournament, 1575–1580. Italy, Germany, France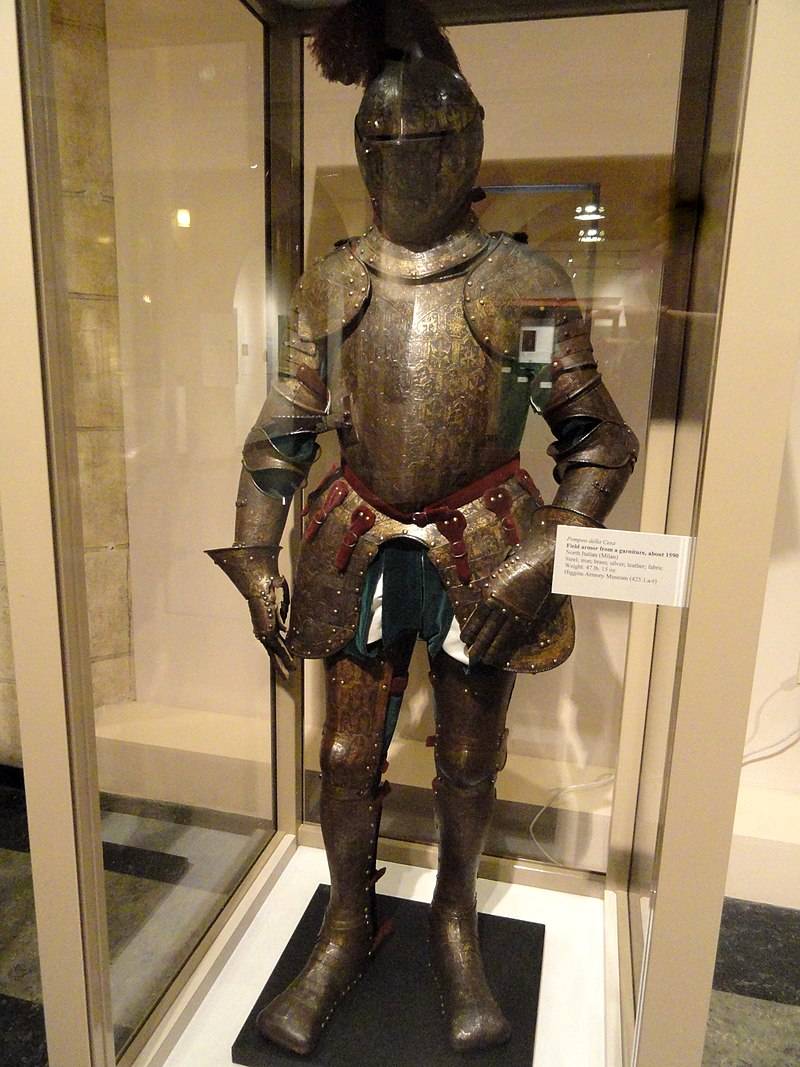 "Field armor" by Pompeo della Cesa, Milan, circa 1590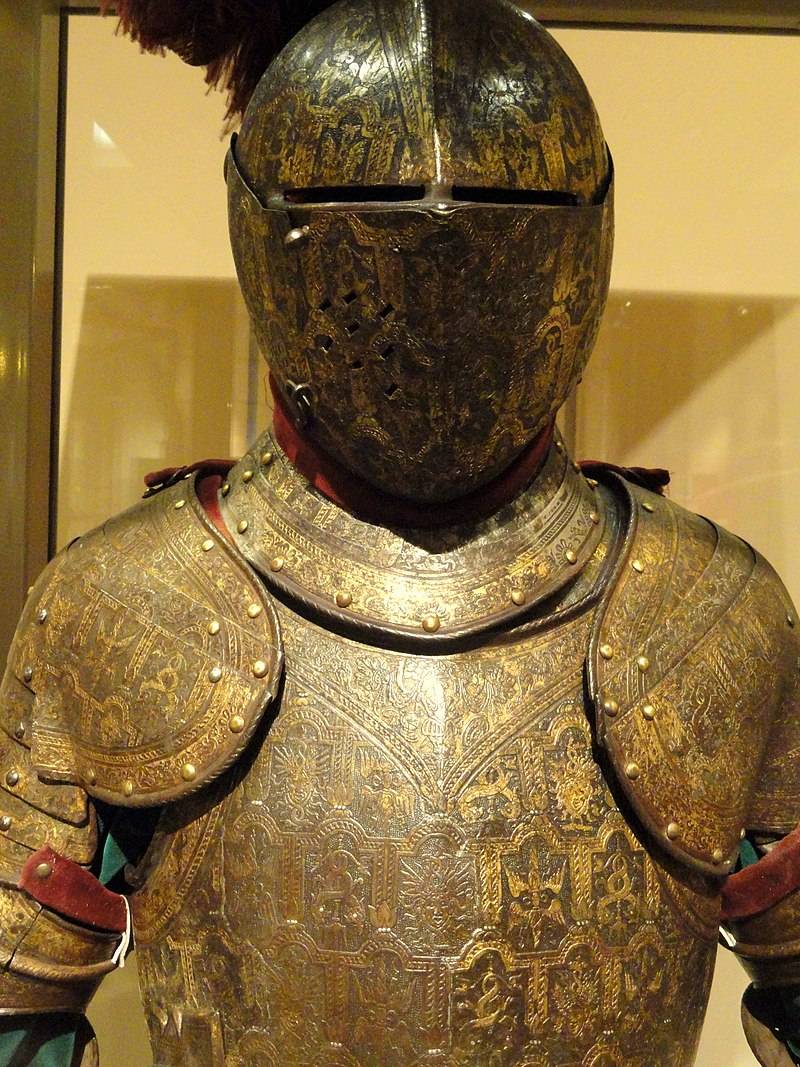 Admire their finishes!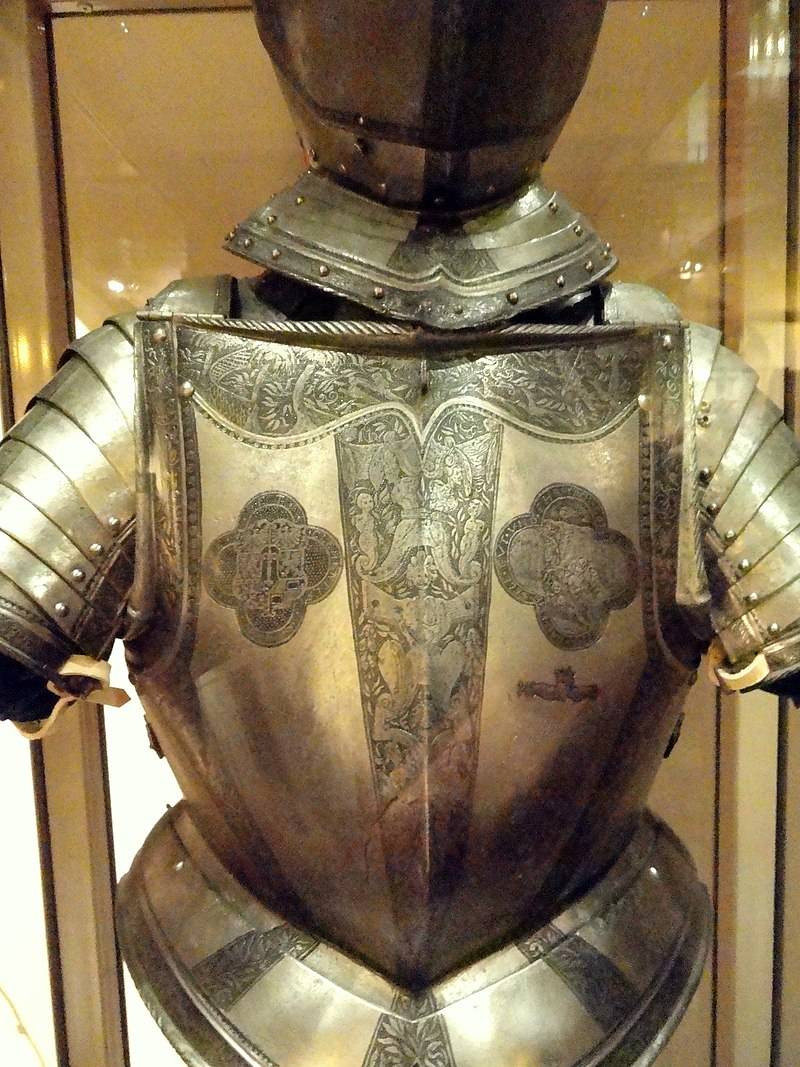 Tournament armor for foot duel of Duke Julius Brunswick-Wolfenbattel, 1555-1560.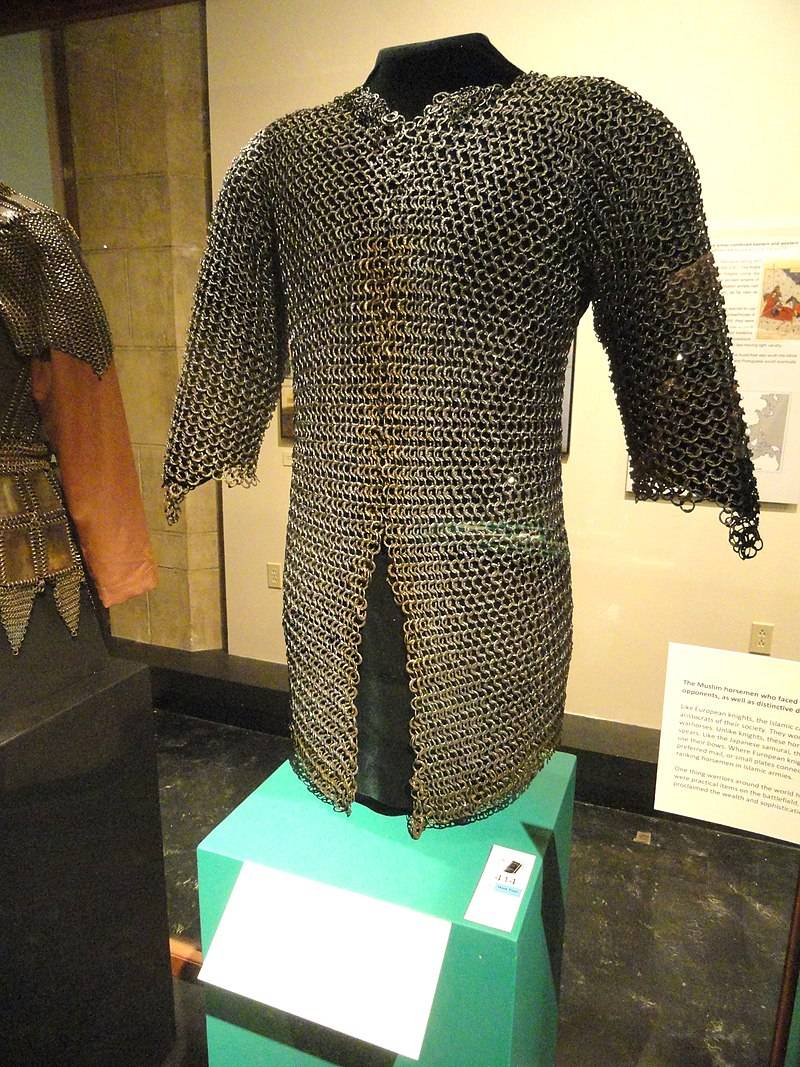 Turkish (probably) chainmail 1550–1650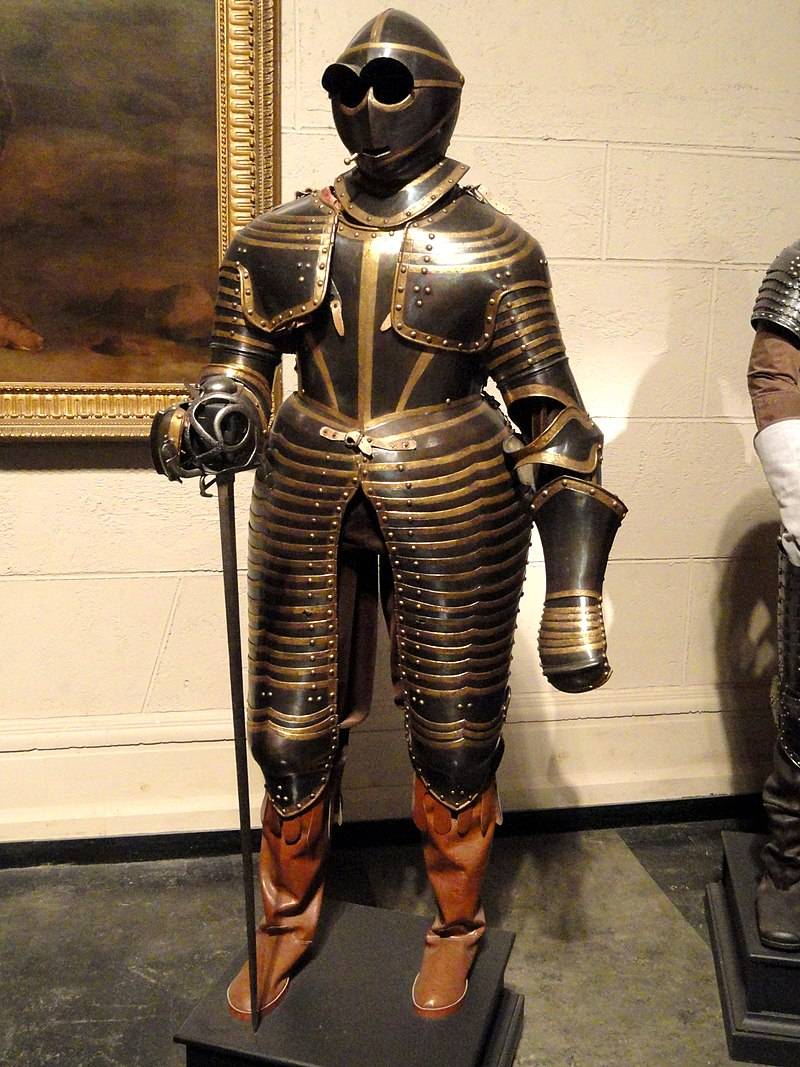 But we finally got to the plate armor of the cuirassier-pistolers - the three-quarter armor of the cuirassier. The Netherlands and Savoy, 1610–1645 Blackening restored afterwards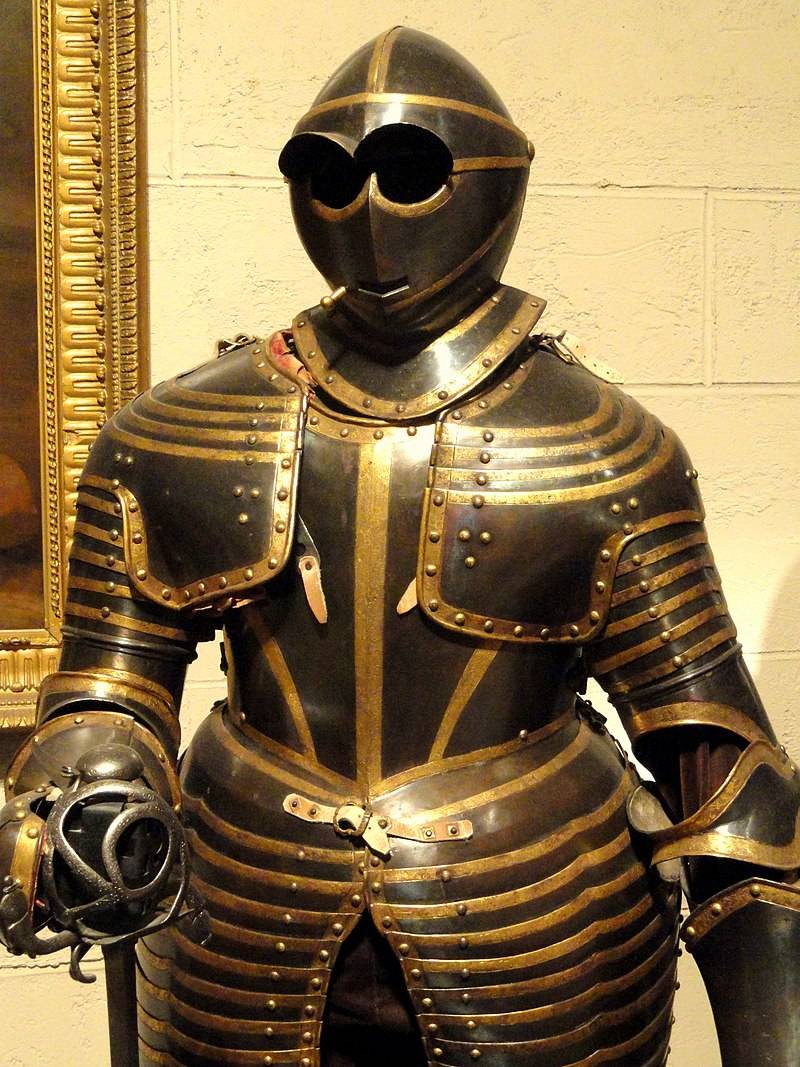 Beauty, and only. This armor is in no way inferior in appearance to knightly armor! It's just that anyone could wear them. If only he had money. Nobility no longer played a role!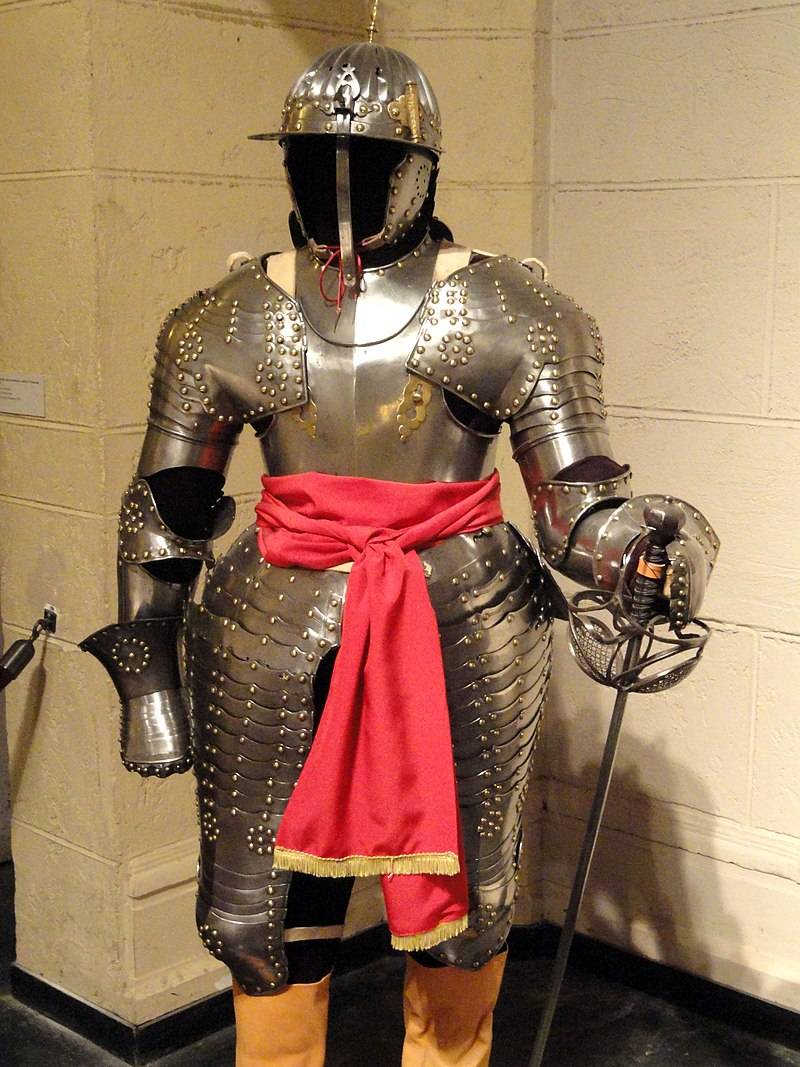 Three-piece armor of a German cuirassier, as indicated by a red scarf, Augsburg, 1620-1625, in the hand of Pappenheimer's rapier, Northern Europe, ca. 1625-1650.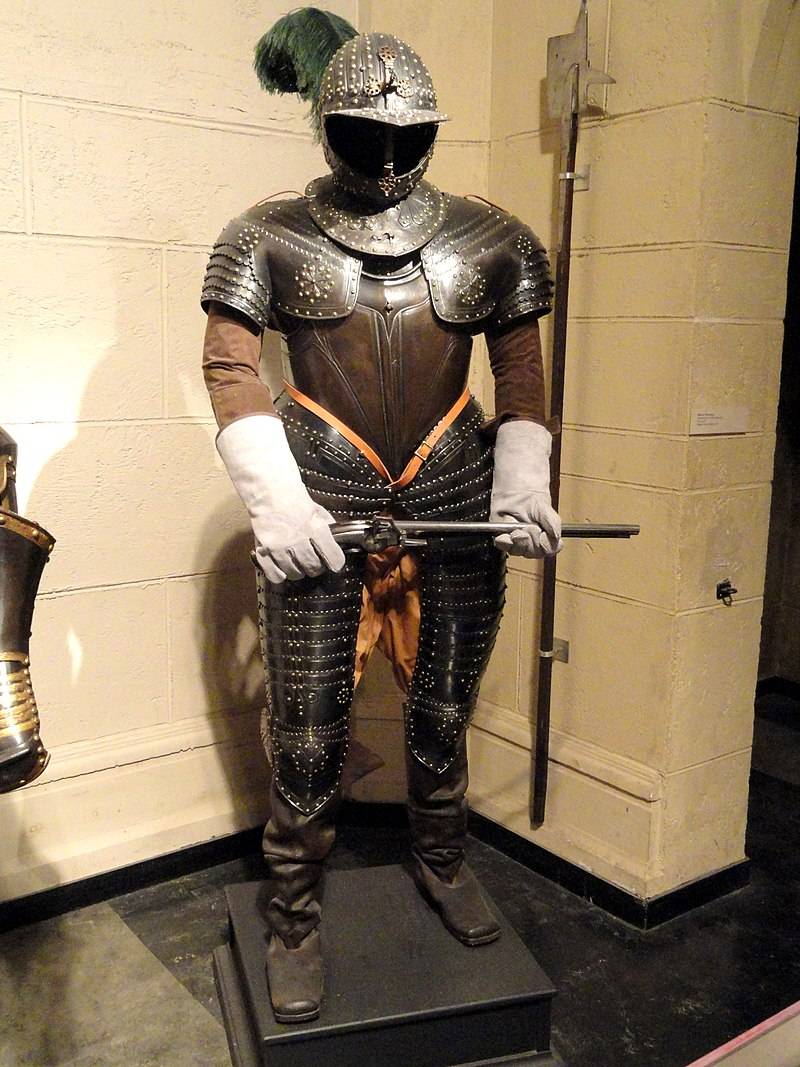 Three-piece armor of a French cuirassier, 1610-1620, with a wheeled pistol in his hands. The latter was made in Germany ca. 1625–1650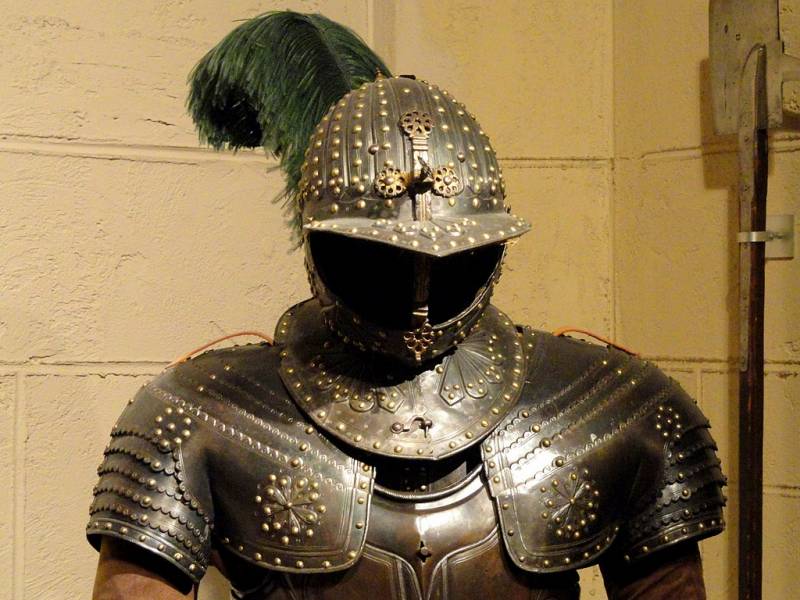 Needless to say - this cuirassier looked very impressive outwardly!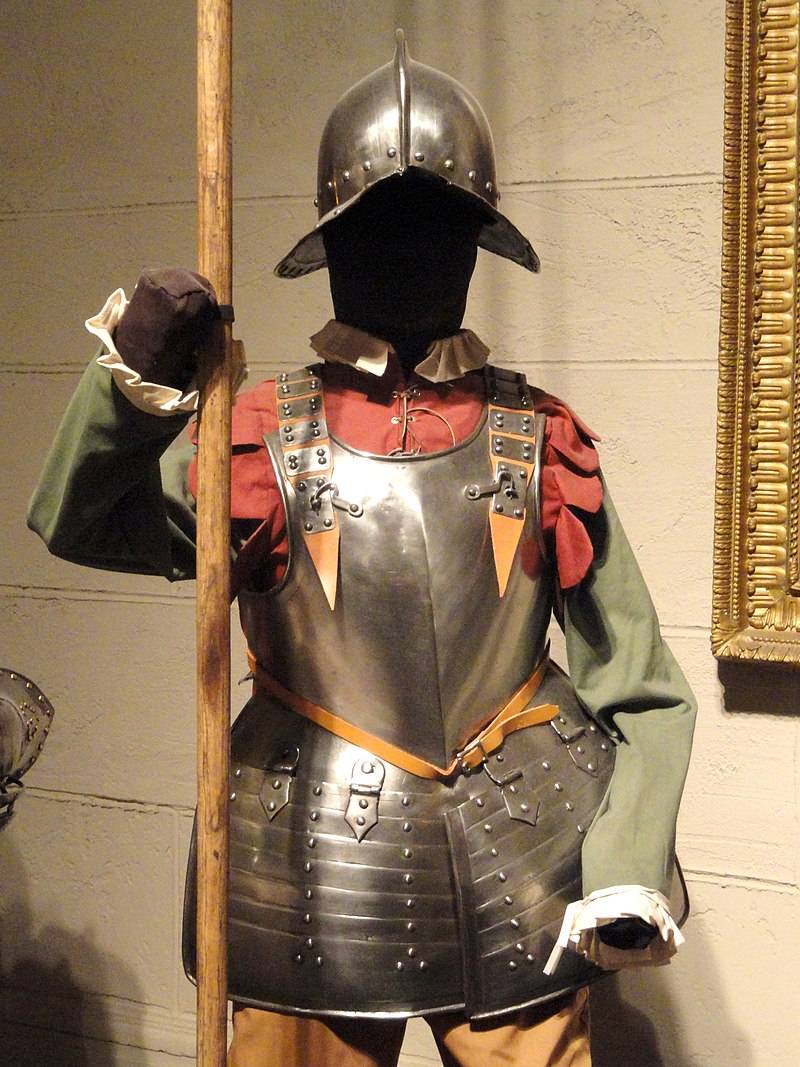 And this, of course, is a pikeman, London, circa 1625-1630. The pike was made in Lucerne, the Arsenal of Switzerland, probably around 1600.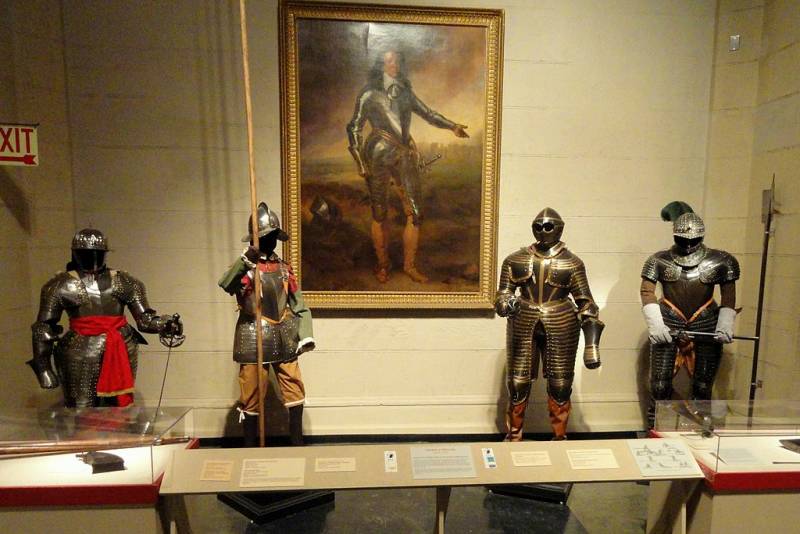 Once upon a time, all these four fought against each other!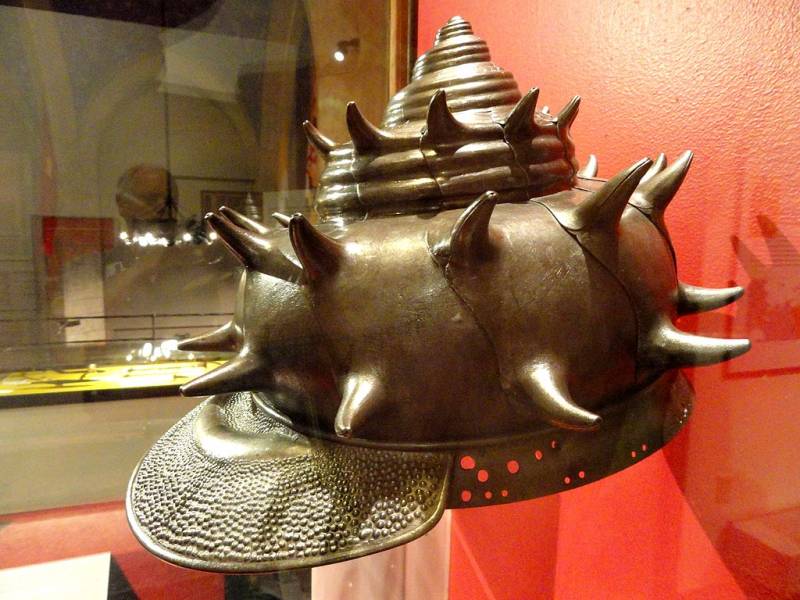 The pretentiousness of Japanese armor after 1600 is already known to us, and they are also in the Higgins collection. Shell Helmet (awabi uchidashi kabuto), 1618. Made by Nagasone master Tojiro Mitsumasa
And in the museum you could see this "tournament show". Only it's a pity that the figures in it are motionless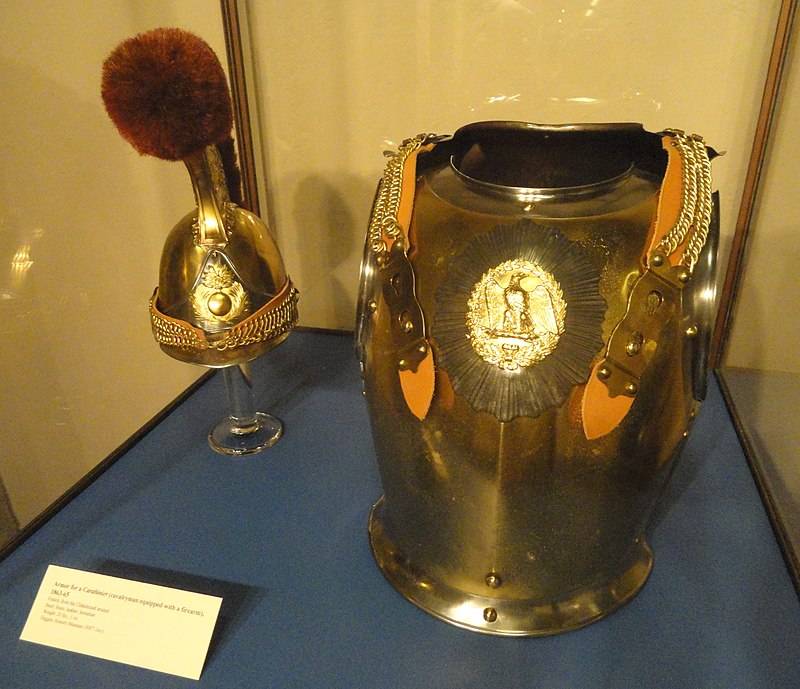 Breastplate and helmet of the French Carabinieri 1863–1865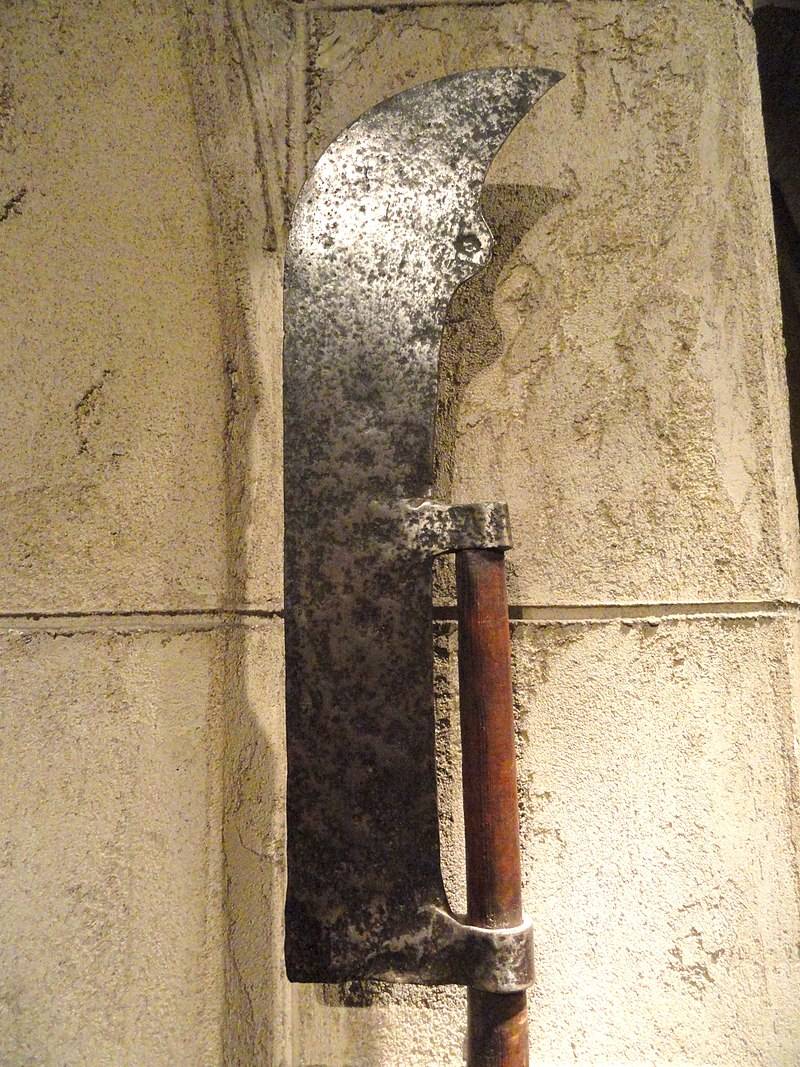 The Higgins Museum has a lot of all kinds of polearms. But I liked this one the most - real wuj - "bull tongue"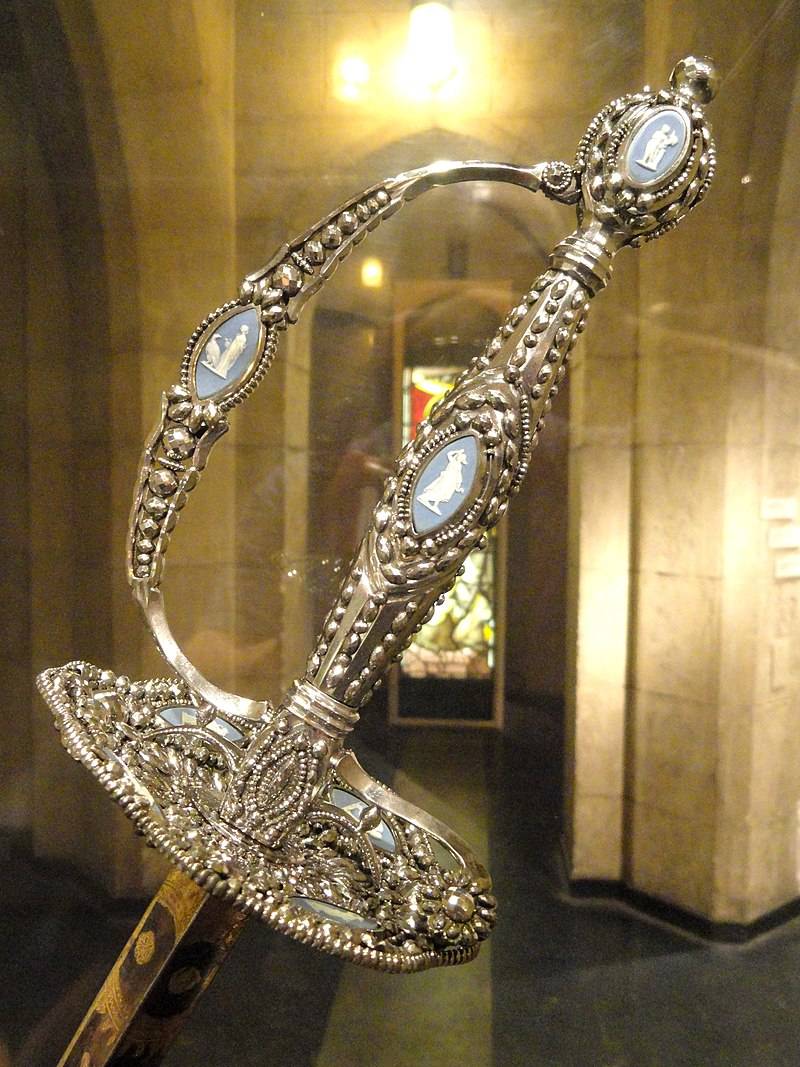 1790 sword hilt by Josiah Wedgwood