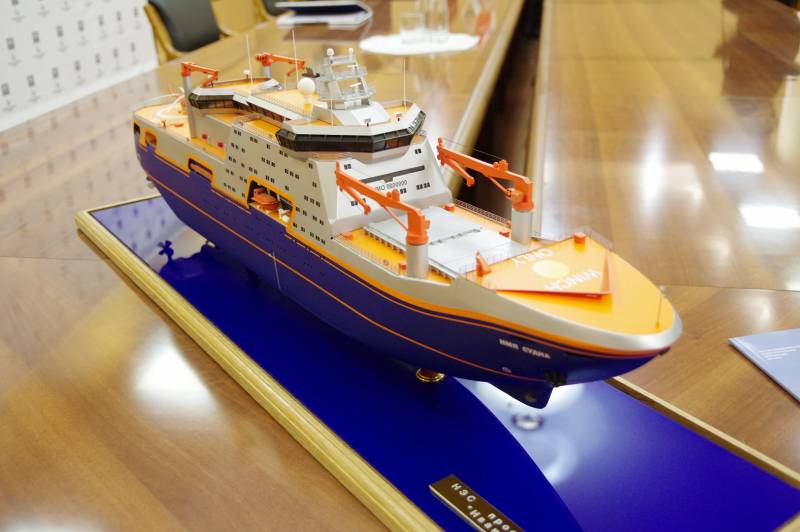 The shipbuilding plant "Admiralty Shipyards" will build a new research expedition ship of project 23680 for the Arctic and Antarctic Research Institute (AARI). The future flagship of the polar
fleet
will be named "Ivan Frolov" in honor of the famous oceanologist, Corresponding Member of the Russian Academy of Sciences Ivan Frolov, who headed the AARI for 20 years.
"Admiralty Shipyards" received a contract for the construction in the interests of the AARI scientific expeditionary vessel "Ivan Frolov" project 23680. The Russian government allocated funds for the construction of the NES back in December last year. The delivery of the vessel is scheduled for December 2028. Service life - not less than 30 years.
The Arc7 ice-class vessel will have a length of about 165 m, a displacement of about 25 tons, and a deadweight of about 000 tons. Up to 9 laboratories will be placed on board, as well as a hangar for 200 helicopters and a platform that can receive Mi-20, Mi-2 or Ka-8. The number of crew and special personnel of the new NES will be 38 people
- said Andrey Veselov, Acting General Director of Admiralty Shipyards.
The research expedition vessel "Ivan Frolov" in the future should replace the current flagship of the Russian polar fleet, the R/V "Akademik Fedorov". It will serve Arctic and Antarctic expeditions, simultaneously conduct scientific research under the programs of dozens of scientific projects from research of the ocean floor to the upper atmosphere and outer space, depending on the need and priority of research in the polar latitudes.
During its development, the experience of building a self-propelled ice platform "North Pole", also built by "Admiralty Shipyards", was taken into account. The vessel is capable of disembarking an expedition on ice or an unequipped shore from two sides, as well as loading/unloading large equipment weighing about 50 tons at a distance of about 25 m from the side.