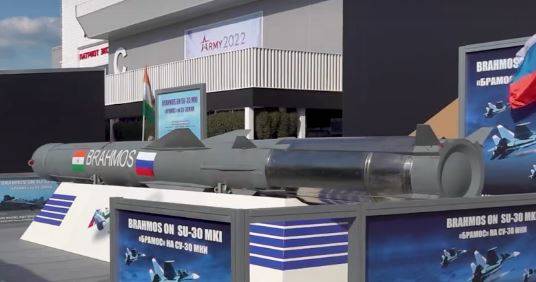 On Sunday, the Indian Navy successfully tested a BrahMos missile launched from a warship in the Arabian Sea, an agency spokesman said. At the same time, it is said that the missile managed to accurately hit the target at a distance of several hundred nautical miles.
The BrahMos missile was fired from the Kolkata-class destroyer. The Indian Ministry of Defense said that the missile is equipped with a warhead developed by the Defense Research Organization (DRDO).
The Navy said the BrahMos missile reinforces India's commitment to defense self-sufficiency. Earlier, the Indian Air Force also successfully tested the BrahMos missile from the Su-30MKI aircraft. This test was carried out by the Indian Air Force in December last year.
According to the Indian Air Force, the air-launched missile can hit targets at a distance of about 400 km.
The name of the cruise missile BrahMos is derived from the words Brahmaputra and Moscow. This is a joint Russian-Indian project. The first launch of a sample of such a rocket took place in 2001. The Russian-Indian enterprise itself began its activities 3 years before the first launch in 1998.