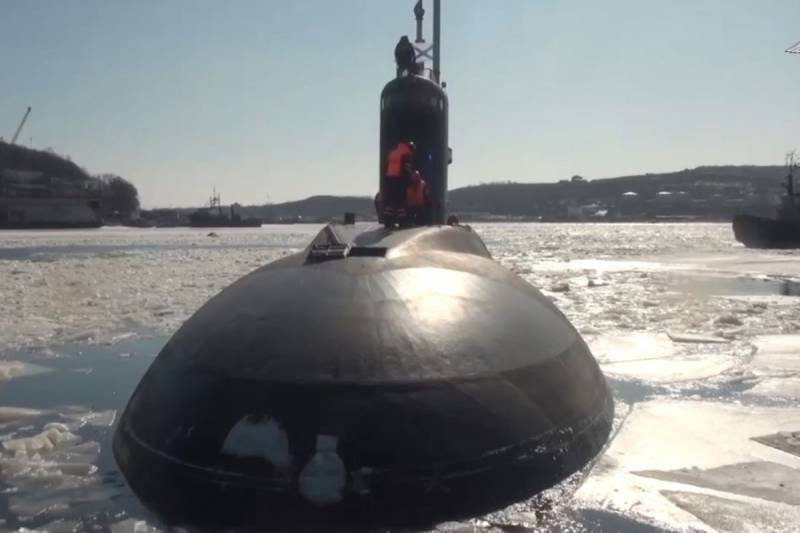 In the Sea of ​​Japan, the diesel-electric submarine "Petropavlovsk-Kamchatsky" launched a cruise missile "Caliber" at a coastal target. This event was held as part of the combat training of the crew.
This was reported by the press service of the Russian Defense Ministry.
The crew of the diesel-electric submarine "Petropavlovsk-Kamchatsky" of the Pacific
fleet
in the Sea of ​​Japan, as part of the combat training plan, carried out a launch from a submerged cruise missile of the Caliber complex
- said in a statement.
The target was a target on land, which, according to the scenario of the exercises, was considered an enemy firing position.
Before the launch, the submarine secretly arrived at the scene. Then the crew, with the help of a cruise missile, successfully completed the combat training task assigned to them, successfully and at the estimated time striking the target. The missile, on which there was no warhead, fell a few meters from the set flag.
The strike site was located more than a thousand kilometers from the submarine, on the Surkum tactical field in the Khabarovsk Territory.
In order to close the exercise area, the Pacific Fleet deployed ships, support vessels, aircraft and UAVs.
The event was videotaped. It recorded the actions of the crew at the moment of launching the missile and hitting the target. In the video, you can see how the ammunition, having overcome a thousand-kilometer distance, crashes into a snow-covered field next to a flag set on it.