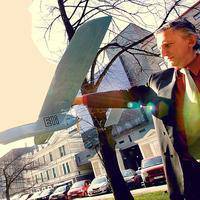 Over the past ten years, the Ministry of Defense has spent more than one hundred million crowns on various defense projects, but only a fourth of the money was spent wisely and brings benefits to the military.
The staff of the ministry in private conversations do not conceal that a significant part of the funds was spent in vain, in any case, the projects did not bring any practical benefits to the military.
If you ask Major Rasmus Lippur, engaged in research and development (R & D), the results of which projects have found active use, the list will turn out to be rather short. True, as Lippur notes, the results of some projects implemented through grants are expected by the military next year.
Criticism of the military
In the last decade, there have been many publications in the press devoted to military developments. For example, shooting simulators, an unmanned reconnaissance aircraft, or a miracle cloth that, like an invisible cap, hides a soldier from the enemy. Two weeks ago, Postimees asked the Ministry of Defense how the fate of these projects was.
It took a lot of time for the officials to figure out exactly what they spent a hundred million crowns over the past ten years. The review of project financing that we received could not be called expanded. And we asked the question how much this project benefited the national defense.
In the opinion of Brigadier General Urmas Roozimägi who resigned last year, the spent one hundred million crowns did not bring the army any sense. "Tell me, where is the final product that would have been put into service?" Roozimägi asks.
If the money invested in research projects and developments did not benefit the army, then whom did they benefit, he continues. "Personally, I think it was in the interests of some officials of the Ministry of Defense," was his opinion.
Defense Minister Jaak Aaviksoo agrees that in the issue of financing scientific research of the Ministry of Defense in previous years, one can see a conflict of interest. Until 2008, the Ministry of Defense did not have any R & D strategy, and money was received by those who could, so to speak, ask. Aaviksoo decided to establish clear rules on what and with what purpose should be financed.
As stated, in particular, in the strategy, with the financing of scientific research, the needs of the army, as well as profitability, are of prime importance. This means that financial support for projects should only be carried out if it is not possible to purchase cheaper or higher quality devices.
In addition, by the decision of Aaviksoo, financing of some projects that have already spent considerable funds, such as the project of Professor Jaan Järvik on the creation of a mine neutralizer, on which seven million crowns were spent, was discontinued.
This is a device that is installed in front of an armored personnel carrier and sends electromagnetic radiation, which heats the ground and thereby remotely destroys explosive devices.
"Did you study physics? - interested in Roozimägi. "Can you imagine what the source of electromagnetic radiation for such a converter should be?"
As shown by tests, the neutralizer is useless, it is only necessary to install it in another way.
As Roozimyagi noted, worldwide large-scale enterprises are engaged in military development. "The army cannot manufacture appliances or
weapon
artisanal way, he said. "They start to do many things without asking the military if they need it."
This is where Roozimyagi is mistaken; scientific projects and developments are evaluated by a special scientific council under the Ministry of Defense, which includes representatives of the ministry, universities and the army. True, the activities of the council are advisory in nature.
Inventing a bicycle
According to Lieutenant Colonel Leo Kunnas, there are many unmanned reconnaissance aircraft and devices for detecting explosive devices on the world market. Meanwhile, the Ministry of Defense spent on these developments more than 16 million crowns.
"We need to engage in practical development. We are not a big power, and having a modest defense budget, we need to do what we can produce ourselves, "says Kunnas, adding that simple and reliable solutions are necessary, which can be implemented in Estonia in case of martial law.
"R & D activities cannot meet the needs of operational planning of the army, since plans are being developed at least for 7-15 years ahead," says Dmitry Teperik, who has been in charge of the R & D Ministry of Defense since this year. Teperik notes that earlier when financing research projects, mistakes were made.
Among the financed projects, Kunnas also notes projects that have found practical application, such as, for example, the technology for the manufacture of light armored plates, which was developed by a senior researcher at TTU, Juri Pirceau.
"Such additional armor mounted on trucks can save many lives," said Kunnas. Noted Kunnas and training land mines used by the army. Dojoco has spent all 320 000 CZK on their creation.
Postimees does not undertake to assess how much the sums allocated for a particular project correspond to the volume of scientific research. The military men with a kind word recall only the only device created as a result of scientific research that saves the lives of soldiers. It is designed by Professor Andres Taclay Jammer (jammer), which suppresses the signal, detonating radio-controlled bombs.
Firms and scientists * who received the most significant amounts for scientific research
* The money was allocated to the university, but the main executor of the project is a specific scientist. Often, behind the scientist is the firm associated with the project.

1. Professor TTres Andres Taklaya received for four 18 projects million kroons (a significant part for the IRIS project is a device preventing the operation of improvised explosive devices).
2. Seven OÜ Eli projects received 13,6 million crowns (including 11,7 million crowns for unmanned reconnaissance aircraft, the rest - for simulators and targets).
3. Professor TTU Mihkel Kaljurand received 9,9 million crowns to develop a portable analyzer for the detection of chemical weapons of attack.
4. Professor TTU Jaan Järvik received 7,1 million crowns to develop an improvised explosive device neutralizer (IED).
5. Professor TU Merik Meriste received for three projects 6 million crowns (projects in the field of information technology, including one project with Jurgo-Soren Predin).
6. Professor TU Vahur Eepik received 5,7 million crowns for a project aimed at optimizing physical and spiritual disability in hot conditions.
7. Marek Strandberg from TTU received 5,3 million crowns for the manufacture of a prototype device from textile materials that conduct electricity.
8. – 9. Professor TU, and then TTU Mati Karelson received 4,4 million crowns for one project (based on organic electrical conductors coatings and composite materials, later the project grew into the project of Marek Strandberg - the so-called wonder-cloth).
8. – 9. Professor TTU Mart Tamre received 4,4 million crowns to create a universal self-propelled platform (UGV).
10. Professor TTU Ilmar Arro and researcher Ivo Müürsepp received 3,4 million kroons to develop a digital radar.
11. Vahur Kotkas from the Institute of Cybernetics TTU received 3 million kroner for the development of software for cyber defense.
12. Peep Uba, a professor at the United Educational Institutions of the Defense Forces, received 2,4 million kroons to use GPS navigation devices to receive weather data.
• In total, scientists and firms received 83,2 million crowns. In total, the Ministry of Defense expenditures on research amounted to 102,2 million crowns, including the contribution of the European Defense Agency to the investment program in the amount of 8,3 million crowns.
Source: Ministry of Defense