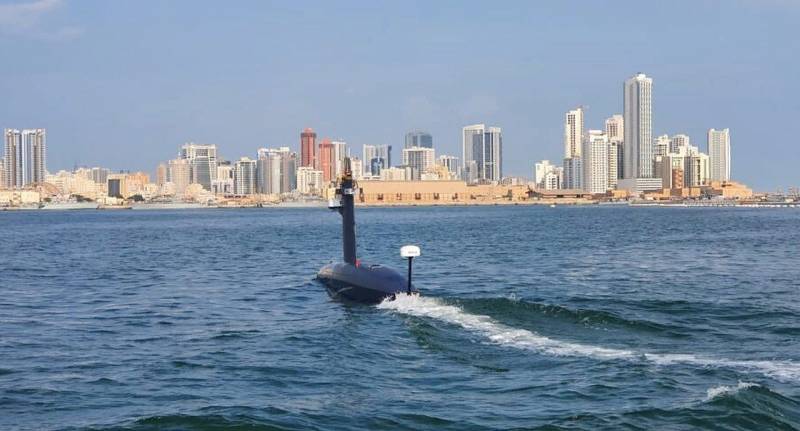 For the first time, the US Navy will use the DriX USV unmanned surface ship with artificial intelligence function in a major international naval exercise, according to the website of the French developer company iXblue, which is part of the Exail group.
Maritime exercises IMX23 will take place from 5 to 16 March in the coastal waters of Jordan and Bahrain. They will be attended by more than 50 partner countries and international organizations operating in the Persian Gulf, the Arabian Sea, the Gulf of Oman, the Red Sea, the Indian Ocean and the coastal regions of East Africa. The maneuvers will involve 7000 troops, 35 ships and more than 30 unmanned marine vehicles and artificial intelligence systems, including the Exail DriX USV.
The purpose of this exercise is to evaluate the use of combined unmanned technologies for the deployment of allied naval forces in the Persian Gulf region. The DriX USV unmanned ship, interacting with other vessels, will perform maritime reconnaissance and mine action missions.
We are now looking forward to the start of IMX23 this Sunday and are confident that, together with all other partners, we will demonstrate the high potential that the deployment of unmanned solutions in the naval field represents.
Guillaume Edelin, director of the Exail autonomy market, said.
The Exail DriX USV unmanned surface vessel can reach speeds of up to 14 knots while being in autonomous navigation for 24 hours. At a speed of seven knots, the drone can sail for seven days, at four knots for ten days. The ship is designed for high-quality collection of visual, acoustic and other data both in shallow water and at great depths, including for detecting sea mines.
The DriX USV is capable of operating in fully autonomous, semi-autonomous and direct remote control modes. In autonomous mode, the onboard autopilot guides the vessel along a predetermined trajectory generated by control and guidance algorithms. The onboard homing device allows the vessel to safely return to the starting position.