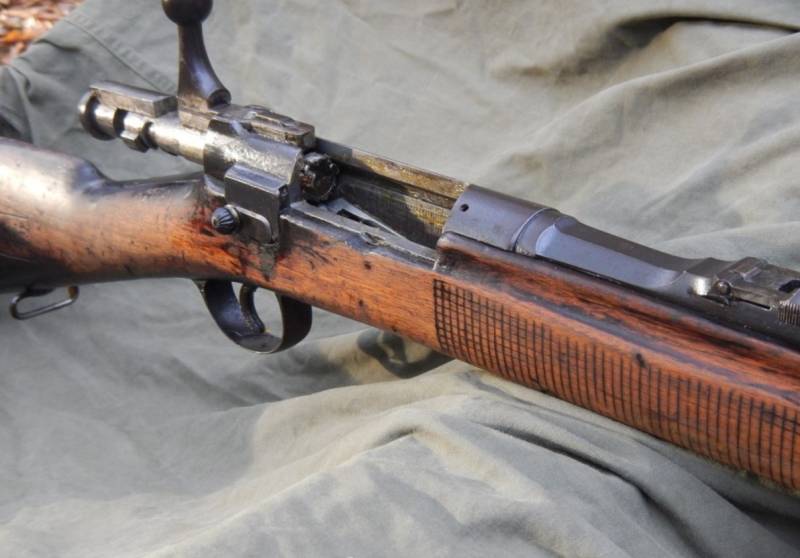 The fierce confrontation between Japan and the European and American colonialists in the middle of the 19th century required a strong and well-armed army from the "Land of the Rising Sun". If such an army was built already in 1871, then the appearance of a firearm
weapons
, created at their own factories, the Japanese had to wait until 1880.
It was then that Colonel Murata proposed his own version of the domestic rifle, which was later named after him.
It is worth noting that the first versions of the weapon, in particular the Type-13, which fired 11-mm cartridges with black powder, strongly resembled the Turkish version of the Mauser of the early 70s of the XIX century.
Then, in 1889, the Type-22 Murata rifle appeared, which used 8 mm caliber ammunition with smokeless powder.
Tellingly, the underbarrel magazine of the new version, which contained 8 rounds, was also, to put it mildly, not original. It is believed that it was copied from the French Gras-Kropachek rifle.
However, the fact that the Murata rifle was a "hodgepodge" did not prevent it from becoming the most massive weapon in the Japanese army at the end of the 130th century. The length of the carbine was almost 4 cm, the weight with the magazine was about 435 kg, and the muzzle velocity was XNUMX m/s.
Meanwhile, already in 1897, the Japanese army began to rearm with a new carbine of the Arisaka system. Its creator, Colonel Arisaka, also did not invent his own version of the rifle, and, like Murata, was "inspired" by the Mauser system.
The new rifle "Arisaka" Type-30 with a sliding bolt received a small-caliber 6,5-mm rifle cartridge with a semi-flange sleeve and a 5-round magazine. The length of the new carbine was 128 cm, the weight with the magazine was about 4 kg, and the muzzle velocity was 765 m/s.
Despite the fact that by the beginning of the Russo-Japanese War of 1904-1905, the Arisaka rifle had become the main weapon of the Japanese land army, due to the general mobilization and lack of weapons, the Murata rifle was also actively used by the Japanese. At the same time, the latter, as historians write, inflicted even more damage than its more modern, but small-caliber, "colleague".
The historian Ilya Shevchenko tells about the equipment and uniforms of Japanese soldiers during the Russo-Japanese War: