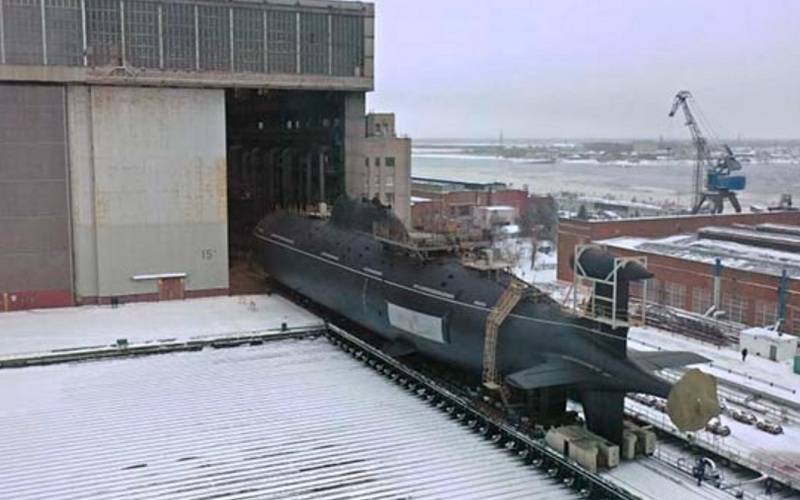 Withdrawal of the nuclear submarine "Leopard" from the boathouse. December 2020
The modernized nuclear submarine "Leopard" of project 971, which underwent a major overhaul at Sevmash, is being prepared for returning to the combat structure of the Northern
fleet
. The transfer of the submarine to the military will take place this year. Vladimir Maltsev, head of the All-Russian Fleet Support Movement, spoke about this.
The Leopard nuclear submarine completed the slipway repair in December 2020 and was delivered to the outfitting wall to complete the work. It was planned that the submarine will be tested in 2022, after which it will be transferred to the combat structure of the Northern Fleet. For unnamed reasons, work on the nuclear submarine was extended, and now the Leopard is scheduled to return to service in December this year.
After the completion of a deep modernization and factory testing, the transfer of the Leopard to the fleet is scheduled for December 2023.
- leads
TASS
Maltsev's words.
The multi-purpose nuclear submarine K-328 "Leopard" was laid down at Sevmash on October 26, 1988, launched on June 28, 1992, and entered the fleet on February 5, 1993. She arrived at Zvezdochka at the end of June 2011. In May 2012, the ship was placed in a shed and work began on the dismantling of equipment. The work was delayed due to the delay in documentation from the designer of the SPMBM "Malachite".
According to the Ministry of Defense, the boat was repaired with a deep modernization. In the course of work on the submarine, electronic weapons, control systems, communications, navigation, hydroacoustics, and CIUS were replaced. The submarine received new weapons (KR "Caliber"), and acoustic visibility was also reduced.
The nuclear submarine Leopard is part of the 24th Animal Division of the Northern Fleet of the Russian Navy, together with the nuclear submarines Tiger, Vepr, Panther, Wolf, and Gepard.