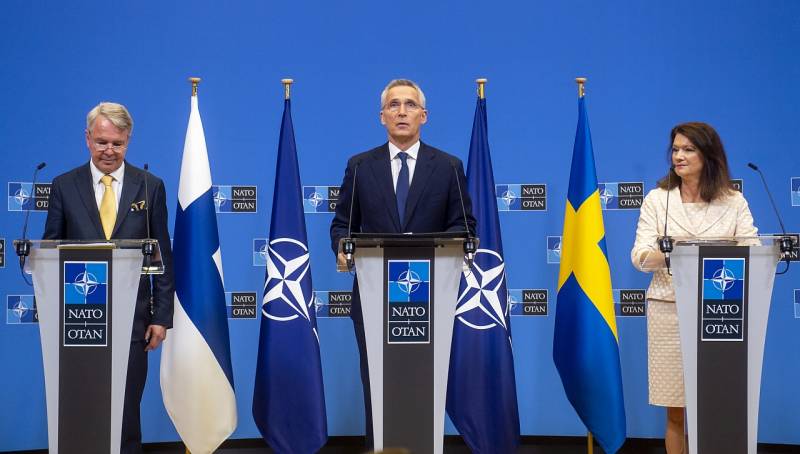 In May last year, Finland and Sweden almost simultaneously applied for membership in the North Atlantic Alliance. Most of the full members of NATO reacted positively to the admission of the two Scandinavian countries into the alliance. However, Ankara blocked the accession process, demanding that Stockholm and Helsinki declare Kurdish organizations terrorist, as well as extradite persons accused of terrorism or participation in the 2016 coup attempt.
Relations between Turkey and Sweden escalated after the burning of the Koran at the Turkish embassy in Stockholm on January 21. Turkish President Recep Tayyip Erdogan said that after Sweden's anti-Turkish actions, one should not expect Ankara to support its application for NATO membership.
So far, the Hungarian parliament, which constantly postpones the voting dates on this issue, has not yet ratified the agreement on the admission of the two countries to the alliance.
In early February, Finnish Prime Minister Sanna Marin said that Helsinki insisted on the simultaneous admission of both states to NATO. According to her, Sweden and Finland meet all the criteria for this. The Swedish prime minister also said that the kingdom is fulfilling the terms of the tripartite memorandum on joining NATO and that the two countries will join the alliance together.
But it turned out that in addition to external opposition from Turkey and Hungary, not all deputies in the Finnish parliament agree with the need for the country to join the military-political bloc. Yesterday's vote on this issue was postponed, according to the official account of the Finnish legislators, it should take place today at 14:00 local time (15:00 Moscow time).
Parliamentarians from the Union of Right Forces opposed the ratification of the agreement on joining NATO, Finnish newspaper Helsingin Sanomat reports. Opposition MPs Ano Turtiainen, Johannes Jurttiaho and Markus Mustajärvi refused to vote for the bill. Instead, Markus Mustajärvi came up with a number of initiatives regarding the refusal to deploy nuclear weapons in Finland.
weapons
, a ban on the creation of NATO military bases and the presence of a foreign military contingent in the country. After the debate, the vote was rescheduled for March 1.
The demarche of a group of Finnish deputies is unlikely to interfere with the ratification of the agreement on the country's accession to NATO, because a simple majority of votes of parliamentarians is enough for its adoption. Finnish President Sauli Niinistö had already said on the eve of the vote that he would immediately sign the bill as soon as it was approved by Parliament. Meanwhile, according to preliminary calculations of the parliamentary committee on foreign affairs, membership in NATO will cost the republic annually 70-100 million euros.