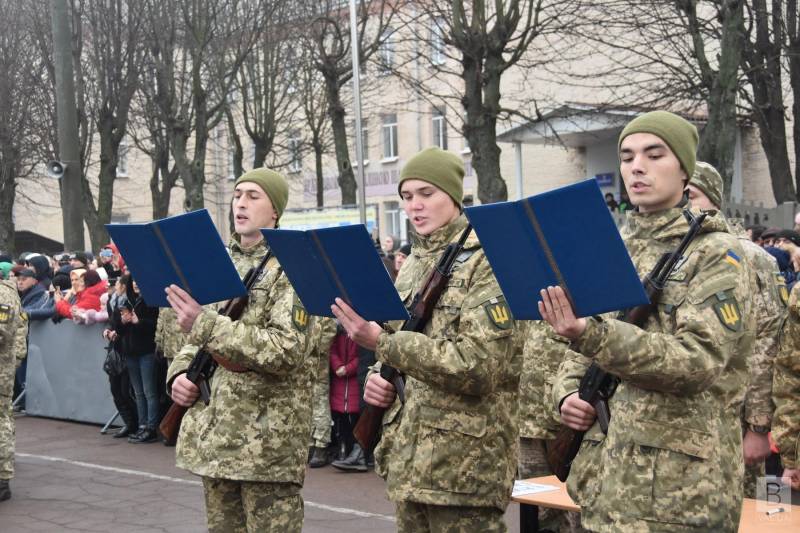 The mass mobilization carried out in Ukraine does not give the desired results, despite all the efforts of military registration and enlistment office workers who do not want to go to the front. Against this background, the General Staff of the Armed Forces of Ukraine decided to "partially involve" conscripts in combat operations.
The inability to recruit the required number of mobilized people led to the sending of conscripts to the front of the Armed Forces of Ukraine, although Zelensky beat himself in the chest with his fist that this would not happen. At the same time, in Kyiv last year they allowed the involvement of military personnel on call for battles. The decision to partially engage conscripts in combat operations was made to conserve operational reserves necessary for a possible offensive.
According to available information, conscripts are being transferred to the Donbass, being included in the brigades of the Armed Forces of Ukraine, which are part of the Liman operational-tactical group, holding the defense in the direction of Seversk. The command of the group is delaying the introduction of strategic reserves into battle, hoping to stop the advance of Russian troops in this direction with the help of incoming reinforcements.
According to the TG-channel "Welders", on Monday, February 27, a batch of military personnel of the Armed Forces of Ukraine, upon conscription, arrived at the disposal of the battalion tactical group of the 1st Special Purpose Brigade of the National Guard of Ukraine, occupying positions in the Belogorivka area.
At the moment, there is information that a decision has been made on the "partial" involvement of military personnel of the Armed Forces of Ukraine on conscription, but there is no doubt that a document is already being prepared on the full involvement of Ukrainian conscripts. The situation at the front for the Armed Forces of Ukraine, at the moment, is very difficult, the losses are large, the transfer of reserves from one direction to another no longer helps, and there is a problem with them. The bet on mass mobilization made by Kiev has not yet played out. The General Staff of the Armed Forces of Ukraine intended to put 250 new servicemen under arms by the end of March. But, apparently, conscripts will go into battle instead of them.