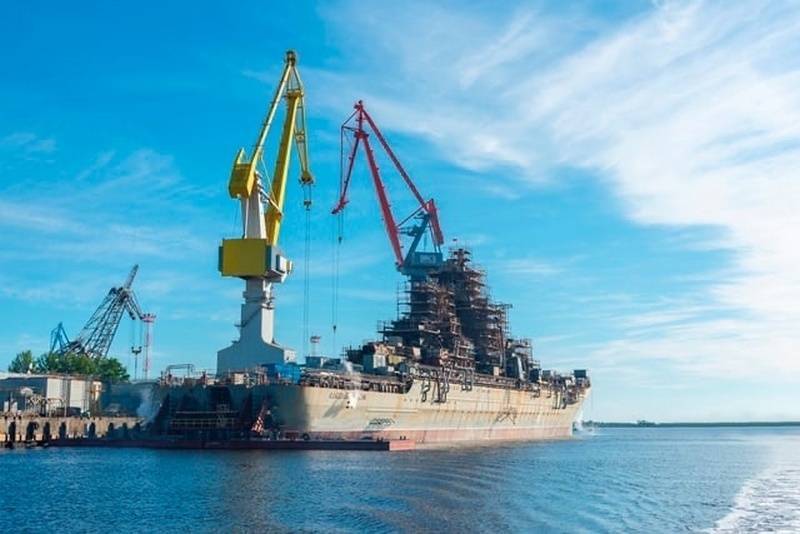 The heavy nuclear-powered missile cruiser "Admiral Nakhimov" of project 11442M "Orlan", undergoing modernization at Sevmash, is being prepared for testing, returning to combat strength is planned in the near future. This was stated by the head of the United Shipbuilding Company Alexei Rakhmanov.
Work on the "Admiral Nakhimov" is proceeding according to schedule, the ship is preparing to move in the crew. At the same time, the Ministry of Defense agreed on a schedule of work to prepare the cruiser for testing, the timing of the ship's launch at sea will be planned taking into account the preparatory stage. The return to the combat structure of the TARKR is planned for the next year, 2024.
We expect the release of "Admiral Nakhimov" in 2024. Electricity has already been supplied to it from the shore, I think in six months it will be ready for the crew to move in
- leads
RIA News
Rakhmanov's words.
In mid-January this year, it was reported that shipbuilders had begun one of the most important stages - receiving power and loading fuel. The main task of "Sevmash" this year is to complete the interior decoration and bring the ship to trials.
As previously reported, in the course of modernization, Admiral Nakhimov completely updated its weapons. According to reports, the cruiser will have 80 UKKS cells for Caliber and Onyx cruise missiles, as well as hypersonic Zircon missiles, 92 (probably) S-300FM air defense silos and 20 533-mm torpedoes or Vodopad PLUR, t .e. the TARKR ammunition load will be 192 cruise and anti-ship missiles, missiles and missiles.
The cruiser "Admiral Nakhimov" of project 1144 "Orlan" was laid down on May 17, 1983 under the name "Kalinin". April 25, 1986 launched, December 30, 1988 became part of the Soviet Navy. April 22, 1992 renamed "Admiral Nakhimov". It is one of four Project 1144 Orlan heavy nuclear cruisers.