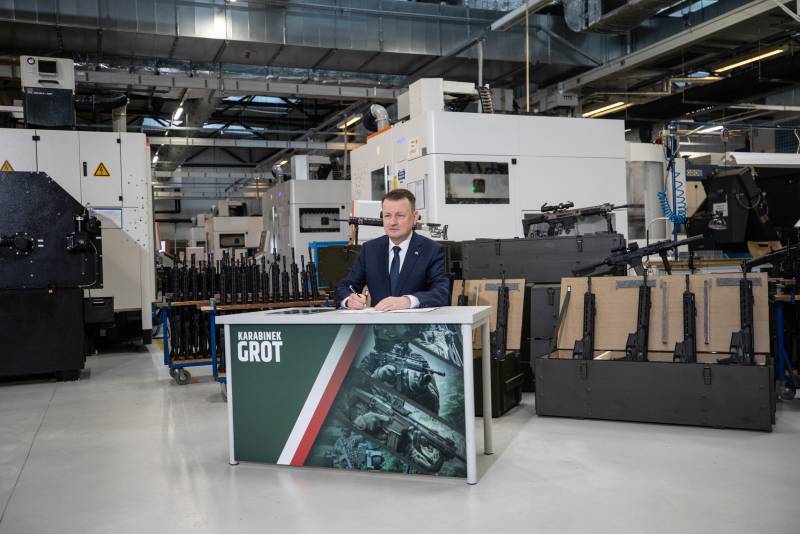 The Ministry of Defense of Poland signed a new contract for the supply of domestic assault rifles GROT. This was reported by the press service of the Polish military department.
Polish Defense Minister Mariusz Blaszczak signed an addendum to the 2020 contract, thereby increasing purchases of the GROT assault rifle in the interests of the Polish army. There is no information yet whether the Polish Ministry of Defense intends to transfer part of the rifles to the Armed Forces of Ukraine, but it is stated that in the hands of the Ukrainian military, these machine guns have shown themselves to be "effective
weapons
".
They have proven themselves in the war. In the hands of Ukrainians, they are an effective weapon
- said Blaschak.
In total, under the contract, the Polish army should receive almost 2026 thousand GROT C88 FB-A16 rifles of 2 × 5,56 mm caliber until the end of 45. The total volume of the order is 184 weapons. In addition, the Polish Ministry of Defense is purchasing 7,62x51 mm MSBS-7,62N sniper rifles to replace the SVD sniper rifles left over from Soviet times.
The Polish assault rifle GROT was originally created as a weapon for territorial defense units. It first appeared in service in 2017. To date, the Polish Army has received only 17 thousand GROT assault rifles, designed to replace small arms in the troops, created under the NATO cartridge on the basis of the Soviet Kalashnikov assault rifle.
In 2021, the GROT machine got into a scandal. As it turned out, the quality of the produced weapons leaves much to be desired, and the rifle itself turned out to be very capricious. The machine is extremely unreliable due to many technological defects, it can spontaneously stop firing and even fall apart. GROT is very sensitive to moisture and dust, which also critically affects its performance. Later, the developers from Fabryka Broni "Łucznik" announced that all "shortcomings" had been fixed.